FA sells 18,000 tickets to Poland fans for Wembley showdown
The FA has sold 18,000 tickets to Poland fans, double the usual number for away supporters, for Tuesday's Wembley game.
Last Updated: 14/10/13 11:09am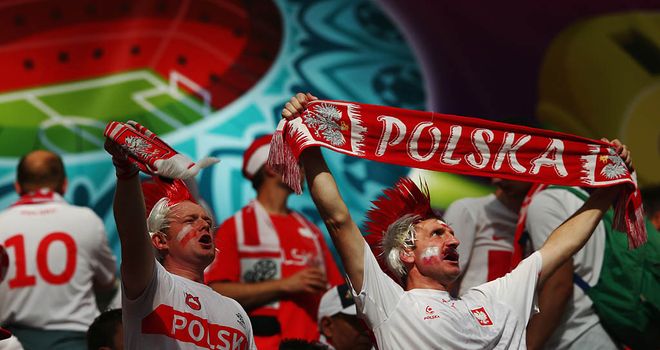 Under FIFA rules, visiting teams are given 10 per cent of the available seats in qualification matches.
Given that Wembley holds 90,000, that entitles Poland to 9,000 tickets but the FA has decided to give the Poles double that number.
The FA admits it was worried about the prospect of Polish fans buying tickets for the home end and potentially causing a safety issue.
"The FA, working with the Polish FA, have provided 18,000 tickets to Polish supporters," an FA spokesman said.
"With high demand for tickets from the large Polish community in England the FA took the decision, based on safety grounds, to ensure Polish fans were allocated space in a specific area of the ground rather than attempting to buy tickets in home areas.
"Tickets in the home areas have been restricted to previous buyers only, with no tickets now remaining for this fixture.
"This is the same process that was employed for the successful Scotland and Republic of Ireland fixtures earlier this year."
England left-back Leighton Baines has no problem with the move. "If it adds to the atmosphere, it is great," the Everton defender said.
"I remember when we played Ghana - and I don't know how many there were there - they were amazing and it just made it better.
"If these away fans add to the atmosphere the home fans are going to produce, then it just adds to the occasion."
Poland cannot qualify for the World Cup following their 1-0 defeat to Ukraine on Friday but Baines says they could be lifted by the huge support they will be getting on Tuesday.
"It could work in that manner, but to put a more positive spin on it you'd rather play in a stadium with a good atmosphere rather than it be a half-empty stadium," the 28-year-old said.
"It is not the norm. When we go out at Goodison Park normally we see a certain section for the away fans and the rest is for the home fans.
"I am not sure what the thinking is behind it, but to be honest it is the first I have heard of it."