Iniesta defends Spain approach
Andres Iniesta and Vicente Del Bosque have defended Spain's style of football ahead of their Euro 2012 semi-final against Portugal.
Last Updated: 26/06/12 5:31pm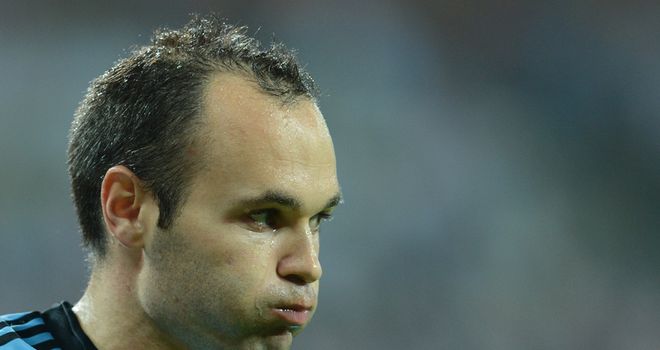 Andres Iniesta and Vicente Del Bosque have defended Spain's style of football ahead of their Euro 2012 semi-final against Portugal.
Spain have been lauded for their possession game in winning Euro 2008 and the 2010 World Cup and are bidding to become the first team to claim three consecutive major international titles
But La Furia Roja have started to face criticism for their 'tika-taka' passing style with some labelling it sterile due to the lack of goalmouth incident.
Spain's 2-0 quarter-final victory over France had been much anticipated but Del Bosque's men succeeded in strangling the life out of Laurent Blanc's side, starving them of the ball and ensuring it was a game of few chances.
It would seem that familiarity breeds contempt but Spain midfielder Iniesta, who scored the winning goal in the World Cup final two years ago, is unconcerned.
"Football is great in this respect," said Iniesta.
"Not everyone likes the same things and not everyone agrees on everything. It's the diversity of opinion that makes it so special.
"We have our own style, which has brought us success and given us two trophies. But all opinions are valid, and I respect them.
"The truth is that when you have a team that always attacks, and you attack against closed defences that leave no space, of course it's not as attractive as an open match between two teams that want to win.
"But this is the style that has brought us success and it's the style that we can identify with. Don't forget, a few years back, this style changed the history of Spain forever, and I think that's enough."
Proof
Del Bosque echoed Iniesta's remarks, with the Spain coach saying: "Of course we don't want to stagnate.
"We want to go forward, and winning two trophies is proof of our qualities. We've got our own style. People might not like it, but it's a style that brought us success. And people are always looking for things to complain about."
Many are expecting more of the same on Wednesday when Spain face Portugal in an all-Iberian affair in Donetsk - a rematch of their last 16 meeting at the World Cup two years ago, which the Spanish won 1-0.
Portugal have been content to play on the break thus far in the tournament and Del Bosque has boldly claimed that such an approach would actually suit Spain.
"Of course I prefer it when the opposition play in their own half of the pitch," he said at Tuesday's pre-match press conference.
"It's better for us if we can hold onto the ball and keep it in their half as well. Portugal have great options and I would like them to close their defence, because we know how to play against that."
Much will surely depend on Portugal forward Cristiano Ronaldo, whose three goals in two games against the Netherlands and the Czech Republic have taken Portugal to within sight of a second appearance at a major final.
"Of course we have to take notice of Cristiano Ronaldo," added Del Bosque.
"He's an excellent player and it's logical that there's been so much talk about him. He plays in Spain as well, which is also a factor.
"We saw him at the last World Cup and we knew how to stop him. And that's what we'll try tomorrow (Wednesday)."