Euro star
Andrey Arshavin displayed his brilliance for Russia but can he rediscover that form for Arsenal?
By Follow Peter Fraser on Twitter - @SkySportsPeteF
Last Updated: 08/06/12 11:18pm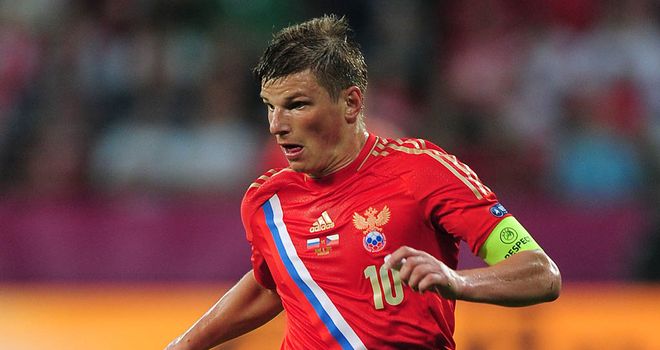 There have throughout the years been sportsmen who have been criticised for portraying the on-field image of a player who is not fully focused, not committed, not 'in the mood'.
Liverpool's 'Spice Boy' generation, or, from the world of cricket, now-Sky Sports presenter David Gower, were all often scrutinised in their playing days for their concentration or motivation when the occasion did not always appear to demand.
Andrey Arshavin, who shot to fame at Euro 2008, came in for similar negative assessments in the past season-and-a-half at Arsenal, which ultimately led to his winter loan move back to former club Zenit St Petersburg.
Gunners manager Arsene Wenger sent the Russian on his way with the suggestion the playmaking forward needed to rebuild his confidence. Having lost his way at the Emirates, he made just eight Premier League starts in 2011/12 before leaving in February.
But Arshavin's ability remains undoubted and he demonstrated as much in his country's Euro 2012 opener on Friday night as they delivered a thoroughly impressive 4-1 victory against Czech Republic in Wroclaw.
Intelligence
The 31-year-old, operating on alternating flanks of a three-pronged Russian attack, was in wonderful form. He played the first ball in the build-up to Alan Dzagoev's 15th minute opening goal just 60 seconds after dinking a pass to set up a chance for Yuri Zhirkov. It was then his assist which allowed Roman Shirokov to make it 2-0.
There was nothing ostentatiously spectacular about Arshavin's play, but it was the deftness and intelligence of simple passes, from wide to central areas, which the Czechs could not handle.
Having started on the left, he moved to the right in the second half and continued to prove a constant menace. A beautiful reverse ball set up the wayward Aleksandr Kerzhakov, before a second assist of the game was added when giving Roman Pavlyuchenko possession for the substitute to score Russia's fourth and final goal.
Arshavin also demonstrated excellent fitness, something for which he has not always been known at Arsenal. He continued to burst forward in the latter stages to support Russia's strikers and in total covered 10,310 metres throughout the game.
Whether it is that he needs matches to build rhythm through playing on a regular basis, or whether he takes what sports psychologists call 'arousal' from performing on the big occasion with his country, who he captains, he showed he is still capable of genius.
After watching Arshavin produce such a rounded display, Wenger will be scratching his head as he ponders the player's future. The problem is the £15million man has not done enough at Arsenal to deserve a team designed to support his needs. He seems to require the necessary psychological stimuli and responsibility of a side for who he is the lynchpin. He is unlikely to again get that chance at Emirates Stadium.