United let-downs
In light of this week's dramatic events at Old Trafford, Whoscored.com's Martin Laurence takes a statistical look at which Manchester United players let their standards slip most under David Moyes
By Martin Laurence
Last Updated: 25/04/14 12:55pm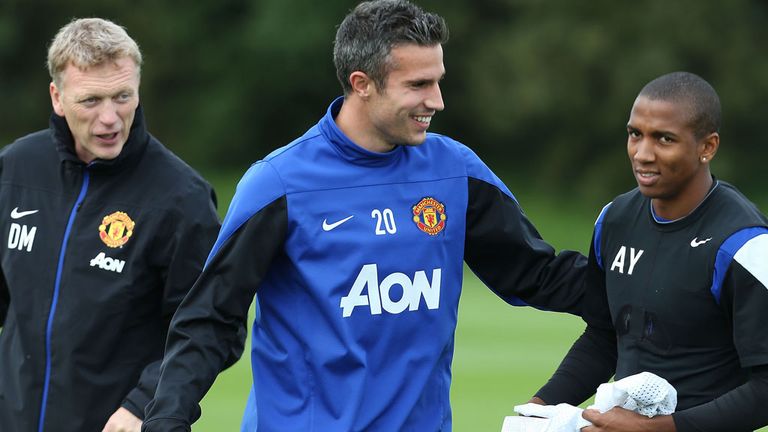 This week the assumption that David Moyes would be given time to prove his worth at United, no matter how bad the results, was trampled. After an 11th Premier League defeat of the season, and second of the campaign to his former employers Everton, the board decided enough was enough.
While there are plenty that still feel the Scot should have been afforded more time, or at least the transfer window to start to build his own squad having inherited an ageing one - in defence in particular - it's hard to defend the rapid downfall in performance levels.
In turn, a certain amount of the blame must fall at the feet of some of the players. To hit the ground running a manager always needs his best players on song and too many that impressed last season have failed to do so this time around. In turn we highlight those that have perhaps let Moyes down the most with regards to their performances this season, looking at the players with the most significant drop in WhoScored.com's ratings.
Firstly, it's worth pointing out that of the 20 United players to have made more than 10 appearances this season and last (including marquee signings Mata and Fellaini) five saw their ratings increase under Moyes. The most significant, in descending order, were Phil Jones (6.79 to 7.27), Chris Smalling (6.83 to 7.11), Wayne Rooney (7.25 to 7.57), Danny Welbeck (6.69 to 6.83) and Michael Carrick (7.04 to 7.06).
There's an interesting theme in the fact that all five are English, perhaps calling into question Moyes' ability to motivate some of the foreign players at the club. While it is true that he managed plenty of players from overseas whilst at Everton, the core of his squads were British. It could be argued that the homegrown players at United may perhaps have appreciated the job he had done at Everton more and therefore needed less convincing of his pedigree.
That is for another time, though. Here are the worst offenders for letting their standards slip from last season, with varying validity of excuses.
6. Rafael - Drop of 0.29 (from 7.32 to 7.03)
Last season was the Brazilian's best in a United shirt. He had previously shown glimpses of the swashbuckling full-back he was predicted to become but also moments of real naivety. During Ferguson's final countdown the 23-year old started to shown signs of adding the consistency a top class defender needs to his game, but there's been a regression to the Rafael of old under Moyes.
While he's continued to offer an attacking outlet, the right-back has been more wasteful in possession, with his pass accuracy dropping from 84.5% to 78.8%. From a defensive standpoint he's also been less impressive, with his average tackles and interceptions down from 3.1 and 2 to 2.3 and 1.8 per game respectively. With no goals and only 1 assist, it's been forgettable season for Rafael.
Ryan Giggs - Drop of 0.32 (from 6.72 to 6.40)
It's interesting that of the 20 United players to have made more than 10 league appearances this season their new caretaker manager is the lowest rated according to WhoScored.com. It's true that Giggs has had very little playing time to find his rhythm but he has made the same proportion of his appearances as a substitute this season as he did last (54.5%) so his impact has certainly diminished, quite understandably, with age.
The Welshman looks likely to fail to score in the Premier League for the first time since it's inception, and he's also failed to register an assist in 11 appearances. His averages for shots (0.3), key passes (0.7) and dribbles (0.4) have all dropped from last season, and having adopted a somewhat dogged midfield role at times in his latter years under Ferguson his tackles per game figure has dropped substantially from 2 to 0.5.
Javier Hernandez - Drop of 0.35 (from 6.80 to 6.45)
The player that can no doubt be forgiven the most for his drop in performances this season, Hernandez started just 5 of his 21 league appearances under Moyes, with the Scot clearly not convinced by the Mexican. Having registered double figures in each of his three league seasons at the club previous, the forward has netted just 4 this time around and failed to have the same impact from the bench that he did under Ferguson.
Likely to have been a little disillusioned with life in Manchester, the 25-year old has been making progressively fewer appearances in the last two years or so and his United career hasn't flourished as he'd have hoped. With just 18 shots all season, he's not been cropping up in the right places as often, despite a lack of minutes.
Marouane Fellaini - Drop of 0.43 (from 7.57 to 7.14)
This is arguably a case of Moyes falling on his own sword, with many questioning how Marouane Fellaini would adapt to a side like United despite a fantastic season in 2012/13. The Belgian has been the poster boy of Moyes' failings at times, and perhaps a little undeservingly so. After all, United weren't exactly flying in his lengthy absence through injury.
Nevertheless, Fellaini has struggled to find his identity at Old Trafford, which is strange to say of a player of his appearance and stature. The midfielder has been deployed deeper, as he was early on in his Everton career, and looked more than a little leggy at times. Having proven such a threat in the attacking third last season, Fellaini is yet to register a league goal or assist for United, creating just 3 chances over his 15 appearances to date compared to 40 last time around.
Ashley Young - Drop of 0.44 (from 6.97 to 6.55)
While injuries may have stunted the progress and indeed promise of Ashley Young, he's still faced his fair share of criticism from United fans in recent seasons, falling under the 'not good enough for the club' category. The England international has done little to dispute such claims in the current campaign, with his performances a far cry from those that saw him earn an international call and interest from United whilst at Aston Villa.
Here is a winger that, in his final season in the Midlands, averaged 2.4 shots and 2.3 key passes per game. Fast forward three years and those figures are down at 0.7 and 0.8 respectively. With United thought to be planning a clear out in the summer, the 28-year old's position will certainly come under threat given his waning form since arriving at Old Trafford.
Robin van Persie - Drop 0.53 (from 7.68 to 7.15)
The most significant decrease of all, in more ways than one, has been that of Robin van Persie, who lavished Sir Alex Ferguson with praise during their short working relationship. The Dutchman may have been more disappointed than most then when the legendary boss announced his decision to step down and his fondness of the replacement manager and the club as a whole has been questioned all year.
Much of United's success last season was credited to the exploits of the eventual top scorer in the league (26 goals) but his form has fallen way short this season. While a tally of 11 league goals from 18 appearances is still impressive, he's been guilty of missing the sort of chances that one would deem ideal for a player of his calibre. Perhaps the most damning indication of his plight this season has seen Van Persie awarded just one WhoScored.com man of the match rating in the league compared to a massive 10 last time around.
By Martin Laurence. Follow him on Twitter.
All statistics courtesy of WhoScored.com, where you can find yet more stats, including live in-game data and unique player and team ratings.