The Shankly legend
Monday marks the 100th anniversary of the birth of Bill Shankly. Here we take a look at the man, the myth and the legend - including some of his most famous quotes.
Last Updated: 31/08/13 9:52pm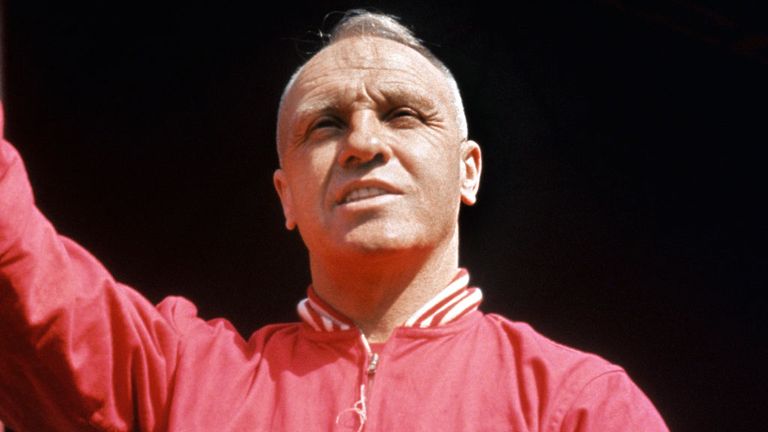 Bill Shankly set out to make the people happy but his legacy extended a lot further than that - not just at Liverpool but throughout the game he loved.
The gruff Scot with an iron will was a natural leader and naturally people followed almost without question.
Fans adored him, players believed in him and opponents were intimidated by him.
He may not have won trophies in the number of some of his successors, but the fact they were so successful was largely down to the work of arguably the greatest manager in the club's long history.
Shankly, who was born on September 2, 1913, is famous for many soundbites and one-liners, but there was one which summed up his sheer bloody-mindedness and determination to be the best.
"My idea was to build Liverpool into a bastion of invincibility. Napoleon had that idea and he conquered the bloody world," he said.
"That's what I wanted; for Liverpool to be untouchable. My idea was to build Liverpool up and up and up until eventually everyone would have to submit and give in."
And, once he got himself established at Anfield, they largely did for almost 40 years.
His legendary reign began inauspiciously with a 4-0 hammering at home to Cardiff, but gradually he began a revolution which had a profound effect not only on the club but a large proportion of the football-mad city.
He became the first of the real football managers. People like Brian Clough, Don Revie and Alf Ramsey followed. They picked the team, coached it, and handled transfers.
Before that, chairman and directors were in charge of all but the fitness work.
Shankly inherited a Liverpool club languishing in the old second division with their Melwood training ground a shambles, but he immediately set about changing all that.
An idealistic socialist from Scottish mining stock, he understood the working class and how people in general ticked.
With that in mind he insisted on teamwork, brotherly help and spirit. The man from working-class roots wanted his team to play with a socialist ethos.
They played for the people, and the people understood that simple philosophy.
Great players owe their careers to him. Ian Callaghan, the club's record appearance-maker, regards Shankly second only to his parents in terms of having the greatest influence in his life.
Others - Ian St John, Roger Hunt, Ray Clemence, Tommy Smith, John Toshack, Kevin Keegan, Steve Heighway - all owe him a great deal.
On his retirement, Shankly was asked how he would like to be remembered.
He said: "That I've been basically honest in a game in which it is sometimes difficult to be honest.
"Sometimes you've got to tell a little white lie to get over a little troublesome period of time. I'd like to think that I have put more into the game than I have taken out.
"And that I haven't cheated anybody, that I've been working for people honestly all along the line, for the people of Liverpool who go to Anfield.
"I'd like to be recognised for trying to give them entertainment.
"I was interested in only one thing, success for the club. And that meant success for the people.
"I wanted results for the club, for the love of the game, to make the people happy."
Memorable quotes
"Some people believe football is a matter of life and death, I am very disappointed with that attitude. I can assure you it is much, much more important than that."
"If you are first you are first. If you are second you are nothing."
"The trouble with referees is that they know the rules, but they don't know the game."
"If Everton were playing at the bottom of the garden, I'd pull the curtains."
"Of course I didn't take my wife to see Rochdale as an anniversary present. It was her birthday and would I have got married during the football season? Any way, it was Rochdale reserves."
"In my time at Anfield we always said we had the best two teams on Merseyside - Liverpool and Liverpool reserves."
"If you're not sure what to do with the ball, just pop it in the net and we'll discuss your options afterwards." - Shankly's advice to Ian St John.
"I was only in the game for the love of football - and I wanted to bring back happiness to the people of Liverpool."
"If he isn't named Footballer of the Year, football should be stopped and the men who picked any other player should be sent to the Kremlin." - On Tommy Smith.
"At a football club, there's a holy trinity: the players, the manager and the supporters. Directors don't come into it. They are only there to sign the cheques."
"Take that bandage off, and what do you mean YOUR knee, it's LIVERPOOL'S knee!" - To Tommy Smith after he'd turned up for training with a bandaged knee.
"Just tell them I completely disagree with everything they say." - To a translator when being surrounded by gesticulating Italian journalists.
"If a player is not interfering with play or seeking to gain an advantage, then he should be." - Shankly on the offside rule.
"It was the most difficult thing in the world, when I went to tell the chairman. It was like walking to the electric chair. That's the way it felt." - On leaving Liverpool.
Honours
Liverpool (1959-1974)
Division One champions: 1963-64, 1965-66, 1972-73
Division Two champions: 1961-62
FA Cup: 1964-65, 1973-74
UEFA Cup: 1972-73
Manager of the year: 1972-73