Liverpool problems?
Luis Suarez was lively on his return for Liverpool against Man United, but Matt Stanger is worried about Daniel Sturridge. It looks like the striker is already in need of a rest...
Last Updated: 25/09/13 10:55pm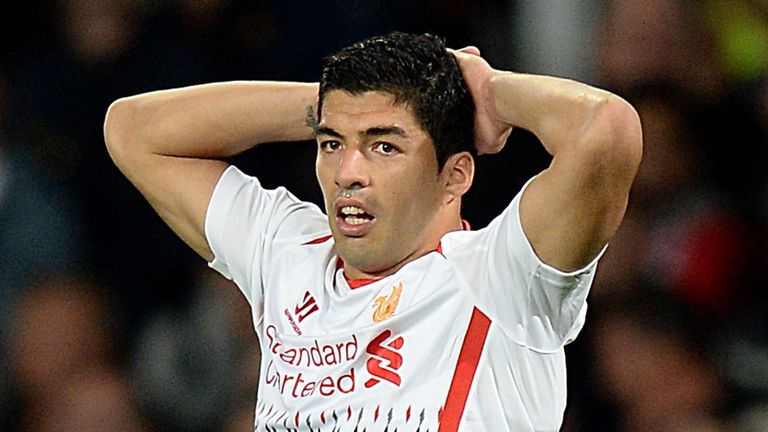 Although Liverpool limped out of the League Cup with a 1-0 defeat to Manchester United, Brendan Rodgers will have been encouraged by Luis Suarez's first appearance following his ten-match ban for biting Branislav Ivanovic.
Other than a free-kick that crashed against the crossbar the striker's finishing lacked composure, but he showed flashes of his talent, twisting and turning his way past United's defence on several occasions and setting up four chances for his teammates.
It has been claimed that Liverpool haven't really missed Suarez during his suspension after the Reds thrashed Newcastle 6-0 in the first game of his absence and won six of his ten matches on the sidelines, but he returns at just the right time to boost the club's top-four challenge.
"If you look at the results, Liverpool haven't really missed him and that is a testament to Sturridge and Coutinho," said Robbie Fowler on Tuesday. "But that's the good thing about Liverpool, they have a world-class player waiting in the wings."
Contrast
While Suarez may not have reaffirmed his 'world-class' status at Old Trafford on Wednesday, Daniel Sturridge's dire display provided a clear contrast between a player whose season is just beginning and another who is already in need of a break. The England striker's touch was poor throughout and he completed just 63% of his passes on a sloppy night.
Following a fruitless and exhausting 90 minutes against Southampton on Saturday, it was perhaps a surprise to see Sturridge start in attack against United and his second subdued performance in five days will come as a concern to Rodgers.
It seems that as one problem draws to a close as Suarez returns, another is gradually emerging as cracks begin to appear in Sturridge's form. This is an entirely predictable set of circumstances considering injury ruled Sturridge out of much of pre-season and his recent struggles with a thigh strain caused him to miss England's World Cup qualifiers against Moldova and Ukraine.
Decision
With Suarez's other stand-in, Philippe Coutinho, sidelined for six weeks with a shoulder injury, Rodgers faces a difficult decision over whether to continue playing Sturridge despite his apparent need for a rest. The 24-year-old may try and battle on to the next international break in two fixtures' time, but if he withdraws from Roy Hodgson's squad for a second time this season and England make it to the World Cup, his chances of travelling to Brazil will suffer a severe setback.
Sturridge's gamble is not as serious as the one Rodgers is facing, however, and it can be argued that the manager intentionally ignored the forward's fatigue on Wednesday in order to develop his preferred attacking partnership. Given Coutinho's absence and Iago Aspas' poor start for the Reds, the manager's hopes of maintaining Liverpool's league position rely heavily on the link-up between Sturridge and Suarez, but it is clear that there are risks involved as Sturridge's displays begin to dip.
If Liverpool beat a Sunderland side in disarray on Sunday, Rodgers may be afforded an opportunity to grant Sturridge the rest he requires when Crystal Palace travel to Anfield on October 5. But it may be a case of the manager looking towards the long-term benefit of having both Sturridge and Suarez fit and firing rather than his desperation to keep Liverpool battling at the top in the short term.