QPR worked hard for point against dominant Tottenham, said Ray Wilkins
Ray Wilkins applauded battling QPR's work rate after they earned a much-needed point against Spurs.
Last Updated: 12/01/13 5:06pm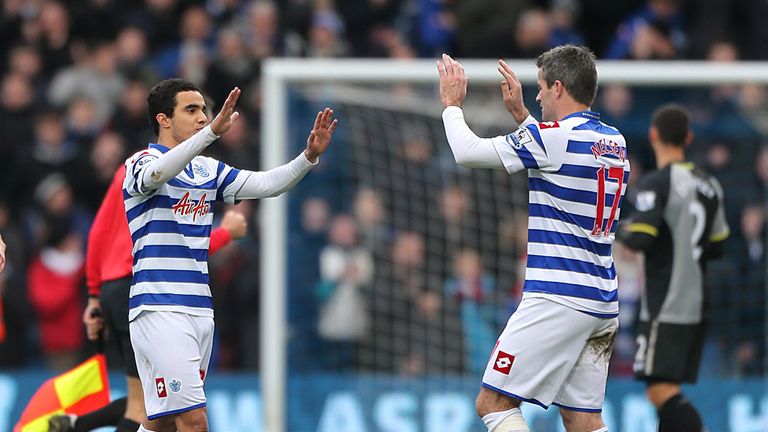 Spurs dominated possession throughout the encounter at Loftus Road but a combination of hard work from the hosts and a couple of fine saves from keeper Julio Cesar kept the visitors at bay.
Coupled with their win at Chelsea in their last league outing, QPR have now earned four points from their matches with third and fourth in the Premier League and the point against Spurs lifted them off the bottom of the table ahead of the 3pm kick-offs.
"That's huge for QPR, absolutely huge," said Wilkins. "Tottenham have scored in every away game they've played in this season until now.
"Spurs had the majority of the ball but that helped QPR because it meant they could keep their shape right throughout the side, which made it very difficult for Tottenham to play.
"In their last three games QPR have been outstanding and they've done remarkably well again here. They've taken another point towards fourth from bottom."
Wilkins believes the results against Chelsea and Tottenham will help QPR boss Harry Redknapp add to his squad in January, but the former England midfielder warned anyone coming into the team must be prepared to work as hard as the current side.
"QPR will have to score more goals and I'm sure Harry and his guys are working extremely hard to bring guys in in forward areas," said Wilkins.
"But QPR can't sacrifice their work ethic because that's what's got them the points over the last couple of weeks."
Disappointment
Meanwhile, ex-Tottenham boss Glenn Hoddle believes the visitors will be disappointed to not take all three points back to North London.
"I wouldn't say Tottenham were poor but they'll be very frustrated and disappointed with a point," he said.
"With over 55% possession and all the territory they had Tottenham didn't open them up enough, apart from the first ten minutes of each half, when they looked like they were going to take them apart. Other than those periods they were very lacklustre.
"It's a small pitch here at Loftus Road but Tottenham's wingers didn't stay out wide enough and QPR made it so, so tight in the middle. The wingers should have been right out on the line to stretch them.
"But credit to QPR - the two clean sheets against Tottenham and Chelsea have been outstanding and this result has put some pressure on the other sides near the bottom."