Targets: Brazil
With the January transfer window upon us, Sky Sports' Brazilian football expert Paulo Freitas gives his verdict on five stars from the Brasileirao who could attract attention from Premier League clubs.
By Adam Bate with Paulo Freitas
Last Updated: 31/12/13 1:19pm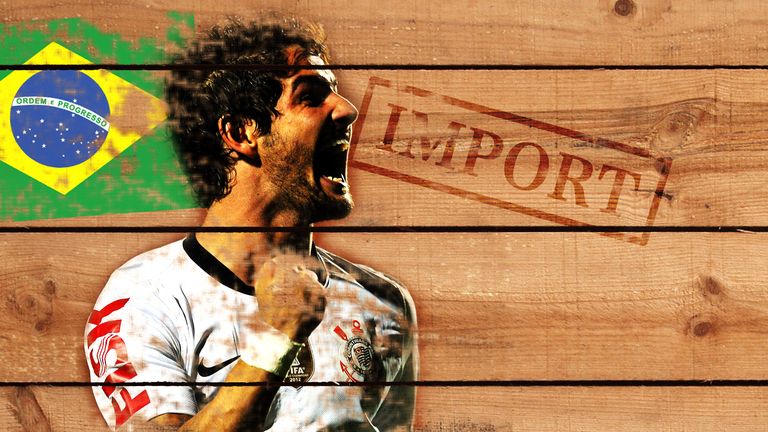 Paulo Freitas is Sky Sports' Brazil correspondent and the head researcher in Brazil for the famous Football Manager computer game series. We caught up with him get his expert verdict on five stars from Brazil who could be making the move to the Premier League.
Alexandre Pato
Age: 24
Nationality: Brazil
Club: Corinthians
Position: Forward
Good fit for: Arsenal; Tottenham
The word
Reports in England recently linked the former AC Milan star with a move to London with Arsenal and Tottenham both listed as possible destinations. But Corinthians director Roberto de Andrade has since been quoted in Globo saying: "We can negotiate about him, like any player. But in order to have a negotiation, there must be clubs interested in signing him and Pato has so far not asked to leave."
Paulo's expert view
"Although he has been linked with moves to Arsenal and Tottenham, Pato has lost some speed since his early career and his finishing left a bit to be desired during the 2013 Brazilian League season with fans also complaining that he failed to show commitment. However, he has still got good technique and, since joining Corinthians, he has not suffered any of the serious injuries that previously plagued his career. A move to the Premier League is a realistic possibility as Corinthians are willing to sell, as long as the £10 million price they have set for him is met."
Key stat: Pato scored nine goals in the 2013 Brasileirao at a rate of one every 193 minutes on the pitch.
Abner
Age: 17
Nationality: Brazil
Club: Coritiba
Position: Left-back
Good fit for: Chelsea; Manchester City
The word
Reports in August suggested that Manchester City were favourites to land the signature of the youngster dubbed by some as 'the new Roberto Carlos' with Coritiba director Felipe Ximenes in England for negotiations. But in October, fresh reports indicated that Roma had stepped up their interest. Brazilian agent Sabatino Durante is quoted as telling TMW: "There is so much confusion around the player, he seems to have signed with several agents and this is also why there are so many clubs being linked with him."
Paulo's expert view
"He is a typical attack-minded Brazilian fullback, with good technique and crossing skills. However, he is also better at defending than some of his countrymen but he would still need to improve that skill and bulk up if he is to succeed at senior football. A major reason of concern is a knee injury he got during the Under 17 World Cup, which might seriously hinder his development. The injury makes a move to the Premier League seem unlikely, but Italian club Roma have already expressed interest in signing him."
Key stat: Abner made his Brasileirao debut as a substitute in the 2-2 draw at home to Goias in September.
Everton Ribeiro
Age: 24
Nationality: Brazil
Club: Cruzeiro
Position: Attacking midfielder
Good fit for: Manchester United
The word
With reports suggesting the Brazilian club are willing to do business for €8million, the Cruzeiro playmaker has been open about his interest in a move to Manchester United. Ribeiro reportedly told Sportv: "I will continue doing my job here at Cruzeiro but plan on getting to a big club. It's a dream I've had since young, I've always liked Manchester United." He's even been swotting up in front of the computer screen, quoted as telling ESPN Brasil: "United have Kagawa, Rooney, De Gea is the goalkeeper. I know them very well because I play with them a lot in video games as they are a great team."
Paulo's expert view
"Éverton Ribeiro was named as the best player in the Brazilian League and helped his team win the title for the first time in 10 years. He can play on both wings and has good technique, passing and dribbling skills, having been one of the leaders in assists during the past season, but his finishing is somewhat disappointing and thus he is not a prolific goalscorer. He has been linked to Manchester United but there are concerns about whether he could get a work permit as he has never been capped before and does not possess a European passport. A move to England is unlikely in January anyway as Cruzeiro plan to keep him for the Copa Libertadores."
Key stat: Ribeiro assisted 11 goals in the 2013 Brasileirao season with only Clarence Seedorf creating more than his 81 chances.
Mosquito
Age: 17
Nationality: Brazil
Club: Atletico Paranaense
Position: Striker
Good fit for: Chelsea; Manchester United
The word
Mosquito came to the eye of the scouts from Europe's top clubs in October when he scored four goals in Brazil's FIFA Under-17 World Cup campaign in the United Arab Emirates with Chelsea and Manchester United chief among the prospective suitors, according to the Daily Mirror. The teenager has already found himself embroiled in a transfer dispute with former club Vasco da Gama but with him turning 18 on January 6th, the interest from clubs in Europe is expected to intensify.
Paulo's expert view
"Mosquito has shone at youth level for Brazil's national teams. He has good technical skills thanks to his early futsal years and is also fast, agile and capable of handling a more physical game. Although he is a fairly complete attacking player, his lack of senior experience means that any transfer at this point would be a risky deal. However, given his youth football caps, he is likely to get a work permit without much difficulty and could be loaned to other clubs to gain experience. Atlético Paranaense are not expected to demand a high fee, so a move to England is a very realistic possibility."
Key stat: Mosquito missed the sudden death penalty that led to Brazil being eliminated by Mexico in the quarter finals of the U-17 World Cup.
Neílton
Age: 19
Nationality: Brazil
Club: Santos
Position: Forward
Good fit for: Tottenham
The word
"I am thinking in Santos right now," Neílton told Lancenet in November after enjoying a breakthrough season in which he scored four goals for the famous Brazilian club. "I am not thinking about leaving or about other clubs. I intend to stay for now. God willing everything will work out and I'll stay many years here at Santos." Impressive words but negotiations over a new deal have stalled and reports in the Daily Mirror have suggested Tottenham are preparing to bid for the teenager.
Paulo's expert view
"Neílton is among the players that have been labelled as the 'new Neymar', thanks to his technical skills and his hairstyle, as well as the fact that he has been developed at Neymar's former club Santos. However, Neílton has failed to shine as much as Neymar did, and he does not finish well. Negotiations to renew his contract with Santos have been hard as he is making high demands that mean a move to another club is looking likely. His lack of youth caps make a transfer to Italy or Spain more likely than joining a Premier League side."
Key stat: Neílton was ruled offside at a rate of once every 63 minutes last season, more often than any other Brasileirao player to start 10 or more matches.
Follow Paulo Freitas on Twitter
*Facts collated using Opta data