Feeling the heat?
Is Manchester City manager Roberto Mancini cracking up or does he just have his game face on? Rachel Griffiths examines how the boss is handling his side's disappointing season.
By Rachel Griffiths - Follow me on Twitter @SkySportsRachG
Last Updated: 26/02/13 9:28am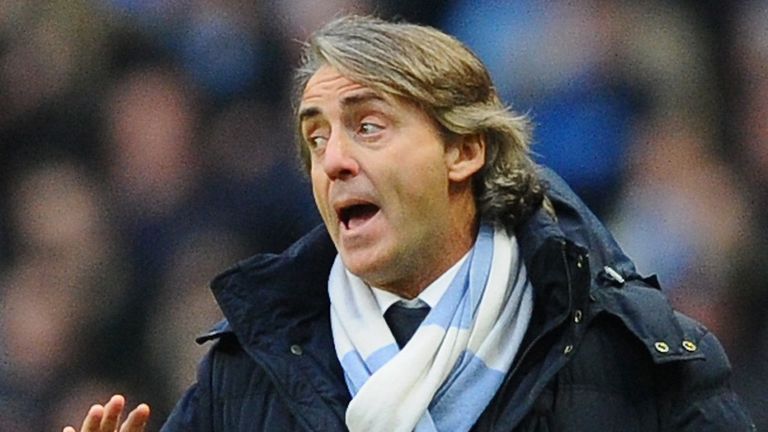 Manchester City may have claimed a welcome win over Chelsea on Sunday but speculation over Roberto Mancini's future at the club still lingers around the Italian - and before their weekend triumph it could be argued he was beginning to buckle under the pressure.
For reigning Premier League champions City, the 2-0 success - courtesy of goals from Yaya Toure and substitute Carlos Tevez - came on the back of a three-game winless streak in the league which had allowed in-form neighbours Manchester United to open up an imperious 15-point lead at the top of the table, now trimmed to a still formidable 12.
The spotlight was therefore on Mancini well before kick-off on Sunday, but it only intensified in the wake of an intriguing and at times fiery interview with The Guardian on Friday which saw him defend his position as City boss, launch a fresh bout of criticism on Samir Nasri and once again demand more from Joe Hart, as well as taking a casual jibe at Arsene Wenger.
His comments came on the back of a press conference earlier on Friday which saw Mancini finally appear to snap under scrutiny over his position at the club and pressed on rumours City will replace him with Malaga manager Manuel Pellegrini. "******* hell," said the exasperated City boss. "I can't continue to answer questions about this."
Speculation over his job is an issue the boss has to deal with on an almost daily basis, with Jose Mourinho another rumoured successor for when, as many are predicting could be sooner rather than later, City's wealthy owners finally tire of Mancini. Expanding on his frustrations, the Italian asked: "Seriously, for what reason? Since we started to win, in May 2011, Manchester City are the best team in England, are they not? We won three trophies, Manchester United two, Chelsea two, Liverpool one. No other team has won more than us... I don't understand it. I could if we had won nothing for three years. It would be difficult for me to stay then. I couldn't stay in a team where I wasn't doing a good job. But I have done a good job here."
Mancini may not have dissolved into a Keegan-style meltdown but his comments over recent days have suggested he is feeling the heat, none more so than his bitter crack at United for being "really lucky" in opening up their substantial lead at the top, claiming success in games "they didn't deserve to win".
Also attracting attention is the fact he has no qualms pointing his finger at his own players for City's predicament, with Nasri feeling the brunt of his wrath. Targeting last summer's arrival from Arsenal, he said: "Sometimes a player thinks it's enough what they did the year before and doesn't understand that every day they should improve... Samir can do better than this year. He is a top player but he has not been playing at his level."
Of Hart, who already came in for flak on the back of City's alarmingly poor defeat at Southampton earlier this month, Mancini added he would have no problem dropping the England No.1 to the bench if he doesn't perform. His assessment of the keeper after the win over Chelsea was also mixed after he conceded, then saved a penalty. "I think Joe is the best in England and one of the best in Europe and I am pleased for him because he saved a penalty," said Mancini, "But he could do better before with the long ball; he could be perfect if he wants to."
Wenger, known for protecting his players even when Arsenal are struggling for form, was another figure not safe from Mancini's ire as he added: "But I'm not Arsene Wenger. We're different. I want to win."
Breaking point?
Mancini's comments have created quite the stir, with Twitter and fan forums of City's rivals awash with conclusions that the manager has reached breaking point. In fairness to Mancini, it could be argued he would be within his rights to a meltdown, with expectation weighty on his shoulders.
The Italian is staring down the barrel of a season without success in the league or Europe. The cold facts are that, under Mancini, City's UEFA Champions League campaign flopped for a second successive year and their title challenge appears insurmountable, with the FA Cup looking like their only hope.
The lack of impact made by Mancini's summer signings is another factor which has seen him attract criticism, with the likes of Scott Sinclair, Jack Rodwell and Javi Garcia having as yet failed to truly shine. Over at United, meanwhile, the man who was top of his wishlist - Robin van Persie - is ripping up the goalscoring charts at Old Trafford.
Missing out on the Dutchman is still a sore point to Mancini and he has made no secret of his feeling that the club's former football administrator Brian Marwood is to blame for a lack of big-name signings last summer. The boss has acknowledged the club's need to spend in the upcoming window, identifying Edison Cavani and Falcao as targets, but questions remain over whether Mancini will be the one to try and bring them to the Etihad or if it will be up to his successor to splash the cash.
As manager of one of the biggest-spending clubs in the division, and the reigning champions, you would not blame Mancini for feeling the pressure in his position and no doubt he is. But it's worth noting this is not the first time speculation has raged over whether Mancini is reaching the end of his tether.
Last March, The Sun boldly asked 'Is Mancini Cracking Up?' after he refused to face the media when City dropped two crucial points to Stoke, sending the message he was "not happy and needed time to calm down". Less than two months later, City overhauled United for the title.

Fiery
Throughout his time in English football, Mancini's traditionally fiery Italian temper has not gone unnoticed, with player rows and touchline spats with other managers underlining his passionate and often volatile personality. In that sense, his inflammatory comments this weekend were not wholly unexpected: when pushed Mancini has shown repeatedly he will bite.
He is also no stranger to mind games, having won the psychological battle with Sir Alex Ferguson last season when City snatched the title despite Mancini's constant assurances that City were out of the race, which stirred up the tabloids to great effect. His often unpredictable relationship with the media ranges from the spiky, defensive attitude exemplified over the past weekend to poking fun at his own absence by donning a David Platt mask to a press conference late last year.
It's true that Mancini appears rattled. Greyer, paler and more lined around the eyes since his arrival in Manchester four years ago, the fight to keep City challenging at the top has taken its toll. But having thrived on pressure in the past as both a player and a manager, it could be that Mancini's heated outbursts are also evidence of him in battle-mode after publicly refusing to concede defeat in the title race - however futile that cause may seem. In the Italian's own words: "I like being a manager. I like being angry every day."
The chances of overthrowing United again this season look increasingly bleak for a City side who have struggled for consistent form and would require a collapse of historic proportions on the part of Ferguson's men, which seems unlikely with the league's top scorer Van Persie leading their line and a squad that have proved capable of clinically churning out results, with only three games lost from 27 so far this season.
Reports Mancini's job is on the line may be close to the mark, with managers having been sacked for less than failing to match their previous season and Sheik Mansour's patience rumoured to be wearing thin.
But Sunday's deserved win over Chelsea shows dogged Mancini has not finished fighting and he will do it his own way as long as he remains, with Rodwell's surprise inclusion in the starting line-up testament to that. It also appears he will do it with a fair amount of backing from City's fans, if the singing of his name at the Etihad this weekend is anything to go by.
With the pressure on and if Mancini stays, don't be surprised if his outbursts come hand-in-hand with the fight.