Bobby Zamora's One2Eleven
QPR striker Bobby Zamora told The Fantasy Football Club about the best players he's ever played with.
Last Updated: 15/09/12 10:57am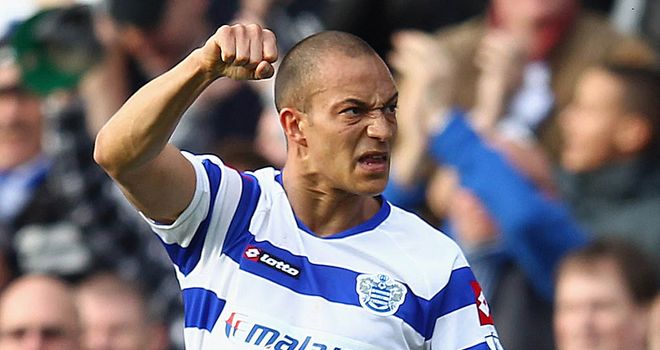 GOALKEEPER - Joe Hart
We've just signed Julio Cesar at QPR. I haven't played a proper game with him yet, but in training he's been very different to most goalkeepers I've played with. He's already thrown in a couple of Cruyffs on Andy Johnson and sent him for pie and chips. Yesterday he took one on the chest and lobbed one over my head to one of the centre-halves. At the minute I'm going for Joe Hart, but if you ask me in a couple of weeks it could be this new guy.
RIGHT-BACK - Chris Baird
His delivery is second to none as a right-back. As a striker and target man, having a good ball played up to you is important and makes your life easier. He's certainly spot on at that.
CENTRAL DEFENCE - Ledley King and John Terry
These are two lads I played with in Sunday League football! I've known them a long time and they've both had great careers. They're both centre-halves that I've not had great times against!
LEFT-BACK - Ashley Cole
Everybody knows how good he is and I was lucky enough to play against him as a kid and play with him for England.
RIGHT MIDFIELD - Damien Duff
At Fulham he was probably one of the best players and the best connections I've had. I used to love showing up for him and him coming in and playing it to my feet. I'd bounce it back to him and he'd have a shot. It was so straightforward and seemed to make football so easy.
CENTRAL MIDFIELD - Javier Mascherano and Steve Sidwell
I think I want ball-winners in there, proper bosses! I'm toying between Steve Sidwell and Scott Parker, two proper tough-tackling central midfielders. One that I'm definitely going to have is Javier Mascherano, who is a world-class player and I'm going to go for Sidwell. Scotty P, sorry mate! I'm definitely going to get a clout from him next time we play!
LEFT MIDFIELD - Moussa Dembele
A very talented player and I'm sure that at Spurs he'll come out and shine even more than he has done at Fulham. Off the pitch he's very quiet and a very nice lad so I've got my fingers crossed that he can go on to the next level.
STRIKERS - Robbie Keane and Carlos Tevez
Robbie Keane is a very special player. I learned a lot from him as a young lad and seeing him train and play was very special. Another would be Teddy Sheringham, who is magnificent. When I was at West Ham he was coming towards the end of his career and I learned a lot from him. He's so calm on the ball and doesn't seem to give it away. He's a very intelligent player - he wasn't the quickest or the strongest - but he read the game so well. I'd have him on the bench and hopefully he'd do a job for me coming off the bench. I'll have Carlos Tevez up front for me with Robbie Keane. Not the greatest body in the world, but what a player!