Charlie's calls
Charlie Nicholas predicts key wins for Arsenal, Spurs and Sunderland - but no joy for Chelsea at Man Utd.
By Charlie Nicholas
Last Updated: 03/05/13 12:46pm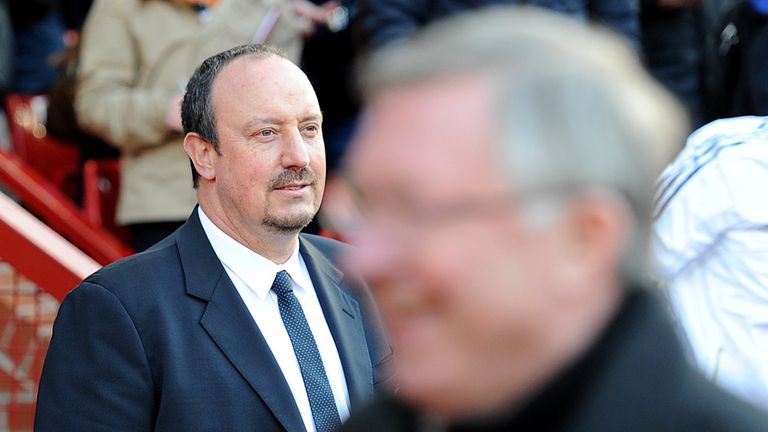 Liverpool v Everton (1pm, Sun, Sky Sports 1 HD)
CHARLIE PREDICTS: 2-2
I think this is going to be a classic. Liverpool are determined to catch an Everton side who have a tremendously difficult finish to the season with some tough away games to play, but we've seen that this is not a team that is going to run out of steam. They showed at White Hart Lane they're up for the battle and are determined to finish above the red side of Merseyside. Liverpool battered Newcastle last week and showed they can play well without Luis Suarez, but I think Everton will offer more physically than Newcastle did. It should be an end-to-end game but Everton's physical presence will see them get something from it.
Man Utd v Chelsea (3.30pm, Sun, Sky Sports 1 HD & Sky 3D)
CHARLIE PREDICTS: 2-1
Chelsea have the ability to get something at Old Trafford, but this is not a scenario where the champions have downed tools for the summer. We saw at the Emirates last week that Manchester United needed 20 minutes to shake off the cobwebs and then they created plenty of chances. There's no way Fergie is going to turn up on Sunday and let Rafa Benitez have a free afternoon, that won't happen between these two men, and I think Manchester United will want to finish in style in front of their home crowd. Depending on the results for Arsenal and Spurs, Chelsea may need to go for it at Old Trafford and I think Man United may just pick them off. Maybe Robin van Persie will do Arsenal a favour this week and United will win 2-1.
Sunderland v Stoke (7pm, Mon, Sky Sports 1 HD)
CHARLIE PREDICTS: 2-1
Sunderland will have the benefit of knowing how Wigan got on in their tough away game on Saturday and that could ease the pressure, but there's no doubt Paolo Di Canio will demand all-out action and tempo from his players. He has won the home fans over and had been doing really well, but they were embarrassed at Aston Villa last week and he will want a response. I think he'll get one too. Stoke are at ease and I see an attractive attacking game full of goals, but I see Sunderland reacting to the pressure and winning the match. Their manager will be keen to force the issue!
Fulham v Reading
CHARLIE PREDICTS: 2-0
Dimitar Berbatov is a magical player who makes things happen and Fulham rely on him a great deal, but I've always felt Martin Jol's team should be doing a lot better. There's a nice balance to the team, but they don't finish teams off when they should. This weekend, with Reading's predicament, they will feel at ease at home and I see a fairly comfortable home win for them. They can turn on the style a little bit here.
Norwich v Aston Villa
CHARLIE PREDICTS: 2-2
This is massive and thankfully it's my game on Soccer Saturday. I said on the show two weeks ago that I felt this would be the game, with Paul Lambert going back to his old club, where Aston Villa would secure safety - and I see that happening. After the fantastic result against Sunderland, you could see all the youngsters thinking 'that's us just about there'. They're probably one good performance from safety. The strength of Christian Benteke and the form of Gabriel Agbonlahor will be a problem for Norwich defensively and Chris Hughton will still think his team need a point. I think both teams take something from the game.
Swansea v Man City
CHARLIE PREDICTS: 1-2
I'm a massive fan of Michael Laudrup and Swansea have had a great season, no matter where they finish, but they look as if they have downed tools. They merit being in the top half of the league and should make things awkward for Man City, but now Roberto Mancini's side have accepted the second position they have shown drive and determination and their top-class players will come out and play for pride. I see Man City continuing their decent form and winning 2-1.
Tottenham v Southampton
CHARLIE PREDICTS: 2-1
I've done Southampton three out of the last four weekends on Soccer Saturday and I've been impressed with them, but last week they got a run-around off West Brom. They stress about squeezing the game and it backfires on them against the lesser teams - but it works against the better teams and it will probably work against a Spurs team whose fans will be on edge. They are so close to the top four and this is a must-win scenario for them. I think they will do it, especially after the success story of Gareth Bale and all his awards this week, and I think Southampton will make mistakes at the back. It will be tight and tense, but I'll go for Spurs to win 2-1.
West Brom v Wigan
CHARLIE PREDICTS: 3-1
I watched West Brom last week and Romelu Lukaku was different class; I'm an Arsenal fan and I think they should try and buy him in a heartbeat. He's strong, he's powerful, his link-up play is excellent and I think he'll be a handful for Wigan, who are without Maynor Figueroa while Antolin Alcatraz looks like he's a game away from fitness. Wigan will have to force the game more than they would like to and that leaves them vulnerable against an impressive West Brom.
West Ham v Newcastle
CHARLIE PREDICTS: 1-1
Six weeks ago all the Newcastle fans were turning up in their French berets, moustaches and onions. Now all of a sudden people are accusing the team of being "over-French" and calling for them to get out! One thing you can say about Newcastle is they are never dull and I want them to survive; it's nothing personal against the other teams, but I want them to stay up for their hardcore fans. However, this is a difficult game with old boy Andy Carroll in brilliant form. I don't see Newcastle having much threat going forward, but a bit like Lambert going to Norwich, I see Alan Pardew going back to his old club and sneaking a 1-1 draw.
QPR v Arsenal
CHARLIE PREDICTS: 1-2
This is a dangerous game for Arsenal and they can't rely on Spurs or Chelsea slipping up. Arsenal's form has been pretty good and the manager seems to drag a determination and a know-how out of the players at this stage of the season, in particular Aaron Ramsey whose passing and finishing is frustrating, but his energy levels have been very good. Lukas Podolski played through the middle last week and you could tell he hadn't done it for some time and I personally would like to see Theo Walcott in the centre-forward position again. He could stretch the game, which would suit Santi Cazorla, Tomas Rosicky and Mikel Arteta and would allow Arsenal to dominate the game. I don't see this being a walk-in-the park though and while I expect Arsenal to win I expect it to be a tense game... especially for me!