Peter Crouch and Jon Walters say Stoke's next six fixtures will be vital
Peter Crouch and Jon Walters say Stoke's next six fixtures will be vital to their ambitions this season.
Last Updated: 28/10/12 3:03pm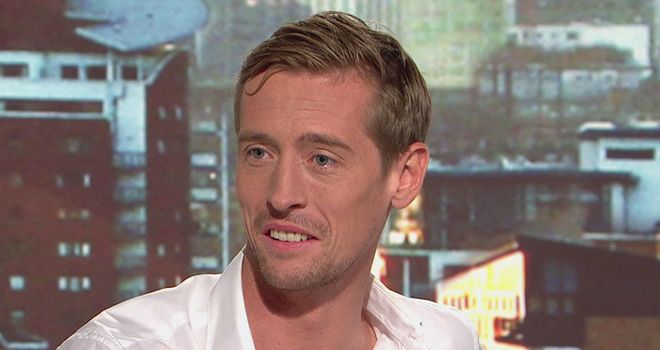 Stoke are 12th in the Premier League table after securing their sixth draw of the season as they were held to a 0-0 stalemate by Sunderland on Saturday.
Tony Pulis' side have won just once - a 2-0 victory over Swansea at the end of September - after a tough schedule at the start of the season.
With the Norwich, QPR, West Ham, Fulham, Newcastle and West Brom in their next six fixtures, Walters and Crouch believe wins in the next set of fixtures will be vital to their season.
Asked if the next fixtures would reap rewards, Walters said: "You would hope so. Although we have played the big teams I think you have to get your head right going into these games.
"I don't think that you can turn up and think you can go and get the result. Those teams are in the same boat as us. None of those games will be easy."
Crouch added: "We have had a difficult start and we would like to get points out of the next set of games if we are going to try to finish in the top ten, which I believe we can. They are the games that we have got to get results from."
The England striker says he moved to the Britannia stadium from Tottenham at the beginning of last season because of the ambition shown by the club and he believes they are on course, especially given some of their summer signings such as Michael Owen.
Ambition
"We have fantastic facilities," he said. "The ground is magnificent, the training ground is first class, and everything is in place to establish ourselves as a really good club.
"The reason I came to Stoke was because I believed there was a project in place and it was a club moving forward. It wasn't a case of taking a step down.
"I genuinely think we can move forwards and certainly with the players we have signed this season. No-one has lied to me, everyone has told me we can leap forward and we have done since I have been at the club and I think we will again.
"We have a belief. We have got backing from the owners and as you can see with the players we have signed I think we have added more quality again.
"And we will look to strengthen again next season. We are improving all the time. We are nowhere near the top four or five at the moment but I believe we can finish in the top ten then go on from there again."
Supersub
Owen came on as a second half substitute for the fourth time this season against Sunderland, though he has yet to register his first Premier League goal for the club. But fellow strikers believe it is only a matter of time before their team-mate and striking rival starts to hit the back of the net.
Walters said: "He has been fine in training and sharp as normal and great finishing as you would expect. But it is difficult because we are playing a different system this season."
"Crouch added: "I have been playing up there on my own and we have been playing Charlie Adam just off me. But he has looked very sharp in training and I think that it is only a matter of time before he gets his chance. He is a top quality finisher and player and you know when he gets his chance he will take it."