Premier League: Paul Merson urges Arsenal to buy Luis Suarez
Arsenal should splash their Champions League cash on Luis Suarez, says Paul Merson.
Last Updated: 22/08/13 11:42am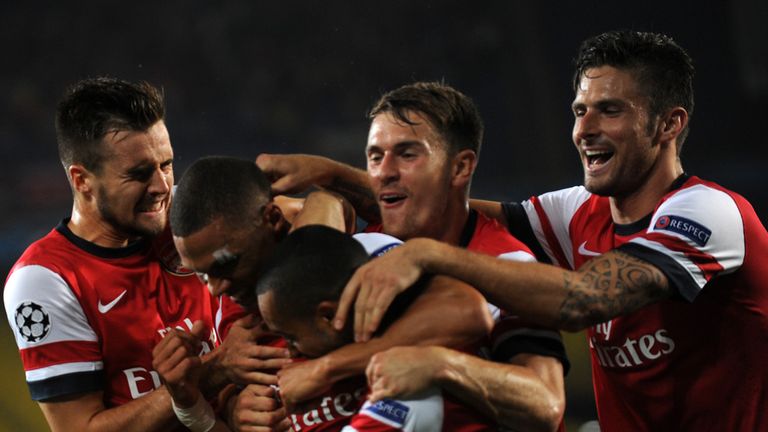 The Gunners bounced back from a miserable weekend to bring some relief for their manager and beleaguered fans with a 3-0 win at Fenerbahce to put them in pole position to qualify for the Champions League group stages.
Arsene Wenger has come under intense pressure to become active in the transfer market and a home defeat in their opening Premier League match by Aston Villa had some supporters booing.
Wenger said after Wednesday night's win in Turkey there was no chance of resurrecting their push to sign Suarez, but Merson disagreed.
"It's job done for Arsenal in the Champions League," he said.
"They'll earn £30-40 million in the group stages so they should use that and go and get Luis Suarez and do the deal.
"If it's £60m, it's £60m. He's worth it. He's one of the best five players in the world and they should just go and get him."
Second half goals from Kieran Gibbs, Aaron Ramsey and Oliver Giroud and a lively display from Theo Walcott ensured a comfortable night in the end for the visitors.
Arsenal should approach the second leg on Tuesday in buoyant mood but Merson warned against complacency
"It was a great result but it's important not to get carried away," he said. "I just couldn't believe how poor Fenerbahce were.
"It's a job well done for Arsenal and you couldn't ask for any more. They do set their standards very high but you have to be careful it doesn't cover over the cracks. Fenerbahce are no Tottenham or Fulham.
"However dominant Arsenal were or however bad Fenerbahce were, the Turkish team still had plenty of chances. They've got Fulham on Saturday and then Tottenham and those teams will be more clinical and that's the worry.
"Villa deserved to win on Saturday. "That wasn't a snatch and grab. I've watched Arsenal loads of times and when they've lost, you've often thought they should have won. Not this time. They were all over the place."
Critics demanding a new manager at the Emirates have got louder in recent weeks, but despite Merson's unhappiness with the current climate at the club, he did not want to see the Frenchman's exit.
"I'm the last one in the world who wants Arsene sacked because I know what he's done," he added.
"If Arsene Wenger was made available tomorrow then every club in the world would want him."