Paul Merson: Arsenal will beat Aston Villa, but must buy pace
Paul Merson says Arsenal have got to buy pace in January - but don't need it to beat Aston Villa.
Last Updated: 16/01/14 7:19pm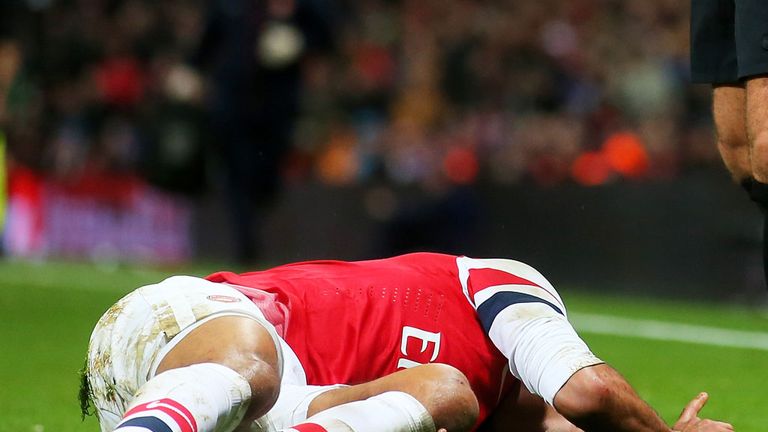 Everyone remembers the first day of the season when Aston Villa went to the Emirates and won, but that's just typical of Paul Lambert's team who have been pretty good away from home and shocking at home.
They went out of the FA Cup to a League One team last week and that will kill the confidence of the players - and it will make Arsenal even more confident because if they're losing to Sheffield United then what chance will they have against Arsenal?
It wasn't a smash-and-grab either, Sheffield United deserved to win. Sometimes you see giant-killing where the goalkeeper has been Man of the Match, but that wasn't the case.
Villa's home form is so atrocious that they're letting teams have 70 per cent of the possession against them and that can't be allowed to happen. To be honest, I see it as impossible for Villa to win but of course, this is football...
They've just got to hope that Christian Benteke thinks he has a chance of moving to Arsenal and turns it on all of a sudden. He has been poor lately and I don't think he's fit. He was ripping defenders apart last year, but he's not running away from them this season. I think they have rushed him back from injury (and they had to) and that's not been fair on the lad.
Speaking of injuries, I think the absence of Theo Walcott is absolutely massive for Arsenal. He has been the difference since he's been in the team because of his pace, which opens the game up and gives you an easy through ball.
It sounds horrible to say, but the only consolation is that it happened in the early stages of the transfer window. Arsene Wenger has to go and buy someone now because they are pace-less without him.
You can't rely on Alex Oxlade-Chamberlain because he's only 20 and is always injured and never plays - and Serge Gnabry will be fine to come in and do a job from time to time, but he isn't going to win you the league.
They have got to buy some pace now. They were talking about Dimitar Berbatov before Walcott got injured, but now they need pace badly. If not, the better teams can have a go at them and not worry about getting hit on the break. They need to buy someone who is very quick - very quickly!
The lack of pace won't be so much of a problem against Villa though because they let you have too much of the ball. If you're conceding 70 per cent possession to a team with Jack Wilshere, Santi Cazorla, Mesut Ozil and Tomas Rosicky then they are going to open you up by the end of the match.
PAUL PREDICTS: 1-3