Oscar will improve Chelsea's midfield but where is Fernando Torres' competition?
Oscar's performance emphasises that Roberto Di Matteo now has a plethora of options in midfield. But Adam Bate wonders whether the Blues have the back-up in attack to mount a prolonged challenge at home and abroad this season.
By Adam Bate - Follow me @GhostGoal
Last Updated: 21/09/12 3:24pm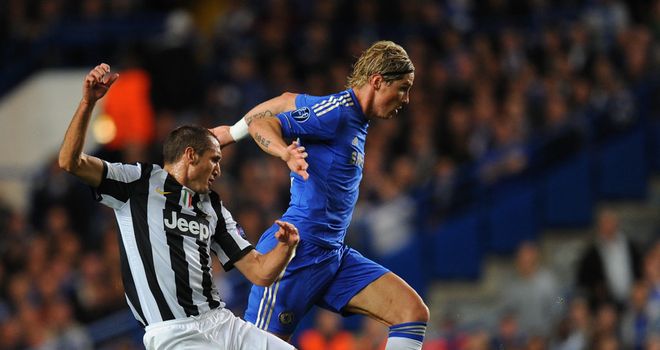 Jamie Redknapp called it "genius" while journalist Paddy Barclay wondered if it might just be the finest goal Stamford Bridge has ever seen. The Sun went for the Peter Osgood comparison in their headline while everyone else contented themselves with memories of Gianfranco Zola.
What must Juan Mata have made of it all? Remember him. He's the erstwhile Chelsea superstar supposed to make things happen in that No 10 position for the Blues and the man who scored in the final of Euro 2012 for Spain in the summer. But it was a bit-part role from the Chelsea bench for Mata against Juventus in arguably their biggest game of the season so far.
Options
With Germany international Marko Marin also an option and Florent Malouda to come in if Roberto Di Matteo is ever feeling in a particularly odd mood, there are options in midfield for the Chelsea boss. And he wouldn't want it any other way. That squad depth reflects the knowledge that the European champions will be expected to compete on a number of fronts this season.
As such, it can be misleading to dwell on thoughts of who should be in a team's 'first XI'. After all, Sir Alex Ferguson changed his team for all but one game of Manchester United's Premier League title triumph of 2008-09. Similarly, Barcelona have only named the side that won the 2011 UEFA Champions League at Wembley on one occasion since then. Indeed, their top appearance-maker that season was Seydou Keita, who played 56 games without ever being in what some would regard as the 'first XI'.
In fact, Chelsea could play as many as 67 matches this season and that excludes the international commitments placed upon the vast majority of the squad. Which all begs the question - Why on earth are Chelsea so short of cover up front?
Much of the focus on transfer deadline day was on Liverpool and their desperate search for a striker. And I do mean desperate - James Beattie's name came up. But the Reds do have Luis Suarez and Fabio Borini at their disposal and with due respect to the Anfield masses, Liverpool are currently operating at a different level. There are no title aspirations for Brendan Rodgers's side right now and some would argue that the Europa League is the perfect place to find Joe Cole these days.
But with Romelu Lukaku loaned out, Chelsea's only plausible cover for Fernando Torres - in a campaign that is expected to include a title challenge, a passable defence of their European crown and a mid-winter sojourn to try and become club world champs - comes in the shape of Victor Moses and Daniel Sturridge.
Unimpressive
Both men have played much of their professional careers cutting in from wide roles and that goes someway to excusing their unimpressive scoring records. Moses has time on his side but eight goals in 74 Premier League appearances suggests his contribution will be limited this season. Meanwhile, Sturridge's record of three goals in 29 Chelsea games since Christmas hardly inspires confidence - something Di Matteo seems to be short of given his decision to keep the forward sat on the bench for both the FA Cup and Champions League finals in the spring.
But if Moses and Sturridge cannot be relied upon to thrive when called upon that could mean Torres being expected to play, say, 14 games in just 50 days from October 20 to December 8. Admittedly, the Spanish striker has hinted that he enjoys not having the pressure of Didier Drogba's eyes boring at him from the bench. But while having a happy Torres is one thing, having an exhausted one is quite another.
The former Liverpool man has played more than 20 Premier League games in just one of the last four seasons. That must be a concern if there are plans to run the forward into the ground in the coming months. Don't be surprised if the Spaniard is pointing to his punishing schedule rather than his joy at being the main man come the business end of the season
And if that proves to be the case, regardless of Oscar's remarkable full debut, Chelsea's embarrassment of riches in midfield could just become an embarrassing lack of squad balance by the climax of this promising campaign.