Alan Smith tips Raheem Sterling to make England impact against Denmark
England's fringe players will be 'busting a gut' to impress Roy Hodgson at Wembley, says Alan Smith.
Last Updated: 06/03/14 7:15am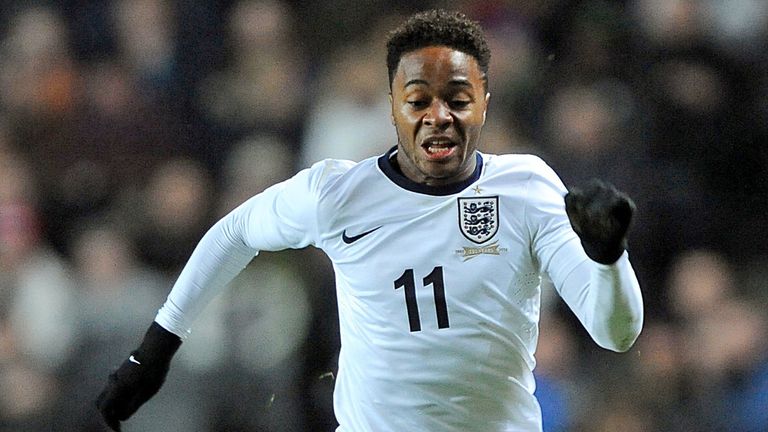 The England manager has named a 30-man squad for the Wembley fixture against Denmark, knowing he'll have to whittle that down to 23 by May 13 - and those players will be busting a gut to impress him this week.
As a player you usually get a feeling as to whether or not you're in the manager's thoughts, but you'd imagine it's been pretty intense at St George's Park this week.
At times like this it's always a temptation as a player to do too much, to try too hard, so you have to relax, be yourself and produce what you've been producing in club football. But it's not always easy in these situations.
International friendlies are always different from qualifiers and there will be substitutions in the second half which will disrupt the flow of the game. Hodgson will also be trying out a few things - and so will Denmark, who are focusing on Euro 2016 qualifiers.
However, for England's players it's not so much about the team display but their individual performances.
Certain players will be trying to catch the eye and particularly for the young players, such as Southampton left-back Luke Shaw, it will be a great opportunity to make their mark.
I'd expect Shaw to get onto the field at some point. He's an extremely talented boy and there's clearly a question in Hodgson's mind about whether to take Ashley Cole if he continues to be on the sidelines at Chelsea.
Hodgson has said he's not afraid to omit senior players if he has better options and that he won't take an experienced lad just for the sake of it.
I think that's a sensible approach and although he's not closed the door on anyone he'll be weighing up this week what his options are and who would be the best fit for Brazil.
Form
Raheem Sterling is another player who'll be keen to make an impression. He couldn't be in much better form right now and must be so full of confidence. He'd have seen what Andros Townsend did at the end of last year when he got his chance at Wembley and stole the show on two occasions and Raheem will be hoping to do something similar.
However, as Adam Johnson's omission shows, England are blessed with wide players at the moment, with Alex Oxlade-Chamberlain, Townsend and Sterling all vying to show they can replace the injured Theo Walcott in Hodgson's plans.
For Johnson and Gareth Barry - another high-profile name to miss out - they'll fear their World Cup dream is over. There are always injuries, though, and Barry is well-placed as an experienced player who knows what it's all about to step in at the last minute.
However, on Wednesday night it's in the hands of the players at Wembley.
With so much at stake, that should be enough to inspire the England players to a win over Denmark, ending a two-game losing streak at the stadium.
Hopefully they'll be able to knock a few goals in as well. Any team that does well in a World Cup has strikers who can find the back of the net at vital times so the strikers will be motivated to show they can be a threat in Brazil and be aiming to book their spot on the plane.