Barca in disguise?
Peter Fraser believes comparing Man City to Barcelona is a disrespectful understatement.
By Peter Fraser - Follow me on Twitter @SkySportsPeteF
Last Updated: 12/09/11 12:10pm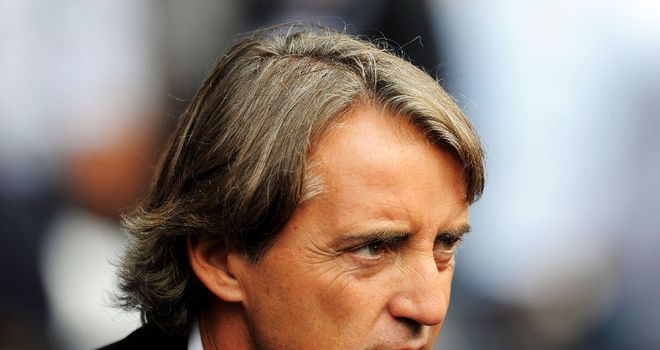 Take a deep breath, count to 10 and remember it has only been four matches. Manchester City are not on the same level as Barcelona.
Along with the form of Manchester United, it does appear there could be a Mancunian dominance in England, and possibly Europe, in the future. Both United and City are undoubtedly playing with irresistible swagger in the opening weeks. But the big word is could.
There is a need to avoid getting carried away. City and United are playing well. But it is only September. The former can certainly not be put on a pedestal with arguably the greatest club team in history just because they have beaten Swansea, Bolton, Tottenham and Wigan.
Roberto Mancini deserves credit for the transformation in his team's style away from the defensive approach favoured last season, which was obviously seen as a means to reach the top four, or indeed top three, of the Premier League and build confidence.
City's attacking play has been scintillating. Fifteen goals have been scored in just four matches and the movement and combination of David Silva, Sergio Aguero, Edin Dzeko and, more recently, Carlos Tevez and Samir Nasri has been wonderful to watch.
Unstoppable
There have been similarities to the Xavi, Andres Iniesta and Lionel Messi-led Barcelona passing carousel. It has been suggested City have now overtaken Arsenal as England's culture vultures. However, again, it is worth remembering football works in phases.
This time last season, Chelsea looked unstoppable having scored 17 goals in four Premier League games. They ended the campaign without a trophy and with a sacked Italian manager. It is also worth noting Chelsea entered the last campaign after losing the Community Shield to United.
For another example of the phases of football, remember Holland at Euro 2008. Then-world champions Italy, France and Romania were pulverised in the group stages with some of the best attacking, Total Football for years. The Oranje were then sent home by Russia at the first knockout hurdle. Of course, cup and league football cannot be compared directly. But it is a worthwhile reminder things do not always run a smooth course.
The comparison to Barcelona was put to Mancini in his post-Wigan press conference by an Italian journalist, who had watched City ahead of their UEFA Champions League debut against Napoli on Wednesday. It should be pointed out City are only responding, they are not labelling themselves as heirs to Guardiola's stars.
In Europe, that is where the real tests await the Etihad Stadium club. Despite being drawn in a supposed 'group of death' along with Napoli, Bayern Munich and Villarreal, City are likely to progress. Ten points (three home wins and an away draw) is usually enough to negotiate the groups and then awaits the examination of the knockout stages.
Grand
Barcelona under Guardiola are masters of Europe and twice in the past three seasons have used Champions League finals to dismantle United, who, in the words of Wayne Rooney, gave City a 'footballing lesson' just over one month ago in the Community Shield.
It is a disrespectful understatement of the achievements of Guardiola's Barcelona to suggest lifting 12 trophies, including two European Cups, building a wealth of experience and dealing with the pressure of winning on the grandest of stages is comparable to some nice passing and three goals against Wigan, a team who avoided Premier League relegation on the final day of last season.
Roberto Martinez believed his side were scared of City and the reputations of Aguero and company. This will not happen in Europe, where the likes of Bayern Munich are accustomed to playing against the best players in the world on a regular basis. It will also be interesting to see how City approach the big guns of the Premier League. October, November and December bring respective trips to United, Liverpool and Chelsea.
There are unquestionably weaknesses in City's armour. Joleon Lescott, in contrast to his brilliant centre-back partner and new, permanent captain, Vincent Kompany, is ridiculously inconsistent and had several nervous moments against Wigan. Question marks also remain regarding the defensive capabilities of Gael Clichy.
City's strengths exist in their squad depth and quality of attacking players. They will also enter the Champions League as a club with an inexperience and excitement to match Tottenham last season. Playing without the fear factor, if Mancini does not revert to defensive tactics in Europe, can be an attribute. A glimpse of the future might be offered when City and Barcelona meet in The NextGen Series on Thursday.
But this further emphasises the fact the blue half of Manchester are not on a level with Barcelona. Perhaps if they meet one another in Europe parallels can be drawn. Perhaps if City go all the way to the Champions League final in Munich. Perhaps if a Premier League title is won. But not yet.