Stuart Pearce says Serbia will be reported to UEFA following England U21 match
Stuart Pearce has stated that it is up to UEFA what happens now after the FA reported 'scenes of racism' in Serbia.
Last Updated: 25/10/12 7:21am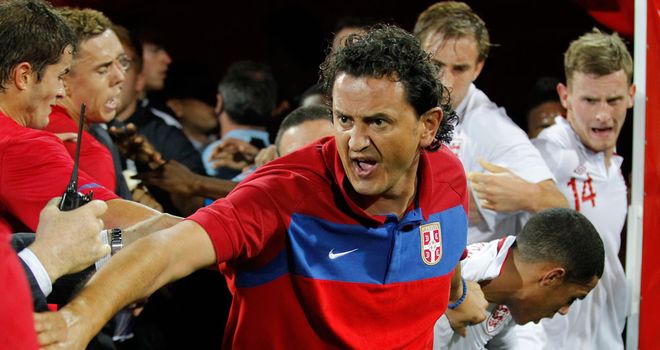 Defender Danny Rose gestured that monkey noises had been made towards him by the crowd in Krusevac before he was sent off after the final whistle.
In further ugly scenes, scuffles broke out when fans entered the field after England had clinched a place at next summer's finals in Israel with a 1-0 victory, which sealed a 2-0 aggregate success.
A statement from the FA read: "The FA condemns both the scenes of racism and the confrontation at the final whistle during which time our players and staff were under extreme provocation.
"The FA has reported a number of incidents of racism to UEFA following the fixture. These were seemingly aimed at a number of England's black players by the crowd. The matter is now with UEFA."
Pearce told ESPN: "I think there were one or two racist incidents that came on from the crowd and they have been reported to UEFA, I believe, by ourselves.
"It is in their hands now, they will have to deal with that.
"I am very proud of my players and my staff and very proud of the achievement in getting to a fourth tournament in a row."
Stamping out
Steve Wigley, one of England's coaching staff, also appeared to be caught up in the trouble as the players left the field
Pearce said: "It is very sad, but we are united as a team and a staff.
"A lot is happening in our country with regard to stamping out racism and I am very proud of the reaction of our players towards the end.
"It is a real shame because over two ties, it was a really close game - two good teams going hammer and tongs at each other.
"It is just a shame it was soured in the last few minutes of the second leg of the tie."
He added: "Savo Milosevic, their technical director, has come to our dressing room and apologised for any behaviour that was unsavoury.
"I never want to see any football matches end like that, this is a sporting arena."