USA coach Jurgen Klinsmann takes positives from defeat at hands of Belgium
United States coach Jurgen Klinsmann believes playing strong European nations will help the development of his team.
Last Updated: 30/05/13 12:17pm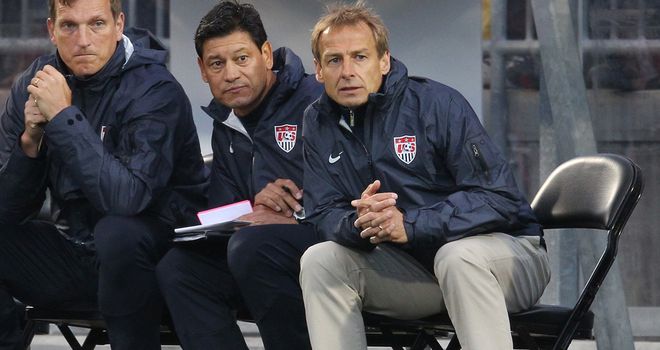 Klinsmann's men were second best at the FirstEnergy Stadium in Cleveland on Wednesday night with Aston Villa striker Christian Benteke scoring twice in a match in which the visitors never trailed.
The USA meet Klinsmann's native Germany at the weekend in another tricky-looking assignment but the former World Cup winner is happy to test his side against the best.
He told www.ussoccer.com: "There's a lot we can learn from these opponents. This is why we play teams like Belgium, like Germany, like Russia or like Italy because there's so much that you can read from those games.
"Obviously you want to win them and when you lose them it's not such a big pleasure, but I'd rather play Belgium 10 more times than El Salvador 100 times because that's where you learn.
"Therefore, we take the defeat and go to Washington and get more into a flow and more into a rhythm.
"We will get the rest of our players in - we're still missing five or six guys - and we'll make sure we do a better job on Sunday against Germany."
DaMarcus Beasley, who won his 100th cap against the Belgians, echoed Klinsmann's view ahead of a return to World Cup qualifying duty against Jamaica on June 8.
He said: "It's great. As players we want to play these types of games, we want to test ourselves against the best in the world and we have no fear going into these games.
"Obviously we want the result to go our way more times than not, but today they had more than we did. That's the way it goes sometimes, the way the cookie crumbles, but we can look at the tape and look at our positives and our weaknesses and our negatives and learn from it and get ready for the game against Germany."