Memory lane
Ahead of Norwich's game against Stoke on Sunday lunchtime, in an exclusive interview with Sky Sports, John Ruddy remembers his early days at Cambridge, the pain of Football League relegation and administration, and trialling against Gary Neville
By Peter Fraser - Follow me on Twitter @SkySportsPeteF
Last Updated: 30/09/13 7:33pm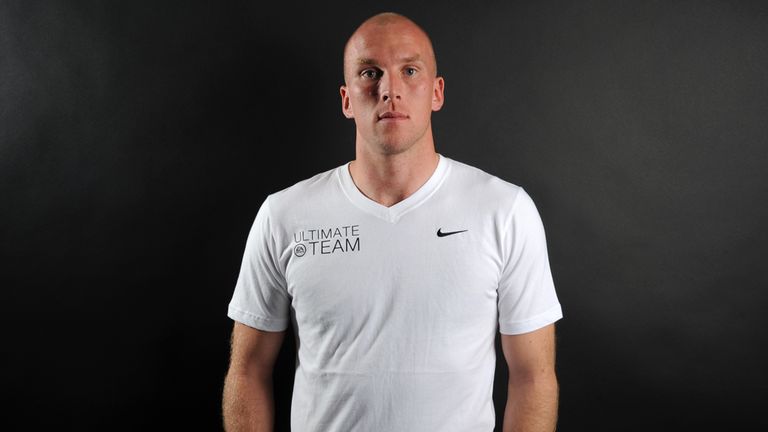 When John Ruddy lines up for Norwich City against Stoke City in the Premier League on Sunday lunchtime, the goalkeeper will be continuing his 10th season as a professional player.
A decade in the game is a fine achievement for the soon-to-be-27-year-old and in that time he has become one of the best in his position in England's top flight. His form over the past two years has even seen him become a regular member of England's squad, including a debut as a half-time substitute in the 2012 friendly defeat by Italy. Such have been the standard of Ruddy's performances, he was also the subject of more than one rejected summer transfer bid from Chelsea.
But before Ruddy joined Norwich in 2010, before nine loan spells during a five-year spell of one appearance at Everton, his career began as a teenager in League Two at Cambridge United. He made his debut in the final game of the 2003/04 season against Leyton Orient and announced himself in style. As a 17-year-old, he saved a penalty from Orient hero Matty Lockwood and kept a clean sheet in a 1-0 win.
"For the first 15 minutes, it was the most nerve-wracking experience of my life," Ruddy, who has since been given the nickname of 'Iceman' due to his ability to remain calm under pressure, remembered in an exclusive interview with Sky Sports at an EA SPORTS FIFA 14 launch. "I was taking goal-kicks and I could not connect with the ball. I kept kicking the ground and the ball was bobbling about 30 yards! The intensity was unbelievable.
"But then I saved the penalty. He scored the first one but then it had to be retaken due to encroachment. I managed to get myself together and saved the second one. I kept a clean sheet and we won the game, so it was ideal for me.
"The dressing room after the game was a blur. I just remember being on the team coach and checking my phone and having all sorts of missed calls and congratulatory messages from family and friends. I went home and tried to embrace the moment. It is up there with the top moments in my career and always will be."
Ruddy had been a trainee at Cambridge, working as a ball-boy on match-days along with all the youth-team members. He lived in shared accommodation with his fellow scholars - "It was like one big family". But he was also quickly embraced by the senior professionals at the club, players such as former Wolverhampton Wanderers and Ipswich Town defender Mark Venus, Andy Duncan, who had started his career at Manchester United, and ex-Norwich striker Iwan Roberts. They showed respect for the young Ruddy and there were none of the usual rite-of-passage initiations to the first-team squad, such as burning clothes or other crude practical jokes.
"To be fair, they were always really good with me," said Ruddy. "As older players, they enjoyed the banter. But they never took it too far. I think they realised at a team like Cambridge, with the resources we had, as with a lot of lower league teams at that time, they relied on the younger lads coming through.
"So, they encouraged it [youth progression] more than you would probably get at a higher level. So, it was a great stepping stone and development phase for me in my career. Seeing on the training field their [the senior players'] professional attitude and will to win on a Saturday, I realised you needed that desire or you are never going to make it."
Ruddy took that mentality into the 2004/05 season. Firstly under manager Herve Renard and then Steve Thompson after Frenchman Renard was sacked, Ruddy was Cambridge's no.1 goalkeeper despite still only being a teenager. He made 42 appearances in all competitions, with all coming as starts. Jermaine Easter and Titus Bramble's brother, Tes, were among his team-mates.
"At such a young age, I did not really know what to expect," Ruddy said of that season. "I started pre-season and was training really hard. Then it came to a game at the end of pre-season, I think it was against Cambridge City, and I think it was a known fact that whoever started that game was more than likely going to start the season. I found out I was starting and was delighted. I started the season and went on from there. Personally, I had a good season but, unfortunately for the team, it did not work out the way we would have liked."
That is a bit of an understatement. Cambridge were relegated to the Conference at the end of the season. They had been flirting with the drop for the majority of the campaign having fallen to the bottom of the table following a 3-1 home defeat in a crucial game against Kidderminster in the January. A 0-0 draw with Rochdale on 23rd April, 2005 sealed their fate with two games of the season still to play.
For Ruddy, it must have been a strange situation. Despite the relegation, he already knew he would not be with Cambridge when they began life in non-league. He had signed a pre-contract agreement with Everton in the February of 2005. But he was still devastated by the relegation.
It would also get worse for Cambridge. It had been a season of turmoil off the field, as well, owing to the club's perilous financial state after they had been caught up in the collapse of ITV Digital a few years earlier. It left many Football League clubs in mass debt.
Cambridge had consequently been forced to sell their Abbey Stadium while there had been various changes and resignations among the clubs directors and chairmen. Six days after their relegation from the Football League had been confirmed and to avoid inheriting the automatic 10-point penalty in the following season, Cambridge filed for administration.
"It was very sad," said Ruddy. "It was an indication of the way the lower leagues were going at that time. Cambridge had spent money they thought they were going to get [from ITV Digitial]. It did not come to fruition."

But in contrast to Cambridge, Ruddy's future was bright. He moved to Everton and, although his career at Goodison Park would not develop the way he hoped given his lack of first-team opportunities, his ability was undoubted. As an indication of the potential he would later fulfil when joining Norwich in 2010, Everton had not been the only club interested in the young goalkeeper. Around the Christmas period of 2004, Ruddy had been on trial with Sir Alex Ferguson's Manchester United.
A shoulder injury in a reserve game meant he could not fully impress at United but it was still a defining time in Ruddy's career as the then 18-year-old found himself training with the likes of Roy Keane, Paul Scholes, Ruud van Nistelrooy, Wayne Rooney, Cristiano Ronaldo and his now England coach, Gary Neville.
"I remember doing a bit of shooting drills on one of the sessions with Rooney and Van Nistelrooy," said Ruddy. "They were both frightening. Going from the League Two level which I was used to, going up to that level was a step I thought never existed. I was picking the ball out of the bottom and top corners. It was a masterclass in finishing. It was a great experience to see those players at their peak and working on what they do."
And what about Sky Sports expert Neville? When they are on England duty together, does Ruddy ever remind the former defender and Old Trafford legend about the days he spent on trial with United? Ruddy laughed: "I doubt he will remember that! I think he has had more important things after that trial to think about. I definitely have not brought it up!"
There is another England connection between Ruddy and his Cambridge days. New Football Association director of elite development Dan Ashworth was Cambridge's head of Centre of Excellence during the goalkeeper's early years. Ashworth therefore played a key role in Ruddy's development and can also take some credit for the likes of Bradley Johnson, who spent a short spell in Cambridge's youth ranks and is now also at Norwich.
Ashworth had worked as Peterborough's Academy director before Cambridge and would later go on to West Bromwich Albion, where his impressive work as the sporting and technical director came to the attention of the FA. Ruddy is in no doubt about Ashworth's talents and their respective career developments mean they now encounter each other at England's national football centre, St George's Park.
"I worked with Dan for almost the whole of my time with Cambridge," said Ruddy. "I think he left just before me. He was a fantastic guy to work with and his football knowledge is second to none. I am really pleased he has stepped on his football career, as well. Obviously he did really well at West Brom and now has moved on to the FA. Dan helped me more than anyone would realise. He was fantastic with me and made me realise what I had to do to become a professional footballer.
"I am very grateful for Dan for all the help he has given me in my career. I have only briefly seen him a couple of times at St George's. Unfortunately there has not been time to sit down and have a chat about the old days. But over the next couple of international breaks, hopefully we can and it will be good to catch up with him."
That next meeting could be during England's decisive, concluding World Cup qualifiers against Montenegro and Poland in October, when Ruddy will likely be a squad member. There is no doubting the influence of Cambridge United upon Ruddy's past but, in order to ensure he is involved with England next month, it is his present form which is important - particularly in a campaign which could end in a World Cup.
He will need to be a part of a successful Norwich side, who will look to bounce back against Stoke at the Britannia Stadium on Sunday following back-to-back league defeats by Tottenham Hotspur and Aston Villa - which were only slightly eased in the midweek Capital One Cup win after extra time against Watford. After finishing 12th in 2011/12 and 11th last season followed by summer spending of almost £25million, Norwich's aim in 2013/14 is to break into the top half of the top flight but they also do not want to be complacent about the threat of relegation.
Ruddy, who missed part of the last season through injury, said: "That is the dream - the top 10 in the Premier League, it is fantastic. But, although we have added a lot of strength, other clubs have added a lot of strength, as well. We need to compete and be ready for every game and make sure we are giving ourselves the best possible chance to finish as high as we can. Progression is the key. So, if we are looking at progression, we have to progress every year. But, at the same time, the aim for Norwich and us as players is to make sure we are in the Premier League next season. If we do it on the last day by goal difference, so be it. If we have a comfortable season and finish in the top half, that is fantastic, as well. But as long as you are not one of those three who are in the bottom, it does not matter."
John Ruddy appears in EA SPORTS FIFA 14, available to buy NOW on Xbox 360, PS3 and PC from Game.co.uk. Get involved in the most popular mode in FIFA and start your Ultimate Team today at www.easports.com/uk/fifa/play.