Highs and lows
Manchester United goalkeeper and England Under-20 international Sam Johnstone experienced a whole range of emotions when playing for his country in their 2-2 draw with Iraq at the FIFA U-20 World Cup on Sunday. Adam Bate met up with the youngster to gauge the mood in the camp.
Last Updated: 25/06/13 6:00pm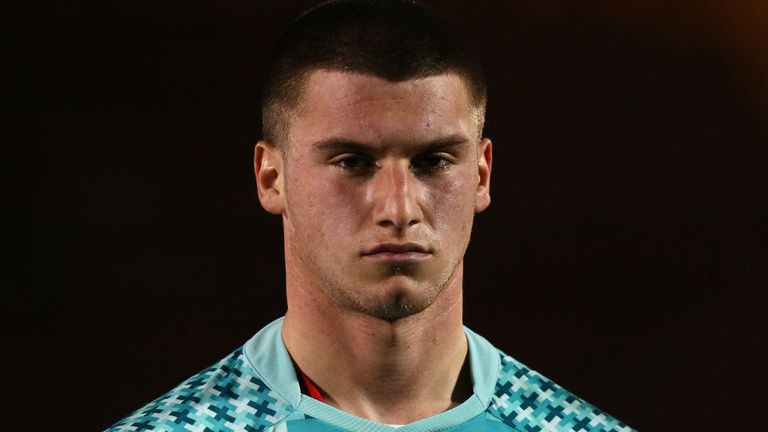 There was a moment in England's opening group game at the FIFA Under-20 World Cup on Sunday when Sam Johnstone had every right to think he would be finishing the evening as the hero. A stunning double save denied Iraq an equaliser and within seconds a brilliant counter-attack saw Luke Williams give the Young Lions a seemingly unassailable 2-0 lead with the game well into the second half.
Several team-mates ran to their goalkeeper to acknowledge his vital role in the move. But the lead was not to last. Johnstone rushed off his line to concede a penalty with a quarter of an hour to go and was then beaten again in stoppage time as Iraq salvaged a memorable draw. Such are the high and lows of football.
It was some introduction to the tournament for the Manchester United keeper. And yet, his attitude is a mature one - already looking ahead to Wednesday's opponents Chile. "Yeah, I ended up making a couple of good saves and did all right but we're gutted to let in two late goals," Johnstone tells Sky Sports. "Iraq came out second half and wouldn't let us play. That can happen but at least we didn't lose. Hopefully we can get back on track in the game against Chile."
Speaking back at the team hotel there are more signs that the 20-year-old is over the disappointment and determined to prevent the squad's lengthy build-up coming to nothing because of one draw. This is a tight-knight group who have been waiting for this tournament for a long time.
"We've been here three weeks and the lads couldn't wait to get started," adds Johnstone. "We've been training well and we've been training hard. We've had a lot of time to get to know each other but a lot of the lads have played together through Under-17s, Under-18s and Under-19s. Then there a few lads who've joined us who are a bit younger but are used to playing for England too. It's a good team."
It's not just that this England side has experience playing together - more importantly, they have experience winning together. The likes of Williams, captain Conor Coady, star midfielder Ross Barkley, left-back Luke Garbutt and United team-mate Tom Thorpe were all with Johnstone in the squad that won the European Under-17 Championship back in 2010. "Half of the team have won together at Under-17 level so it does give us that bit of confidence to go and do it," he says.
Inspiration
Full England international Jack Butland, who has since completed a £3.5million move from Birmingham to Stoke, was also in that squad. In fact, he usurped Johnstone as No.1 during the course of the tournament despite the United youngster also impressing in two group victories. Although Butland is the player who has enjoyed the fast track to the senior team - featuring in the Euro 2012 squad and playing at the Olympics - his old rival is taking inspiration from his rise.
"Jack's done well and he's got his move to Stoke," says Johnstone. "I saw him not long ago and we had a chat. He's done well and he shows us that if you perform well you never know where it might take you. I think all the lads know that and are doing their best to make an impression. There are a lot of good players here who have already played in the Premier League so hopefully this can be a good tournament for everyone."
Johnstone is not among the seven players in the England squad to have played Premier League football yet - the path to the first team is somewhat trickier at Old Trafford. But he gained vital experience with Walsall in the spring and believes that was important in order to help him improve as well as guarantee his place in the squad. "I think as a goalkeeper you need first-team action," he explains. "You need games. It helped me going to Walsall towards the end of the season. You've got crowds and you're playing for points so it helped me a lot going into this summer.
"I always wanted to come out to the World Cup. It's a massive tournament and throughout the whole season I knew it was coming up. I think all the lads would have been similar in wanting to play their way into the squad. We'd see each other when we were playing reserves but we didn't have a game all year so it's been a bit low key until we met up properly three-and-a-half weeks ago. But we've had enough time to prepare together ahead of the tournament."
Heat
A key part of the team's preparation has been devoted to acclimatising to the oppressive heat that can exceed 100 degrees during the day. While the 9pm kick-off time against Iraq mitigated the problem, a 6pm start on Wednesday means it is likely to be a significant factor. "I didn't envy the lads running around," notes Johnstone. "Even though it was a late kick-off it was still hot and it will be even hotter with the earlier kick-off against Chile. But I think the lads will just get used to it as it goes on.
"It is going to be a completely different game to the Iraq game. They wanted to get the ball out wide and cross the ball. We've not come across Chile before but I'm sure we'll watch videos before the game and the way we play at United helps you prepare for opposition like this anyway so hopefully we'll be used to it. The lads are certainly good enough to deal with it."
So is Johnstone. And another strong performance in Turkey can only help his efforts to edge a little nearer to that Manchester United first team. "There's been a few changes at United," he acknowledges with a grin, knowing this is a good line in understatement after the retirement of Sir Alex Ferguson. "But I'm just going to concentrate on the World Cup and deal with it when this finishes."
If he can pull off a few more repeats of the double save against Iraq, Sam Johnstone's World Cup adventure might not be finishing for a quite a while yet.