Summer of hurt
After another early exit from a summer tournament for an England youth team - this time the Under-20s at the U20 World Cup - there are fears from our man in Turkey, Pete Hall, that this could become all too familiar.
Last Updated: 30/06/13 1:55pm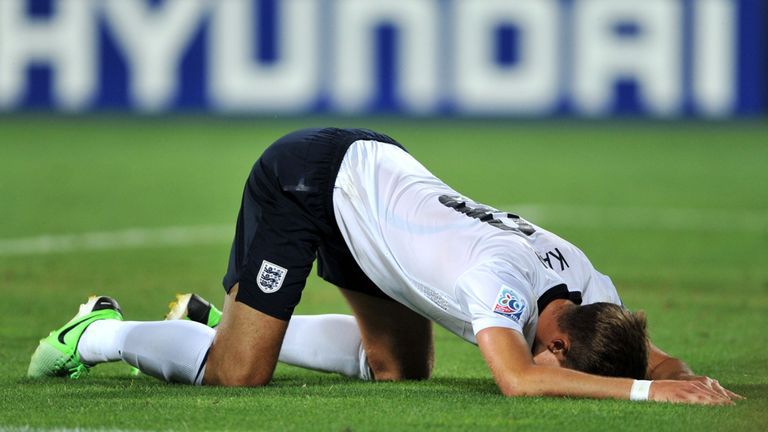 After two disappointing draws, the task at hand was simple - win against a plucky Egypt side, and England would be through to the knock-out stages of the Under-20 World Cup in second place in Group E, to face Croatia in the last 16.
And the Young Lions dominated Saturday night's crunch clash in Turkey from start to finish... but they couldn't find that elusive goal to progress, and ended up being caught on the counter-attack twice, losing 2-0 to finish bottom of what had looked a very winnable group.
The result makes it 16 games without a win in U20 World Cup competition, scoring only four goals in the process, stretching back 16 years. Following on from the Under-21s' meek surrender in Israel, there are some serious questions about the way we develop talent in this country that need to be answered.
Bright start
Peter Taylor's youngsters did make a very bright start in Bursa, and it seemed only a matter of time until they broke the deadlock. Manchester United midfielder Larnell Cole, starting his first game of the tournament, was causing all sorts of problems down the right. Everton's Ross Barkley was the creative spark in the number 10 role and lone-striker Harry Kane was getting into some dangerous positions.
However, a mixture of misfortune, with the crossbar denying Eric Dier from a well-taken free-kick, and wastefulness in front of goal cost England dear as expertly-taken goals from Egypt's Trezeget and Hassan Ahmed ensured they were ruthlessly punished.
Asked after the game if he regretted not bringing more firepower to the tournament, with Tottenham man Kane the only recognised out-and-out striker in the whole squad, Taylor insisted he had little alternative.
"There was honestly no other forwards available," he said. "With the forwards we had here, I thought that was enough.
"Harry Kane normally scores, but he was having one of those nights.
"We could have won our first match (against Iraq), then we played well against Chile. Against Egypt, we didn't play well, but still created enough chances to win. On another night, the result would have been different."
It is true to say performances have steadily improved, and with a little luck, England could have comfortably sealed qualification for the latter stages. However, to finish bottom of a group that Iraq ultimately topped is simply not good enough, whatever way you look at it.
Midfielder James Ward-Prowse was rather more blunt with his assessment of events, and could not hide his disappointment at having to head home earlier than expected.
"On the night, we just weren't good enough," the Southampton youngster said.
"We did all the right preparation for the match, but just didn't rise to the occasion.
"We should have started off the tournament better, and that would have taken the pressure off tonight a little, but still we should have had enough to do better."
Egypt themselves didn't quite do enough to qualify, going out on goal difference, but the result was still impressive, and they can bow out with their heads held high.
Their clinical late show earned praise from their coach Rabie Yassin, who insisted there was nothing lucky about their dramatic victory.
"Part of the game is to take your chances, and if you don't, then often you get punished. That's what happened to England," he said.
"We took ours, and therefore the better team won. That is how football works."
Change needed
On 23 June 1997, Michael Owen netted the only goal of England's last U20 World Cup win. Wimbledon were still a Premier League club, and Hanson were number one in the charts. It's somewhat staggering that a nation as powerful in the footballing world as England should have been winless at world football's most important youth tournament for such a long time.
Something needs to change. We can't keep making the same old excuses, blaming misfortune and missed chances for yet another early exit.
We need to start from the bottom, and instil a winning mentality from an early age. Also, youth tournaments need to be taken more seriously, with England wrestling power away from clubs and taking as strong a squad as possible.
Simple isn't it? We have the facilities, with the new St George's Park testament to our fortunate position. Now we need to make use of them.
Until we do take these steps, the scenes in northern Turkey on a humid Saturday night will become an all-too-familiar sight. Again and again, we risk being subjected to the old 'we was robbed' routine - and that unwanted U20 World Cup record could stretch on for some time yet.