World Cup: Lionel Messi is battling against Belgium and the Diego Maradona myth of 1986 - it's a fight he can't win
As Lionel Messi and Argentina prepare to face Belgium on Saturday, recollections of Diego Maradona's efforts against the same opposition are inevitable. But it's a skewed comparison steeped in myth rather than reality and Messi cannot win until people accept it, writes Adam Bate.
Last Updated: 04/07/14 10:09am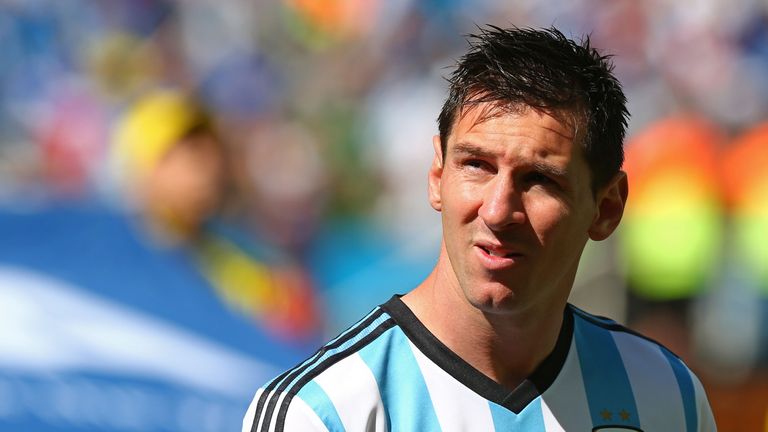 It's an iconic image. Diego Maradona lined up against no fewer than six Belgium defenders. A compelling sight that appears to neatly encapsulate our understanding of Maradona's greatness. Typical Diego. One man against the world. And the one man won.
Martin Keown recently recalled the photograph in his role as a television pundit, complete with the now customary embellishment that states Maradona subsequently slalomed beyond the Belgium defenders one at a time. A nice tale but one that has grown in the telling.
A moment's consideration would reveal to any casual fan that the image is a distortion. Maradona had received the ball from a free-kick just as the Belgium wall is breaking. A logical explanation. But logic settles back for a lie down in the back of the car when tackling matters Maradona.
What's more, it didn't even occur in the classic 1986 semi-final in which Maradona starred, but rather during the group stages of the 1982 World Cup. And Belgium won that match 1-0. But the truth won't stop Lionel Messi having to beat opponents and the Maradona mythology.
In relative terms, Messi has a persuasive case for greatness. He's already scored more goals for Barcelona than Maradona managed in his entire career. Moreover, Saturday's quarter-final will see him match Maradona's tally of Argentina caps having already scored eight more goals.
But many are unconvinced. For them, six Spanish league titles with Barca do not equate to two Italian ones with Napoli and three Champions League triumphs cannot match up to that World Cup win. The message is clear - Messi needs glory in Brazil to be regarded as the man.
Even if Messi does make it happen, plenty will refuse to accept him as Maradona's equal. In the era of hyperbole it seems perverse that the world's best player is instead victim of a curious desire to romanticise the past. The notion that Maradona won the '86 World Cup alone is clung to with zeal.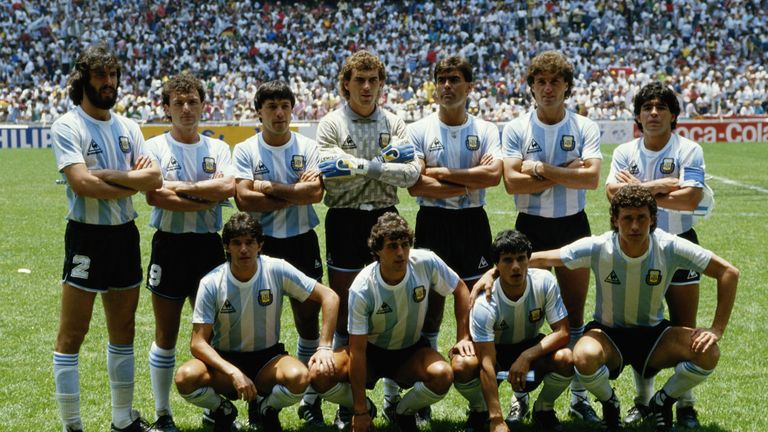 The braces against England and Belgium frame the tale, but it should be noted that the final was a different story. For the opener, Jose Cuciuffo won a free-kick, Jorge Burruchaga took it and Jose Luis Brown headed in. The second came from a Hector Enrique run finished well by Jorge Valdano.
Maradona's wonderful quick thinking did put Burruchaga in for the winner but it was atypical of the match. "We did our best to contain Maradona, and to a large extent we were successful," said West Germany coach Franz Beckenbauer. "He was not the important element in the Argentine victory."
But what of that overtly passionate leadership in conspicuously stark contrast to the introverted efforts of Messi? Even here the truth is more nuanced. An anecdote from Valdano reveals another side to the story that suggests it was Burruchaga who seized responsibility at the key moment.
"After the Germans had equalized, we were lining up in the centre circle, Maradona, Burruchaga and I," Valdano told German newspaper Der Spiegel. "And I said: 'Just now we had the World Cup in our pockets. Now we have to start from scratch again.'
"Maradona didn't respond. But Burruchaga, who never opened his mouth, suddenly started talking. 'I'm feeling good,' he said, as if he were in a bar, sinking a beer. 'We're feeling good, aren't we?' And then he said: 'No problem, this one's in the bag.' Just minutes later he slotted in the winner."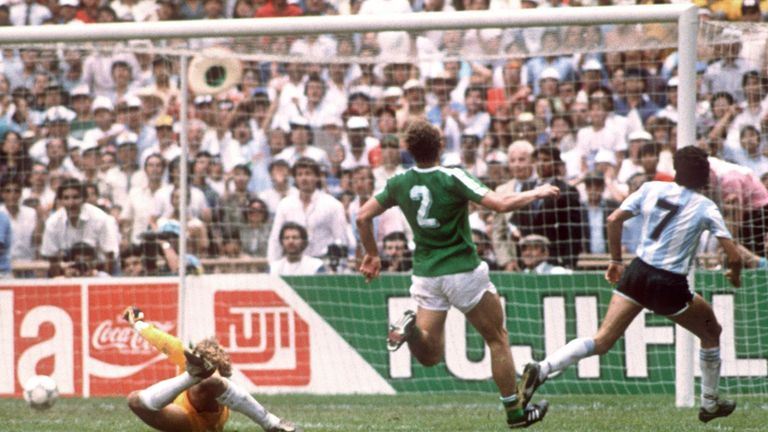 Valdano himself was no wallflower. He travelled to Mexico just weeks after winning La Liga and the UEFA Cup final with Real Madrid – scoring twice in the final of the latter. He'd finished as the second highest goalscorer in Spain and his strike in the final was his fourth of the tournament.
None of this is laid out in an attempt to undermine Maradona's contribution. He was, by some distance, the best player of his generation let alone the 1986 World Cup. Undoubtedly, he was the main reason why Carlos Bilardo's team lifted the trophy.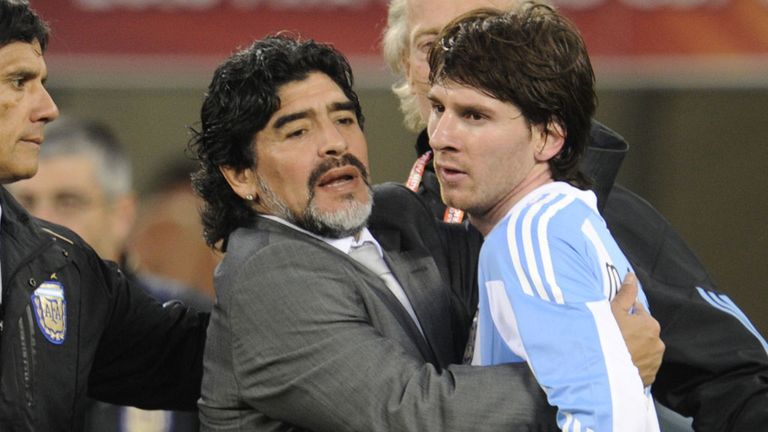 Aside from the goals and assists in Mexico, the fact that his 53 successful dribbles at the tournament was 37 more than any other player goes some way towards explaining why he stood out as such a beacon of brilliance.
However, it is both intriguing and misleading that time has seen the contributions of other players in that Argentina side all but airbrushed from memory. The shorthand description of that World Cup win helps propagate the myth that the rest of the squad were merely an entourage.
Just because the names of Javier Mascherano and Angel Di Maria resonate now, does not mean that Messi is in a team of stars by comparison. Just as the '86 team is perceived to have been built around Maradona, this team turns to Messi in hope and expectation that he will fulfil his destiny.
"It's what we expect from him, always that the best player in the world will make the difference in every game," says Pablo Zabaleta. "Every time we recover the ball we try to pass to him, as he is the best player we have in the team and he will score goals."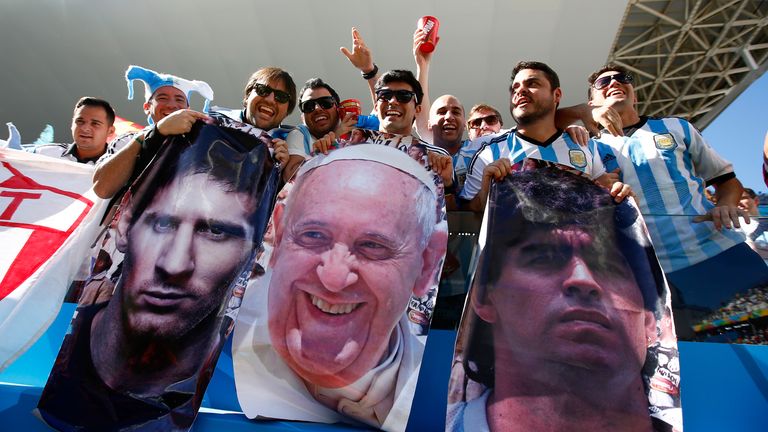 It's a dangerous myth to perpetuate and one in which an entire country appears complicit. The majority of the Argentina squad were not even born in 1986 and yet play as if in thrall to Messi, content with supporting roles for fear of disrupting one man's inevitable ascent to greatness.
It would be helpful to the Argentine cause if they were to recall the efforts of Jorge Valdano and Sergio Batista. If they considered for a moment the qualities of Jose Luis Brown and Hector Enrique. Or reminded themselves it was Jorge Burruchaga who strode forward to net that winner.
And if they do not take heed of the words of others, perhaps there is someone they will listen to. "We are a complete team," said Maradona in praise of his team-mates in the aftermath of victory. Argentina – Messi's Argentina – will have to play like one if they are to repeat the reality of 1986.
Watch Lionel Messi in La Liga and Champions League action on Sky Sports 5 next season. Activate our brand new channel by clicking here.