Football Expert & Columnist
Rio Ferdinand may not get England call again, says Jamie Redknapp
Jamie Redknapp feels for Rio Ferdinand - but suspects Roy Hodgson won't call again.
Last Updated: 21/03/13 6:36pm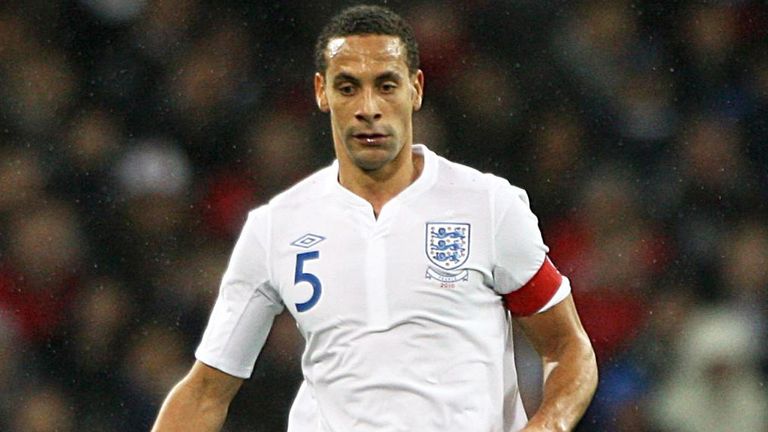 I'm a big fan of Ferdinand and was recently calling for him to be recalled to the national team set-up. When it was announced Hodgson was going to select him for this round of World Cup qualifiers I was delighted.
This was an ideal opportunity for Ferdinand to play a key role in England's World Cup qualification, by stepping in to centre-back away to Montenegro on Tuesday night (he would have been rested against San Marino).
But for Ferdinand to pull out without an injury puts Hodgson in a position where he can't really rely on the Manchester United defender again in the future.
A lot of players put club before country now and that's just the way it is. I broke my ankle twice and tore a hamstring playing for England. That cost me three or four years of my career, so more than anyone I can empathise with Ferdinand about his concerns in trying to get the most out of the playing time he has left.
It's a complicated situation - but better communication between the two parties could have prevented this from becoming a big issue.
As it is, England will have to go to Montenegro next week with a centre-back pairing short on experience. I suspect Joleon Lescott and Chris Smalling may get the nod, but neither of those players have been featuring regularly for their clubs recently and that's a big concern going into a game of this magnitude; a game which will have a big bearing on whether England qualify for the World Cup automatically or have to go into the play-offs.
I like Lescott a lot, he's got good pace and reads the game well, but there's nothing like playing week-in, week-out for your club and gaining the confidence that brings. You'd love to have a Gary Cahill or Ferdinand in there because in Mirko Vucinic and Stevan Jovetic, Montenegro have two talented forwards who will cause problems.
Jovetic in particular is a player with real talent. He first came to our attention when he scored a brace against Liverpool in the Champions League a few years ago and England will need to get a handle on him because, as much as everyone knows Juventus' Vucinic, it's the Fiorentina man who's the real danger.
Underrated
England's backline will be in for a far easier ride on Friday night, though, and there are suggestions Michael Carrick may drop into centre-half for that one - and that's a move which makes sense to me.
There simply isn't the need to play a centre-back pairing of Lescott and Smalling against San Marino. Instead, it's far better to have someone there who can start off attacks, hit passes off both feet 40-50 yards and build up the play.
Carrick has played in that position for Manchester United this season in both the Champions League and Premier League so it shouldn't be a problem - and San Marino certainly don't have a player like Everton's Marouane Fellaini, who caused the England man problems earlier in the season when he was in defence.
As far as Carrick's concerned I'm sure he'll be pleased to be involved because, at the age of 31, he's only had 26 caps and, given his talent, he should have a lot more.
He's an exceptional player and, for me, can be a key player for England if Hodgson decided on playing a passing style of football.
At Euro 2012 England really struggled to keep the ball but in Carrick - who has been at the heart of Manchester United's midfield for four Premier League-winning campaigns - they have a player who is brilliant at doing just that.
He may not always get the attention his performances deserve - he doesn't go flying into tackles like Roy Keane, for instance - but he goes about his business in a modern style which is not so much about slide tackles as slide-rule passes. Plus the way he can break up opposition attacks is unheralded but effective.
He's probably enjoying his best season at Manchester United now and there's no reason England can't make room for him in their midfield, and allow the likes of Steven Gerrard, Frank Lampard and Jack Wilshere to press on and do their things while he goes about his work just behind them.
San Marino v England
We'll win this one pretty comfortably - 3-0 or 4-0 - but I don't think it will be a 10-0 drubbing or anything like that because we saw how hard they can make it when they sat behind the ball at Wembley. They'll sit deep and if they concede they'll probably sit even deeper. They're not going to come out and play. But it will be a patience game for England. They need to keep the ball moving, not take too many touches and just bide their time before picking them off when they tire. It may take 30 minutes, it may take until the second half, but I've not doubt England will eventually break through and win by several clear goals.
Montenegro v England
This is a different test. I think England will pip it, though, and I'm going 2-1 to England - with a few scares along the way! Montenegro are a decent, talented side. Their heads drop if things don't go their way but can be dangerous when they get their tails up - like in the Euro 2012 qualifier with England in 2011, when they fought back from 2-0 down. Once they got a goal back in that game and Wayne Rooney was sent off they suddenly played with confidence and showed their ability. With a passionate home crowd behind them again on Tuesday, they'll be determined to get a result. England will need to ride out the storm this time and grind out the win. That's what it's about now. No one cares how you qualify, you just need to get the job done.