Golden Scholes
Dwight Yorke, Clayton Blackmore and Gordon McQueen paid tribute to the retiring Paul Scholes.
Last Updated: 31/05/11 12:27pm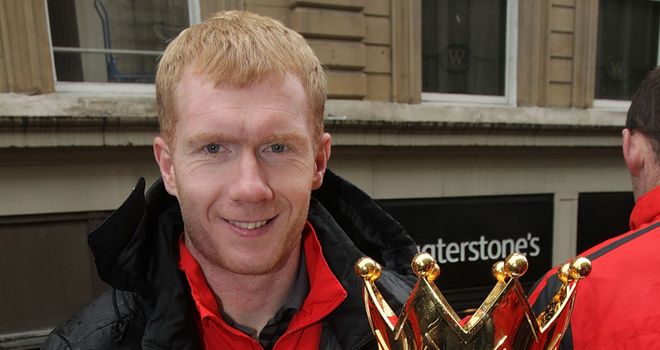 Paul Scholes has announced his retirement from football.
After a hugely successful career which saw the visionary midfielder win 10 Premier League titles, three FA Cups and two Champions League crowns with Manchester United, the 36-year-old confirmed on Tuesday that he will be hanging up his boots.
However, Scholes, who also amassed 66 England caps, is not walking away from Old Trafford just yet as he will take up a coaching role with the Red Devils from next season.
After news of the retirement broke, Sky Sports News spoke to former United stars Dwight Yorke, Clayton Blackmore and Gordon McQueen to get their thoughts on Scholes' glittering career and just what sort of coach he will make...
Dwight Yorke - Manchester United 1998-2002
When you look back and you talk about legends in the game he's certainly up there. He's won 20 trophies and has been there since 1994. He just seemed to get better and better. I had the honour of playing alongside Scholesy and for those four years he was definitely the best player - one of the first names on the manager's team sheet.
It doesn't surprise me at all that Sir Alex Ferguson is keeping him on to pass on his knowledge. He's an immense player who has never sought the limelight. He's right up there with Giggsy in terms of what he's achieved and his record speaks for itself.
He is absolutely fantastic within the dressing room. Not so much for the cameras, but he's always trying to make a joke - trying to hit managers on the head with the ball or hit players on the head with the ball when they're not looking. Not too many people outside the camp know about him in that regard but he's a fantastic character.
I don't think there are too many like Paul Scholes out there. He's pretty unique. People always talk about the way he plays the game and the way he passes the ball but his work ethic is also second to none. He's always in early to training.
The word 'legend' is often used but this guy is truly a legend. He's one of the very best. The likes of Zidane have always paid tribute to Scholes and they never liked playing against him because he's such a top player.
He's doing his coaching badges at the moment. His knowledge of the game is second to none. It would be a shame if someone of his stature walked away from the game and that's why it's so great that United have given him a chance to stay involved. If you can pick Paul Scholes' brain and become half the player he is, you'll be a very happy player.
Clayton Blackmore - Manchester United 1982-94
I said on Sky Sports News on Monday that I thought he would play for one more year, so I'm slightly surprised. He's very quiet and unassuming and he's gone out very quietly. You talk about people like Ryan Giggs who has been fantastic and Scholes is in the same bracket.
He's played a lot of games and has scored many goals and the best thing I can say about him is that when he was a lad he was the best of the bunch who came through. He had a bit of everything in his game; his vision, his awareness and his timing of getting into the box and scoring goals was second to none.
He keeps himself to himself; you never hear anything about Scholes and that just sums him up. He was a big part of this season and he played his part in us winning the Premier League and getting to the Champions League Final.
He'll be a great coach. He had everything you need to be a top player and he can pass that on to the younger lads coming through. I played with him when he was young and he had everything in his locker and he can teach the players things like where to run and the timing of your runs into the box.
Gordon McQueen - Manchester United 1978-85
His contribution has been absolutely massive and you see now how difficult it is replacing players like that. I know there's been talk of Luka Modric coming to Old Trafford, he's a terrific little player but there is no way he would ever make the contribution to Manchester United that Paul Scholes has.
I don't think he is the type to hang around and be a bit-part player and that seemed to be the way is has been going, certainly over the last season. He's not figured as prominently as I'm sure he'd have liked and I'm sure he didn't want to travel the length and breadth of the country, and in Europe, just to sit on the bench.
A coaching role surprises me as I thought he'd just disappear from the game altogether; he just seemed that type of guy. He's obviously still got an enthusiasm for football and doesn't want want to walk away from Old Trafford.
And obviously Sir Alex Ferguson and the rest of the coaching staff see something in him. It's not just because he's Paul Scholes and he's had a great career, they see see him as being able to make a contribution.