JT 'let Blues down'
Paul Elliott told Sky Sports News that John Terry's red card in Barcelona was 'unacceptable'.
Last Updated: 25/04/12 11:24am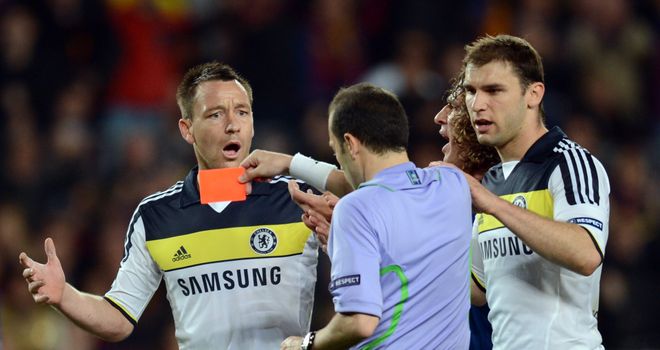 Chelsea skipper John Terry is indebted to his team-mates after his "unacceptable" red card against Barcelona, according to former Blues captain Paul Elliott.
The Londoners played with 10 men in the second leg of their Champions League semi-final, second leg for almost an hour after Terry was sent off for violent conduct after kneeing Alexis Sanchez but still progressed 3-2 on aggregate.
"It's unacceptable," Elliott told Sky Sports News. "It was in the 37th minute, it was a challenge that he didn't have to make and it was basically self-inflicted - it's as simple as that.
"That was a big, significant turning point - losing the captain and the natural inspiration of the side but that tells you a lot about the players.
"JT is a colossal player on the field but it told you a lot about his team-mates as well - particularly the spine of the team.
"You've got to turn around and look at Roberto Di Matteo and the way that he has managed to apply very sound management - his style, the psychological management of those senior players; he's made them feel warmed, he's given them a sense of self-belief.
"From being where they were under Andre Villas-Boas to where they are now, you wouldn't believe it's the same set of players - that's what very astute man-management can yield."
Self-belief
Chelsea will now face either Bayern Munich or Real Madrid in the Champions League final on May 19 but will have to do so without not only Terry, but also Ramires, Raul Meireles and Branislav Ivanovic who are also suspended.
In addition, central defender Gary Cahill has undergone a scan to find out the extent of the hamstring problem that forced him off at the Nou Camp.
Nevertheless, Elliott believes that the Blues still have enough strength in depth to win the trophy no matter who they face in the final.
"It's a tall order but it's not impossible," he reflected. "There is a winning habit, a winning momentum inside a football club and we've seen it with many clubs in the Premier League this season.
"Chelsea for me have got that winning habit and when you've got self-belief, you've got confidence, you've got a manager like the one they've currently got and you've got players collectively playing for that manager then everything is possible in the most extreme adversity, as Chelsea have shown.
"Chelsea can win the Champions League - I have no doubt in my mind about that."
Potential
While Brazilian Ramires scored Chelsea's crucial first away goal, it was substitute Fernando Torres who put the matter beyond doubt with a stoppage-time strike.
Elliott believes that the goal could be a turning point for the Spaniard, who has failed to live up to his £50m price tag.
"Fernando has had a difficult time since he's arrived but what he's done is worked extremely hard, he's stuck to the task. Roberto has got the best out of him," said Elliott.
"He had a lot of work to do with the goal but he kept his composure, kept his head, went around Valdes and slid it into an empty net.
"I think he really deserved that - he's so deserving of that goal and I hope now psychologically he can now push on and fulfil that glorious potential.
"Top players don't become bad players overnight - they lose confidence. This can be the catalyst for the re-emergence of Torres."
Character
So where does Chelsea's performance at the Nou Camp rank in the club's history?
Elliott said: "There have been some fabulous nights over many years but I think - not just the outcome, but the manner of it.
"They say in life that adversity breeds character and I think individually and collectively Chelsea showed that character, that attitude, that resilience, that real desire with great mental strength of belief under extreme pressure in such a very hostile and intimidating environment.
"It comes from within. They were a goal down, they lost Terry, they lost Cahill and then they just dig in. Sometimes when you are down to 10 men it can actually inspire you even more and create engagement and togetherness.
"They say they parked their bus in the area but I think they parked their Bentleys, their Ferraris and their wives' cars as well because their defending was absolutely formidable!"