La Liga: Barcelona prepare to return to Primera Division action with a trip to Rayo Vallecano
Barcelona are "still in transition", according to defender Dani Alves as they prepare for a trip to Rayo Vallecano.
Last Updated: 20/09/13 7:42am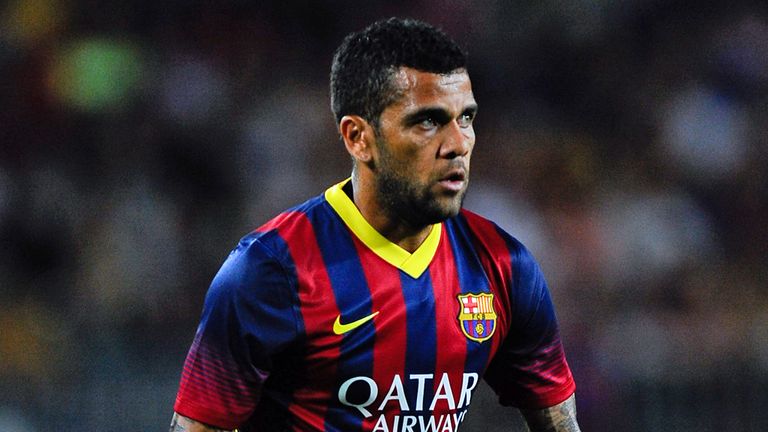 The Catalans swept side Ajax 4-0 in the Champions League on Wednesday and also have a perfect record in the league, but Alves said there was still more to come.
He told Barca TV: "We are still in transition as we seek our best and it's evidently not easy.
"I think we're on the right track and, although we've made adjustments to the team, we're still winning."
"What we're doing is not so different, but we are introducing new things to counter certain teams that just come to defend and we're looking at ideas for creating more goalscoring chances."
Barca are level on 12 points at the top of the table with Atletico Madrid, while opponents Rayo have not managed a single point since their opening day victory over Elche.
With the team struggling in 17th place, midfielder Roberto Trashorras is under no illusions about the challenge facing his team.
He said: "We are facing one of the best teams in the world. Throughout the season no team has won every game. If we do things well and [play] at our peak we'll compete."
"What we have to do is exhaust all possibilities against a team that we know dominates all facets of the game."
Athletico, who have scored and conceded the same number of goals as Barca in the league, travel to Real Valladolid on Saturday.
Gareth Bale is in line to make his Bernabeu debut when Real Madrid take on Getafe on Sunday and, despite not yet managing a full 90 minutes for his new club, the world record signing feels his fitness is returning.
"I had no pre-season whatsoever. I felt good when I came on [in the 6-1 win against Galatasaray in the Champions League]. It's been a different situation not having a pre-season. I feel like I'm getting there with minutes on the pitch."
Madrid are likely to be without Spanish international Iker Casillas however after a scan following the midweek victory showed a bruised left rib.
Elsewhere, Osasuna meet Elche on Friday night, while on Saturday Real Sociedad welcome Malaga and Almeria take on Levante.
On Sunday Granada travel to Seville to take on Real Betis, Celta Vigo line up against Villarreal and Sevilla meet Valencia.