Niall Quinn
Football Expert & Columnist
Manuel Pellegrini has smoothed Man City dressing room and made his players winners
Handling of Joe Hart proves how astute Chilean boss is
Last Updated: 28/05/14 4:37pm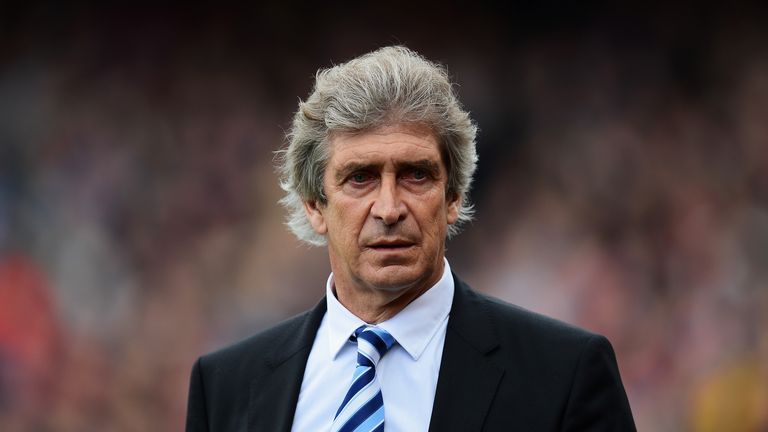 Pellegrini guided the Citizens to a second Premier League title in three years on Sunday, with the Chilean's charges defeating West Ham at home to finish the campaign two points clear of Liverpool.
Roberto Mancini clashed with members of the City squad during his four-year tenure in charge, but former Blues striker Quinn says Pellegrini has "put out fires" with his style of man management.
And he feels City's top-flight rivals will now be jealous of the wave of momentum that is sweeping through the Etihad side.
"Everyone thought City were the most competent team at the start of the season but the manager - who I am now calling Cool Hand Luke - has sorted the dressing room out," Quinn told Sky Sports.
"They have put their egos aside and their abilities have come out as one, so I feel the manager deserves huge credit for putting fires out, keeping calm and turning his players into winners.
"For example, he took Joe Hart out of the firing line, got him hungry again and when Joe got back into the side he was superb, as he showed in the Everton game recently.
"City always seemed to have three games in hand so to come from a difficult place and keep on winning when other teams around them were shows they were the best team.
"I know a lot is made about the money but from top to bottom this football club is buzzing at the moment and I think other clubs around England will be envious of what they have achieved."
"City's plan for world for domination has taken a big step."
Start
Pellegrini's men crashed in 102 Premier League goals this term - one more than Liverpool - with highlights including 4-1 and 3-0 wins over local rivals United, as well as putting both six and five past Tottenham.
However, Jamie Redknapp reckons City's squad strength, in addition to their sparkling football, was the main reason for their title triumph and says top-drawer footballers will now be desperate to sample success with the Blues.
"You can't begrudge City this," he said.
"They play football the right way - there are always looking to score goals, have technical players who pass the ball and they don't park buses - and they are well worth watching.
"Liverpool are the same but I think City just have that real depth, with big players such as Yaya Toure and guys like Edin Dzeko who can step up, and this is just the start for this club.
"They have two titles in three years and there are many more to come, especially if they can freshen it up and get new impetus."
"This has become a great proposition for players and if you get a call from a club in England now this is the one you want to come to, because there is so much money behind it and real quality players here."