Taking perspective
England and Arsenal ladies star Alex Scott continues her regular Sky Sports column by reflecting on the Boston bombings
By Follow me on Twitter - @Alexscott2
Last Updated: 24/04/13 11:00am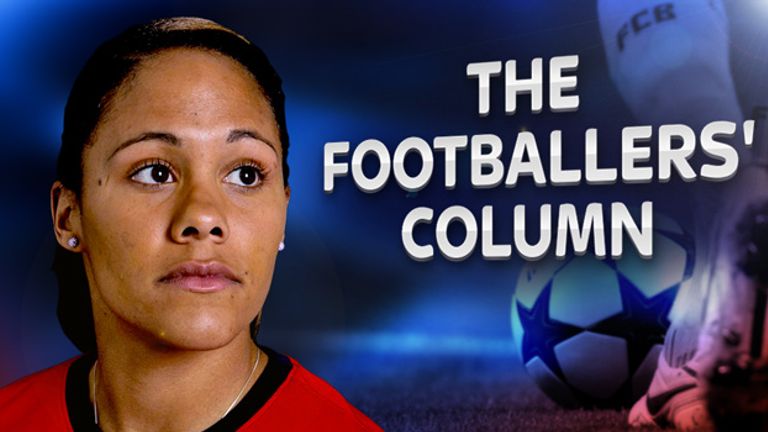 I am sitting here this week not really sure how to start my column. I had a rough idea what I wanted to write about. My main talking points were going to be based around our great FA Cup win against Birmingham (we won 6-0) last Tuesday night. I was going to go on to talk about losing in the first leg of our Champions League game against Wolfsburg (we lost 2-0 on Sunday). Then, in the blink of an eye, everything changes.
As I sit here writing, I have the news on, keeping me updated with what is going on in America. For those of you who may not know, I spent three years playing professional football in Boston for the Boston Breakers. Boston is a city I truly fell in love with. I loved the people, my team-mates, the lifestyle I had adopted in America and the fans who turned out to our games every week at Harvard Stadium. I truly was 'living the dream'. I was a professional footballer and I was seeing a whole new world.
Every year, the Boston Marathon was like a team event for us. It falls on a Bank Holiday, so literally the whole of Boston lines the streets to cheer the runners on. The Boston Breakers would normally all congregate on a place called Heartbreak Hill a couple of miles from the finish line. We would stay there all day, chilling in the sunshine, cheering on all the runners whilst signing autographs and having pictures taken with fans.
I remember, one year, the Boston Red Sox were playing the day of the Marathon. Myself, Kelly Smith, Heather Mitts and another team-mate, Angela Hucles, all went to watch the Red Sox. When the game was done, we stayed and cheered the runners over the finish line at the Marathon. I remember this exact Marathon so clearly, because Kelly and I still joke about this year. After watching the Red Sox and watching all the runners, we had finally started to walk back to the apartment we shared, which was maybe a two or three-mile walk. The whole way home, Kelly was moaning about walking home in the sunshine. I turned to her and said, 'you are kidding, right? All these people have just run 26 miles and you are moaning about walking two miles!'. She actually burst out laughing.
Once again, just like that day, things have been put back into perspective for me. On Sunday, I was part of a team who lost 2-0 in a semi-final of a Champions League match. I hate losing so much. It burns, especially when, as a team, we did not play well. We know we are better than what we showed. I was so down and totally depressed when I got home after the game. I spoke to no-one. I returned no phone calls. I laid on the sofa in a mood and decided the best thing to do was to have an early night to try and get over the fact I had lost.
On Monday, I was going to sit and write all about the game, about me being depressed and sad! Then, like I said, in an instant, things are put into perspective. There is so much more going on in the world, bigger things to be down and be sad about. For me, there is the second leg of the Champions League. We are not out of the competition yet. This Arsenal team is more than good enough to turn this tie around. For me, there is a semi-final of the FA Cup at Anfield against Liverpool to play in. I should be happy I am fortunate enough to have another football match and remind myself I love football. I love playing and watching football. The game truly makes me happy.
At the end of the day, it is just football, right? It is just a 90-minute match? Sometimes we need to look at the bigger picture. Sometimes there is more to life than football. For all those involved in the events in Boston, it is they who my thoughts and prayers need to be with.