The Gaffer: Justin Edinburgh
What are the secrets to earning Football League promotion? Newport County boss Justin Edinburgh gives Sky Sports his guide
By Peter Fraser - Follow me on Twitter @SkySportsPeteF
Last Updated: 18/12/13 3:54pm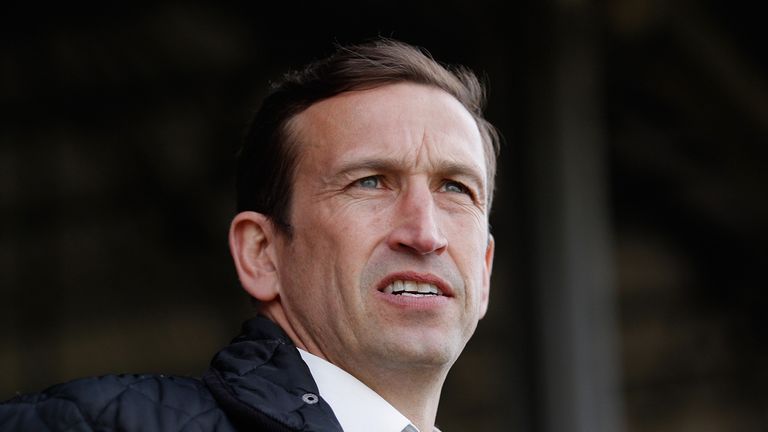 Before his playing career was ended prematurely through injury, former Southend United, Tottenham Hotspur and Portsmouth defender Justin Edinburgh had no interest in becoming a manager.
However, after being encouraged to take his coaching badges by former Spurs and England boss Glenn Hoddle, a player-manager role followed at Billericay Town before further non-league jobs at Fisher Athletic, Grays Athletic and the now-dissolved Rushden & Diamonds.
Edinburgh has since gone from strength to strength and is currently enjoying immense success at Newport County, who found themselves bankrupt and liquidated in 1989 but will on Saturday play their first Football League game in 25 years.
Last season, Edinburgh guided County, under the ownership of EuroMillions lottery winner Les Scadding, to promotion after victory in the Conference play-off final at Wembley and the club can now look forward to life back in the big time.
After facing Accrington Stanley this weekend in League Two, County will on Tuesday take on a glamorous Capital One Cup tie against a Brighton & Hove Albion squad who last season were competing for a place in the Premier League.
What has been the secret to Edinburgh and County's success? Here, speaking on behalf of Capital One, the man himself gives Sky Sports and exclusive guide to management.
Have you always wanted to be a manager?
No, I have got to be honest. In the era I was playing in, there were not many people gearing you towards coaching or your coaching badges. I think you just get totally fixated on being a player. Once my career was ended prematurely through injury, Spurs played a big part in me getting into coaching. Glenn Hoddle, John Gorman and Pat Holland, who was the youth team manager, invited me back to work in a part-time role in the Academy and it started from there. You get hooked on football and it becomes a part of your life, so I did not turn down the opportunity to get straight back into football. As a player who has had to finish early through injury, sometimes you are at a loose end and are a lost soul. I was grateful Spurs gave me the opportunity to start my coaching career.
Who were your managerial role models?
You always want to be your own man. It is hard to be yourself, sometimes, let alone trying to be someone else. But I think you take a bit of everything - good and bad - out of every manager you have played under. I think you have to try and re-visit and re-manage situations from your playing days which you thought were fair or unfair but still have your own personality and stamp on it. I think you would be silly not to learn from other people's positives and negatives. You have to be as honest and fair as you can with players. If you do that, you have got a chance of keeping a happy group of players.
What so far has been your best day in management?
Securing promotion to the Football League. The year before, we lost in the FA Trophy to York City and that was a big occasion for the club in their centenary year and on the first time they had been to Wembley. It was more of a day out than anything else but losing hurt me. Going back to Wembley the following year and leading the club to promotion to the Football League was so far my proudest and most satisfying day in management.
What so far has been your toughest day in management?
I was manager of Rushden & Diamonds when they ceased to exist. The club got wound up and no longer existed. That was a sad time. I learned a lot from my non-league management days. That was a tough time, knowing that you are unemployed and that you will not receive your wages. I had to tell 20-odd players that they no longer had jobs. I know that Newport County have been there, so it was such a proud moment to lead them back into the Football League.
What are the keys to man-management? How do you decide if players need an arm around the shoulder or the infamous hairdryer treatment?
That is all about learning about your players. You have got to get on their level and work out who responds to what. That is part of management, whether it is football or any type of business. You have got to know what makes the individual work. No individual is the same, as we know. On a personal level, you have got to know about their home life and what they do off the field. On a professional level, you need to know what level of training they need. If you can look a player in the eye and know you have treated them fairly and honesty, you will always get a response and a performance.
Do you take a leading role in coaching your squad on the training field?
I am out on the training ground every day. I like to be involved and get my ideas across. I like to be out there and still be active, day in and day out. We have then got no grey areas. I have always known that if you can try and replicate situations with players, they have got a chance of performing. That is what we try to do.
How do you use the increasingly important statistics and technology in football?
I think we are getting more to that way. In that sense, it is about what you can afford and what equipment you can have at your club. But the game is evolving and, if you want to be successful, you have got to do that as a manager. We look at statistics and prozone and analyse the opposition as well as showing players their individual performances. We try and do as much as our budget allows us.
What is your opinion on transfer windows? Are they positive or negative?
There is always going to be an element of it being a good or a bad thing either way. What it does do is it leaves players unsettled for a certain amount of time. But clubs know transfer windows have not been thrown upon them and they know they are in place. People know when and where the transfer windows start and finish. They are a part and parcel of the game.
What is your relationship like with football agents when it comes to transfers? Is there a need for trust?
You have to work with agents, whether or not you trust them is another thing. They are working for their client, not your club. But there is a role for them and they will continue to be there. You have got to trust yourself. You have got to know what players you want. If you do not know what players you want, then you are not in the right role. I know what players I want and what areas need strengthening in your team.
Have you received a lot more attention from agents since being promoted to the Football League?
I never knew there were so many agents! All of a sudden, their clients are the right clients for my club! It has been a busy summer. The phone has been endless in terms of agents contacting me about players. The phone has not stopped.
How important is a strong relationship between a club's manager and owner/chairmen?
I have a very good relationship. It is not just a working relationship, it is personal as well, as it is with all the board members and the director of football Tim Harris. I have got a good working relationship but, no matter what the result, we can always go and enjoy a meal or a drink together and put the working relationship to the side. We have struck really good friendships. I am really enjoying it at Newport County. I feel really committed to the cause.
Finally, what one piece of advice would you give for someone starting in management?
You should always stick by your first decision. If you pick a player, do not let anything change your mind, because the majority of time you are right. When I first set off in management, I would look at a player and think he was not good enough. Then he would produce a one-off performance before six or seven games down the line he would have again failed to perform. Without knowing it, you can give him 12 or 13 games and he only has two good games among them. Stick to your first decision and nine times out of 10 it will be correct.
Justin Edinburgh was talking to skysports.com on behalf of Capital One, the credit card company and title sponsors of the League Cup