Kevin Phillips
Football Expert & Columnist
Kevin Phillips: Kids need opportunities - but they must seize them, too
As Sky Academy launches to inspire the next generation, Kevin Phillips blogs on who helped him succeed.
Last Updated: 06/11/13 4:33pm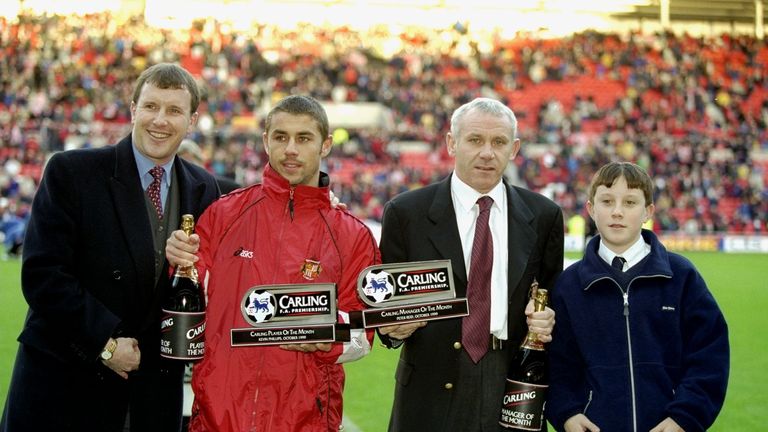 Certainly, if someone like David Beckham, who is an ambassador for the initiative, turned up at my school when I was a kid that would have inspired me and the fact icons of their sports such as Beckham and Jessica Ennis-Hill are involved is great.
Read all about the Sky Academy here
However, I don't remember watching anyone on TV and thinking 'I want to do that'. Instead, it was probably my dad who was the driving force behind me getting into football.
Like most boys in this country, from the minute I could walk my dad put a football in front of me. It seems the majority of dads in this country want their sons to grow up to be professional footballers.
Drove
Then, when I turned professional at Watford, after just a few months at the club, I lost my dad, and I had a bit of a spell after that when I didn't want to play football.
But, after thinking about it, that drove me on to want to go and succeed and try to thrive in my profession and make him proud of me.
That's probably what kicked me on at that early stage.
From there, Glenn Roeder, who was Watford manager at the time, was excellent for me and, when I moved to Sunderland in 1997, Peter Reid was a big inspiration.
I had total respect for him as a manager because he had played at the highest level, won many honours and was also still one of the lads - which, at that time, was pretty important.
He was someone I looked up to and both him and Glenn really set me up and gave me the platform to go on and achieve what I've achieved.
Change
Encouragement and opportunities at a young age is clearly very important - but kids also need to have an inner drive to help them reach the top. That's why people like Beckham and Ennis-Hill have succeeded.
We're going through a big change in the way young footballers are trained at the moment and it's important they are given the best platform to reach their potential.
But when they get that chance, they have to take it.
Too often I see young players who don't want to take their opportunity with both hands and don't realise what's on offer. For 15 or 20 years, if they're lucky, they can earn really good money and set their families up for life.
There's quite a few kids out there who don't realise that.
However, it's important initiatives, such as Sky Academy, also encourage everyone to get involved in sport - even if they don't have ambitions to play in a World Cup final.
When you're healthy your concentration improves, you feel good in yourself and you have a positive outlook on life. That's worth encouraging all kids to aspire to.
Future
This is my final season as a player, so I've been thinking a lot about my future, too.
Since Keith Millen has taken over as caretaker manager at Crystal Palace I've been helping out with some coaching sessions.
It's something I enjoy doing and an area where I think I can help but, to be honest, I'd rather explore management after I've retired.
Of course, unless you get lucky and an opportunity comes up such as the one Keith's got at the moment, you are going to have to work your way up from a lower level as a manager.
James Beattie, for instance, is a good example.
He's up for the League Two Manager of the Month award after overcoming a tough start in charge of Accrington Stanley, but that seems to me like a good way of learning your trade as a manager.
However, after 20 years in the game, my body needs a bit of a rest so I'll be taking a little break after I hang up my boots and throw myself into some media work, instead.
I was at the Cardiff-Swansea derby for Sky Sports last weekend and it's something I really enjoy doing - and something I look forward to doing more of in the future.