Gary Neville says Manchester United have to win the Premier League title
Last Updated: 14/08/17 5:54am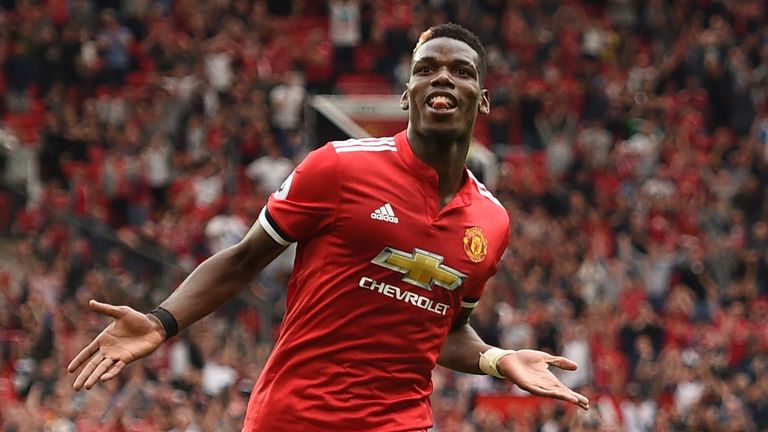 Gary Neville says Manchester United "have to win" the Premier League title this season, and if they don't there will be "no excuses".
After finishing sixth last year, United kicked off their 2017/18 campaign with a thumping 4-0 win over West Ham on Sunday.
Summer signing Romelu Lukaku scored twice in the win while another new addition, Nemanja Matic, impressed after his move from Chelsea.
Neville won the league eight times with United and, speaking before the game on Sunday, says his former club must now challenge again.
"You can't just drop your expectation because they haven't won it for a couple of years. They have to win the league. Jose Mourinho has to win the league here," he said on Sky Sports on Nissan Super Sunday.
"The money that's been spent, his own personal expectations and what he's always delivered has been titles, so I would say United have to approach this season to win the league.
"I don't think it's good enough to say 'they're going to get back into fourth'. That isn't an ambition when you've spent the money that's been spent and amassed the players that Mourinho has now amassed."
United have not won the Premier League title since 2012/13 when Sir Alex Ferguson retired.
I don't think it's good enough to say 'they're going to get back into fourth'. That isn't an ambition when you've spent the money that's been spent.
Gary Neville
But, having spent more than £145m this summer, Neville thinks they are well equipped to compete again.
"I have never seen this league won without power and pace and a really strong spine, and it looks like United have got that," he said.
"They look like they are going to mount a challenge. It's day one, but they look like they have the attributes to mount a challenge for the title because they seem like they have everything.
"There is no excuse for Man Utd not to challenge for the league. That's not putting pressure on the players or Jose Mourinho, but they have to challenge with the money that has been spent and the players that have been brought in.
"Last season was not good enough in terms of the Premier League, nowhere near good enough. It was a massive under-performance from those players, so they have to get back up there this year."
Neville also reiterated his surprise that United were able to buy Matic from last season's champions Chelsea.
"You cannot believe Chelsea have given Mourinho a piece of the jigsaw in Matic," he said. "I can't think of one reason why Chelsea sold him.
"United beat Chelsea to Lukaku and then Chelsea have handed them Matic. They look like the type of players that were needed to correct what was wrong last season, and Chelsea have helped them and had a big influence on that."
Asked what United still need to add to this squad this summer, Neville said: "I'd name a player similar to Arjen Robben - a wide player. [Marcus] Rashford did very well today but is he a wide player? Not really.
"I'm talking about someone who can generally play left side. If you could add one world-class winger to add to the squad you could say it was a complete squad…they are covered everywhere, they have such strength."