Football Expert & Columnist
Jamie Carragher and Thierry Henry analyse Tyrone Mings and Zlatan Ibrahimovic altercation
Last Updated: 05/03/17 11:20am
Thierry Henry and Jamie Carragher were not surprised Zlatan Ibrahimovic went looking for revenge after being stamped on by Tyrone Mings - an act Carragher called "horrific".
Manchester United were held to a 1-1 draw by 10-man Bournemouth at Old Trafford after Joshua King's 40th-minute penalty cancelled out Marcos Rojo's opener.
But there were two flash points before half-time as Mings stamped on the head of Ibrahimovic, and the Swede responded shortly afterwards by elbowing the defender as they competed at a corner.
Neither player was punished by referee Kevin Friend and instead Bournemouth's Andrew Surman was shown a second yellow card for pushing Ibrahimovic in the melee that followed.
Carragher, speaking at half-time, said there was no excuse for what Mings appeared to do to Ibrahimovic.
"The one from Mings is just horrific - he deserved a smack for that one," he said.
"It's disgraceful, callous - stamping on someone when they're on the floor.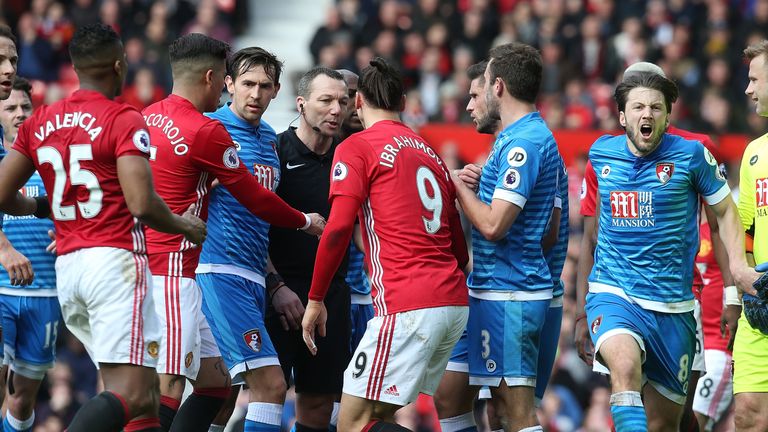 "When you get a chance in a tackle, rattle his bones - don't stamp on someone's head."
Mings denied any wrongdoing following the game, while also playing down Ibrahimovic's responding elbow. When asked whether he deliberately stamped on Ibrahimovic's head, Mings told Sky Sports: "Not at all."
Ibrahimovic also attempted to play down what happened, saying: "With the stamp I just felt something hit me behind my neck. With the elbow I see it clearly, I jump up, I jump high, I protect myself, same time I go for the ball and he jumps into my elbow."
Carragher understood why Mings sought to give his side of the incident, but finds it hard to believe it wasn't an intentional act.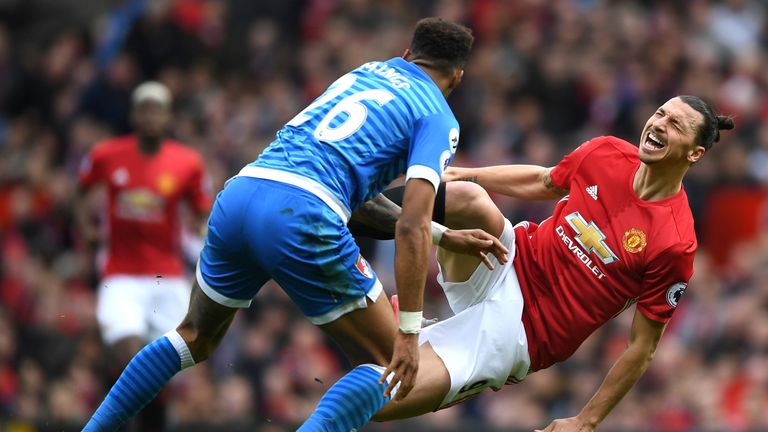 "When you're getting criticism like that the press officer will be telling him to get out there, put your side to the story out there," Carragher said.
"For how critical we are, there's only one man who knows [if he meant it].
"The big thing for me is when you land on something or someone and you don't expect it, it affects your reaction. When you stand on someone it feels completely different - there was no reaction from Mings when the ball got cleared.
"There are two things you do - you either panic and say you haven't meant to do it. You go and speak to the player and you let the player know you didn't mean it.
"The other one is, 'I hope no-one has seen this' and just carry on with the game. That's where my suspicion comes from in that as the ball gets cleared he just carries on with the game. He knows he's stamped on his head and there's no reaction to apologise."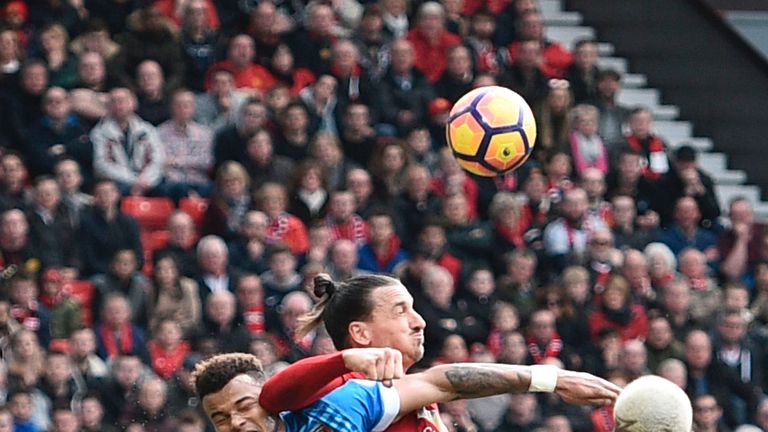 Ibrahimovic went on to miss a second-half penalty to cap a frustrating afternoon for United as they missed an opportunity to leapfrog Liverpool and Arsenal in the table.
Henry felt the coming together had a big effect on the rhythm of the game.
"When you feel like someone has stepped on your head - intentional or not - you're going to answer like that, although I don't think it's right," Henry said.
"I don't think I would have done it in the same way but I would've done something also if I felt someone had stepped on my head.
"But what came out of this whole 'battle' situation is that Bournemouth lost a player - the game at that moment became weird. Zlatan went onto miss a penalty. It had a massive impact on the game."