Confederations Cup: Spain's Alvaro Arbeloa has no problem with team-mate Iker Casillas
Alvaro Arbeloa says he has no problem with Iker Casillas as Spain prepare to start the Confederations Cup campaign.
Last Updated: 15/06/13 3:21pm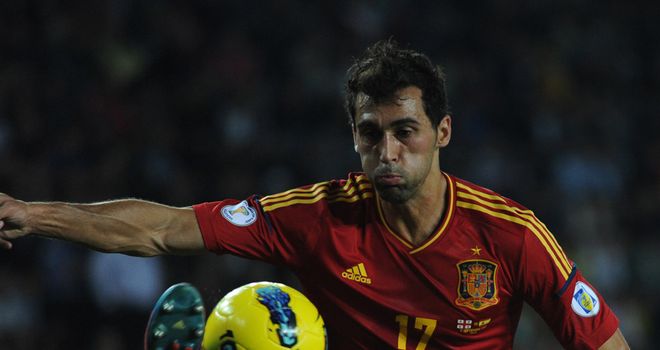 Real Madrid and Spain defender Alvaro Arbeloa is adamant he has no problem with club and country captain Iker Casillas ahead of the start of the Confederations Cup.
Spain will look to make it a clean sweep of world trophies when their tournament starts against Uruguay on Sunday, but there has been talk of a division in the normally-unified camp.
Arbeloa and goalkeeper Casillas have emerged from a fractious season in Madrid, where the latter was controversially frozen out by manager Jose Mourinho.
As one of the club's crown jewels, Casillas' exclusion was a source of anger for many Madridistas, who sided with player over manager.
Arbeloa risked the wrath of them by standing up for Mourinho, but has been keen to stress he has no axe to grind with Casillas.
Speaking to the press ahead of the game, he said: "I don't have a problem with him, we have a good relationship and it won't damage the national team.
"I have a professional relationship with some of my team-mates and I'm friends with others - just like in any workplace.
"Relationships change - they go through ups and downs."
Former Liverpool man Arbeloa does concede he has work to do with Casillas, though, adding: "It can't have been an easy season for Iker. Will we talk about it? We do probably need to straighten things out.
"I did not name Casillas or talk about him indirectly. Too much has been made of it."
On the field Spain will be looking to add the Confederations Cup crown to the world and European ones they already hold.
Standing in their way is a Uruguay side led by the brilliant but controversial Liverpool striker Luis Suarez.
If he gets his way, the 26-year-old could be at Madrid next season, but for now wants to find a way to beat the world's best side.
"We know it is hard to take the ball from them, this is clear," he said.
"But I have noticed they sometimes leave spaces in attack and we need to use our speed and counter-attack, which is our strength."