Sevilla held to draw
Sevilla look consigned to a mid-table finish after playing out a 1-1 draw at Valladolid.
Last Updated: 28/04/13 10:12pm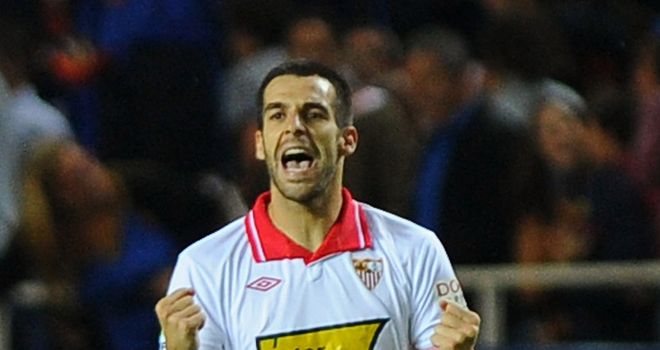 Sevilla look consigned to a mid-table finish after playing out a 1-1 draw at Valladolid.
Unai Emery's men went into the game knowing a win could have left them with an outside but fighting chance of making Europe next season.
But they left Jose Zorrilla with a point that leaves them off the pace - Alvaro Negredo's second-half penalty getting them a share of the spoils after Javi Guerra's opener.
It was not what they wanted but they ended up paying the price for simply not being able to get the better of an inspired Jaime Jiminez.
The well-travelled stopper was equal to everything thrown at him in open play and it took a free hit from the 12-yard spot to beat him.
Sevilla needed to win but they did not show it early on. The opening half hour was torrid - Jesus Navas had the only effort of note with a wayward hit - before the same man almost lit up the game with an 18-year drive that Jiminez did well to stop.
Valladolid responded with a rising shot from Victor Perez, but Sevilla remained on the front foot as Federico Fazio worked Jiminez from range.
Their work was being done outside of the box, though, and four minutes before the break they were caught cold as Guerra took in Patrick Ebert's pass and finished smartly.
Ivan Rakitic nearly got Sevilla back into it with a header, but as is often the case, Negredo did the job of getting them moving.
He drew a brilliant close-range save out of Jiminez and then, after Marc Valiente's 61st-minute handball, scored from the spot.
It was his 24th goal of the season and he looked sharp enough to get another, but he could only look on shortly after that, with Valladolid going close when Ebert cracked the bar from just inside the area.
Negredo then returned to the fore and worked Jiminez twice more, with Alberto Beuno going close at the other end.
Like Negredo, Navas then found Jiminez an almost immovable obstacle when he took aim, with the two then linking up for the former to have a header saved as the frustrations continued.