Xavi admits Barcelona are missing Tito Vilanova as he continues to be treated for cancer
Xavi admits the Barcelona team are missing coach Tito Vilanova as he continues to undergo treatment for cancer.
Last Updated: 15/02/13 1:13pm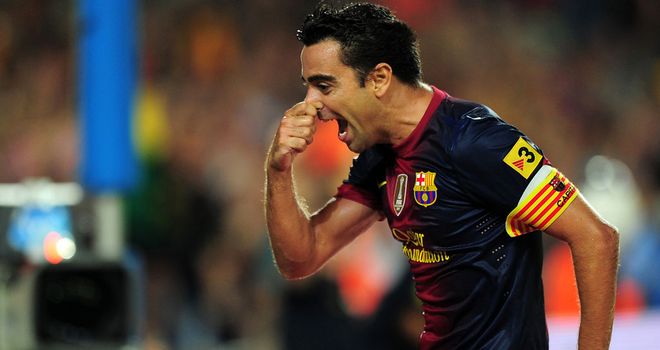 Xavi admits the Barcelona team are missing coach Tito Vilanova as he continues to undergo treatment for cancer in New York.
Assistant Jordi Roura will once again oversee the team for Saturday's Primera Division trip to Granada.
The Catalans have hardly gone off the rails in Vilanova's absence with 6-1 and 5-1 wins in their last three matches, but Xavi says the players are looking forward to having him back.
"Roura has taken command and speaks every day with Tito," he told the Sport newspaper.
"I speak with him often through WhatsApp. He said he was very happy with how things are going in the team. And will shortly be with us. I do not know when, but it is clear that we miss him."
Barca still hold a commanding 12-point lead over Atletico Madrid at the top of the standings, but full-back Adriano claims they still can not afford to ease up.
The Brazilian said: "Although we've got a good lead over Atletico Madrid and Real Madrid, we can't take our foot off the accelerator because we know they'll be there."
Barca have a testing couple of weeks ahead with the first leg of their Champions League last-16 tie with AC Milan, the return leg of their Copa del Rey semi-final against Real and a league match against their bitter rivals coming up.
Adriano, though, said Barca will not be distracted by the big games coming up tomorrow.
"We have to take it one step at a time and just focus on the next big match, which is Saturday against Granada," he said.
"It's a game that can be difficult if you're not fully committed. It's a difficult place to go. Last season it was difficult and now it'll be even more so as they've won their last two matches."
Those victories, the first one over Real, have lifted the hosts up to 15th place, six points ahead of the relegation zone.
They won 3-0 at Deportivo La Coruna last time out, but forward Nolito admits taking on Barcelona will be a different proposition entirely.
"We know we are playing against the best team in the world and it will be very difficult," he said. "But football is played 11 against 11."
And Nolito, who played more than 100 games for Barcelona B, know that, despite their recent good form, Granada are still in a relegation battle.
"We are six points above the relegation places, but we can not relax," he said.
"Losing two or three games would put us down there."
Barca will be without striker David Villa, who was discharged from hospital today, a day after being readmitted for continued treatment of kidney stones.