Celtic and Rangers Old Firm rivalry in stats ahead of Scottish Cup semi-final
By Adam Smith
Last Updated: 23/04/17 9:49am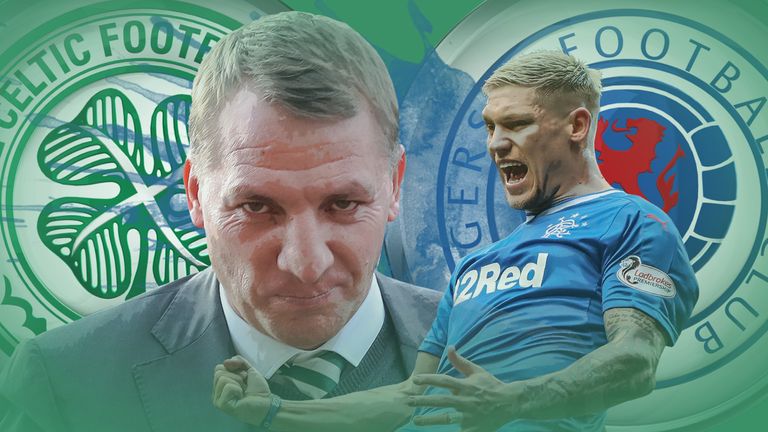 Celtic face Old Firm rivals Rangers in the Scottish Cup semi-final live on Sky Sports this Sunday - but which team has the edge head to head?
Brendan Rodgers' side are enjoying a spell of dominance in Scotland, having secured their sixth successive league title after thrashing Hearts 5-0 earlier this month.
Only five years ago in 2011/12, then-defending champions Rangers finished behind Celtic, having extended their world record haul of league titles to 54 in the previous season, when they finished one point above the Bhoys.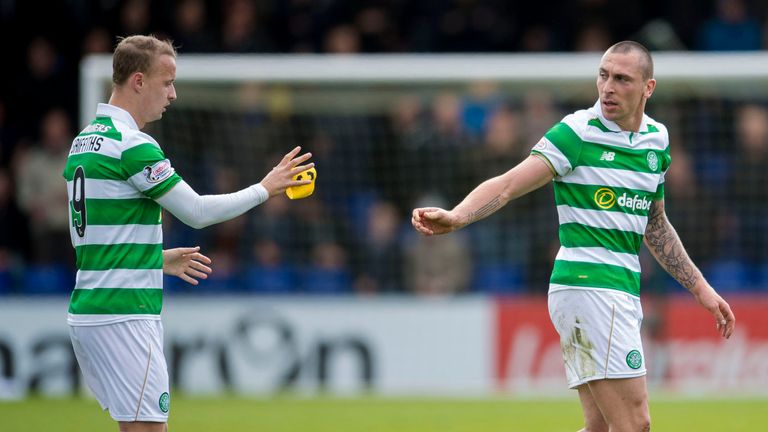 But the Blues entered administration at the end of 2011/12 and, as a result, dropped to the fourth tier after 140 years in the top flight.
Since then, the Gers have been promoted three times in four years, returning to the Premiership this season.
Pedro Caixinha's men are currently third in the league on 58 points, nine points behind Aberdeen and 33 behind champions Celtic.
The Gers have only beaten their rivals once since entering administration, losing four out of six meetings and drawing once.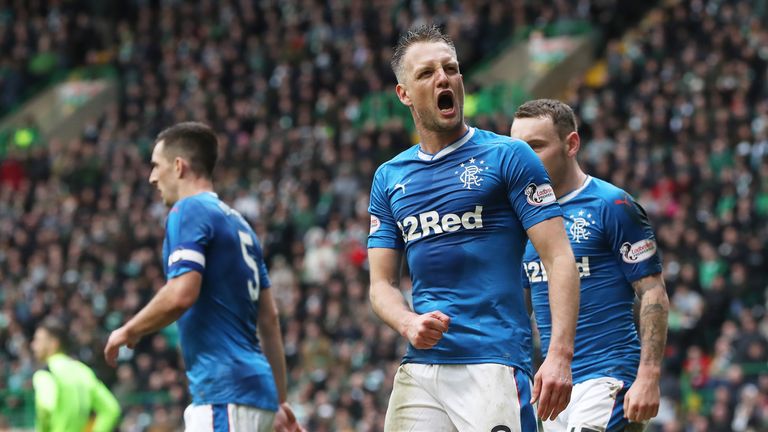 However, Rangers severed Celtic's 22-game win streak in the league at Ibrox last month after Clint Hill grabbed a late equaliser to claim a 1-1 draw.
But which club reigns supreme in head to heads since 1890 and just how dominant are the Hoops today?
HEAD TO HEADS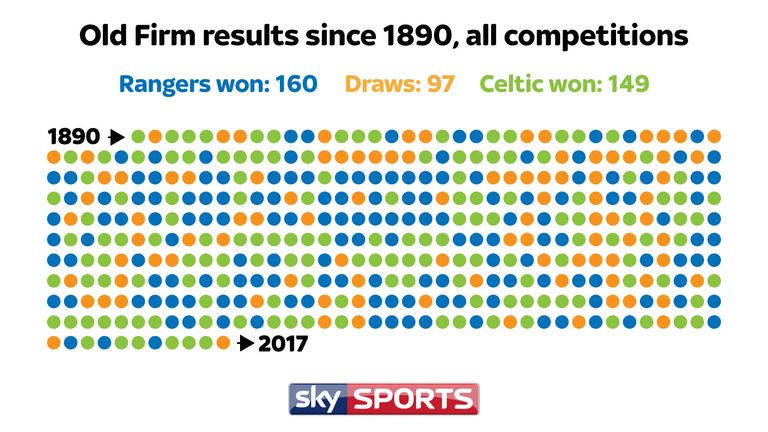 There have been 406 Old Firm derbies over the last 127 years but Rangers have claimed more victories, winning 160 compared to Celtic's 149 and 97 ending a stalemate.
Celtic were the dominant force head to head until the mid-1910s, after which Rangers enjoyed 50 years of superiority in the fixture until the mid-1960s.
Rangers had won eight consecutive contests until January 1965, but a 3-1 defeat marked the beginning of the end to half a century of Old Firm dominance.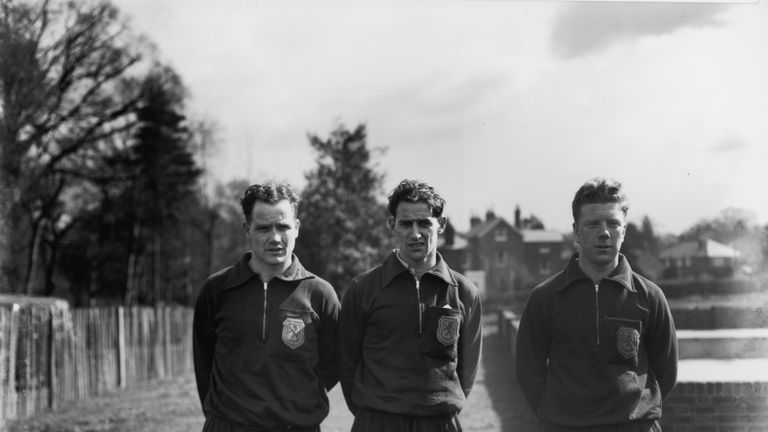 Celtic restored superiority in the 1970s with nine victories out of 13 and losing only once before 1975.
But results began to even out and a 3-0 Rangers win at Ibrox in 1986 marked the beginning of another dominant Gers' era.
However, that period appeared to end with a 6-2 defeat in 2000, with Celtic claiming 19 wins to Rangers' nine in 33 meetings until 2007.
Rangers did win four successive derbies between 2007 and 2008 - but Celtic have reigned supreme in the fixture to date.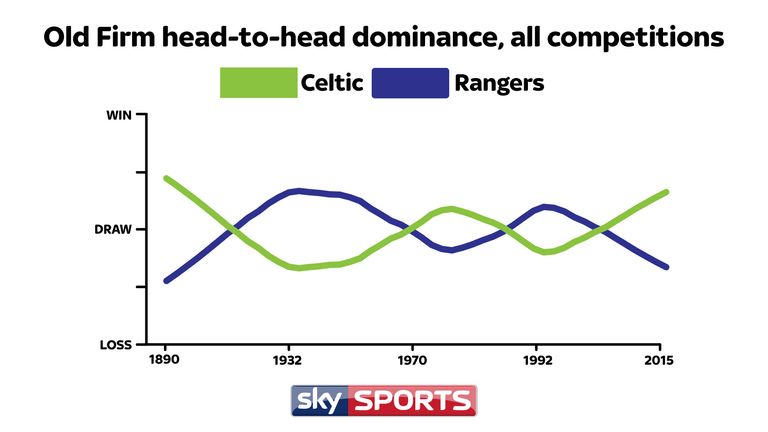 GOAL FESTS
In terms of goals, eight Old Firm clashes have featured eight goals over the last 127 years - of which Celtic won six and two ended 4-4.
Most recently, the Bhoys' 6-2 win at Celtic Park in August 2000 and Ibrox hosted a 4-4 thriller in 1986 - which was also the only eight-goal fest to be played on Rangers' turf.
Celtic also boast the greatest Old Firm winning margin with a 7-1 thrashing on home soil in 1957.
The Gers have won their last five Scottish Cup semi-final contests against Celtic, in 1960, 1992, 1996, 1998 and 2016 - while Celtic's last victory was a 5-0 win in 1925.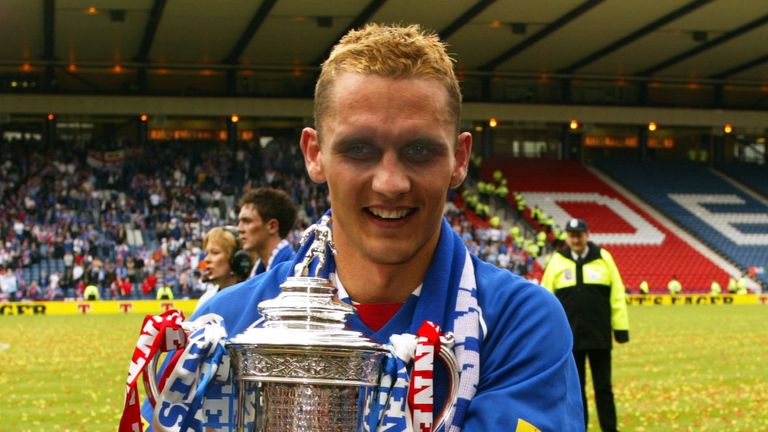 However, the Celts have won the competition 36 times compared to Rangers' 33 and, in terms of current form, are now unbeaten in all 40 domestic games this season - a club record.
But can Rangers beat Celtic at Hampden Park on Sunday?
It will be the 50th Old Firm meeting in the Scottish Cup and a place in this year's final on May 27 is at stake against Aberdeen.
And only one week later, Rangers will have another opportunity to overcome their great rivals with a Premiership clash, also in front of the Sky Sports cameras.
Watch Celtic v Rangers live in the Scottish Cup semi-final on Sky Sports 2 from 11.30am this Sunday