Baggies reveal Long relief
Shane Long is feeling positive after a scan revealed his knee injury was not as bad as first feared, according to Michael Appleton.
By Matthew Skinns
Last Updated: 25/10/11 12:14pm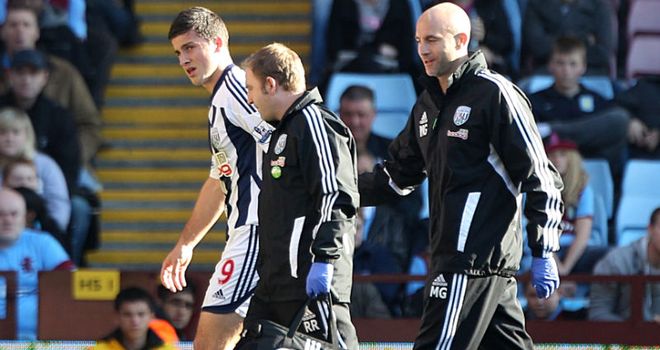 West Brom's assistant head coach Michael Appleton revealed Shane Long is in a positive frame of mind after scans dispelled fears of knee ligament damage.
It was revealed on Monday that Long was likely to be out for six weeks after suffering an injury in Saturday's match against Aston Villa following a challenge by Alan Hutton.
Appleton is relieved by the news that he could make his return in December, instead of a potential season-long rehabilitation.
"Shane's obviously still a little bit sore from the tackle on Saturday, but he's in a decent frame of mind," Appleton told Sky Sports News.
"Obviously when you have a knock on your knee like that your first fears are that it's ligament damage and that was our first fear at the time.
"Ultimately the scans have shown that's not the case so we feel quite fortunate that if it is six weeks it's not as bad as a six-month, nine-month job.
"So from that point of view we're pleased and hopefully we can get him back on the pitch as soon as we can."
But the Baggies coach made it known the backroom staff felt Hutton's tackle was a bad one, with Appleton himself familiar with the dangers of ligament damage.
"I'm sure Shane's got his private thoughts on the tackle at the time," he said.
"We thought it was a poor challenge and rightly so I think when you're looking back at the replay.
"But from our point of view we're just really fortunate it's not as bad as we first feared and I'm sure Shane has the same sentiment as well.
"At first you're coming off the pitch fearing the worst and all of a sudden if it is five or six weeks, fantastic we get him back on the pitch as soon as possible."