England better Germany with world's second-best goal difference
By Adam Smith
Last Updated: 21/03/17 4:34pm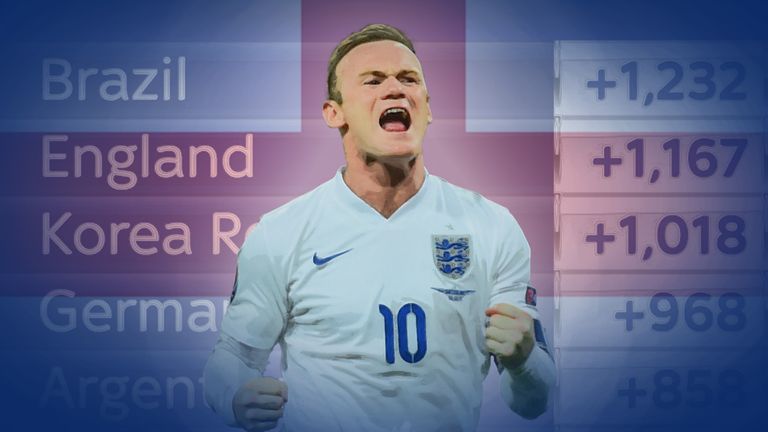 England have not won a major tournament since lifting the World Cup in 1966 - but they have the world's second-best goal difference.
The Three Lions have a remarkable +1,167 goal difference from A-game internationals played since 1873, scoring 2,119 and only conceding 952 goals, according to a Sky Sports study of 11v11.com data.
Only five-time World Cup winners Brazil have a better record than the English, with the Samba stars recording a +1,232 goal difference since 1914 from 2,133 goals scored and 901 conceded.
England's biggest winning margins
| Opponent | Winning score | Venue | Date |
| --- | --- | --- | --- |
| Ireland | 13-0 | A | Feb, 1882 |
| Ireland | 13-2 | H | Feb, 1899 |
| Austria | 11-1 | A | Jun, 1908 |
| Portugal | 10-0 | A | May, 1947 |
| USA | 10-0 | A | May, 1964 |
England face arch rivals Germany in Dortmund on Wednesday with a terrible record against the current world champions, having lost 14 of their previous 22 meetings since defeating them 4-2 in the 1966 World Cup final.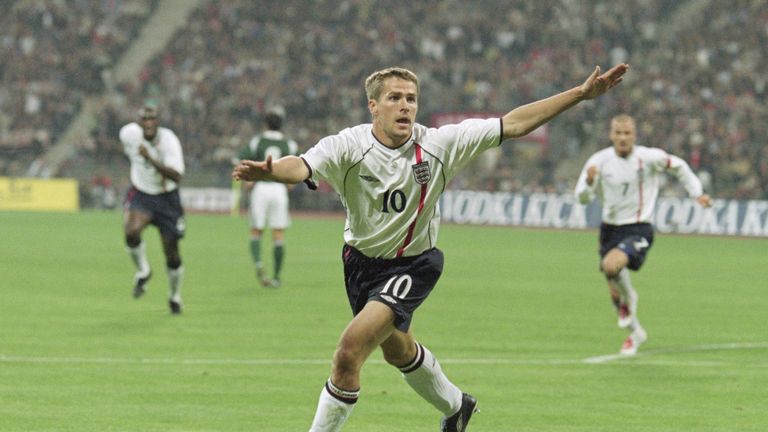 But the English have a superior goal difference by 50 goals, with the Germans ranking fourth in the world on +968 (factoring former West Germany and current Germany results), behind Korea Republic on +1,018.
DID YOU KNOW?
England have played 964 international matches and Germany have played 917.Of those, England have won more games, 549-540, scored more goals, 2,119-2,043, and conceded fewer , 952- 1,075.
At the other end of the scale, Luxembourg have the world's worst goal difference with -1,133, leaking 1,599 goals and only scoring 466 in 556 games.
Meanwhile, Bermuda are the only national team in the world to currently have neutral goal difference, although European nations Bosnia and Herzegovina (+10), Montenegro (-3) and Slovenia (-7) are close to all-time parity.
GOALS PER GAME
The world's most free-scoring team may come as a surprise. It's Tahiti, who average three goals per game - netting 492 in just 164 games..
DID YOU KNOW?
Tahiti's biggest recent winning margins came in 2011/12, when they beat the Cook Islands 7-0 in a friendly before defeating Samoa 10-1 in the Oceania second round FIFA World Cup group stage.
The Oceania side travel to Papua New Guinea in a World Cup qualifier on Thursday, with their opponents also ranking third in the world for average goals scored (2.37 per game; 261 from 110 games).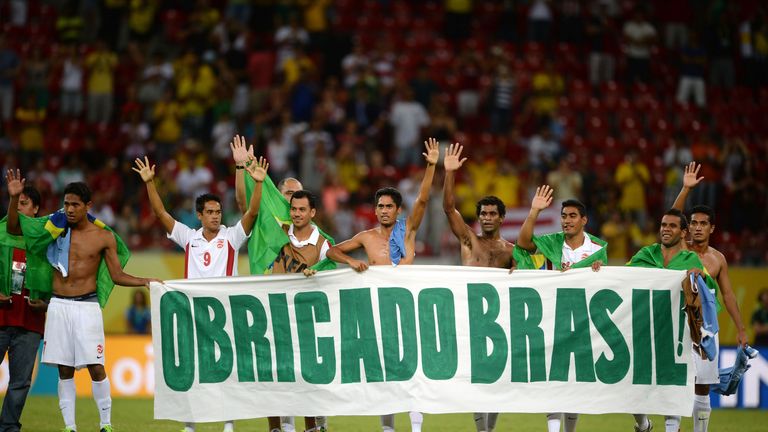 In contrast, fellow Oceania side Niue conceded nearly 17 goals a game on average, but only played two competitive matches during the 1983 Pacific Games - losing 19-0 and 14-0 to Papua New Guinea and Tahiti, respectively.
DID YOU KNOW?
Despite being the world's most free-scoring national team, Tahiti suffered 6-1, 10-0 and 8-0 defeats to Nigeria, Spain and Uruguay, respectively, in the 2013 FIFA Confederations Cup
Check out the table below to see the world's top national sides for all-time goal difference...