Marcus Rashford's former club denies Manchester United cash request
By Mark Ashenden
Last Updated: 02/03/16 6:56pm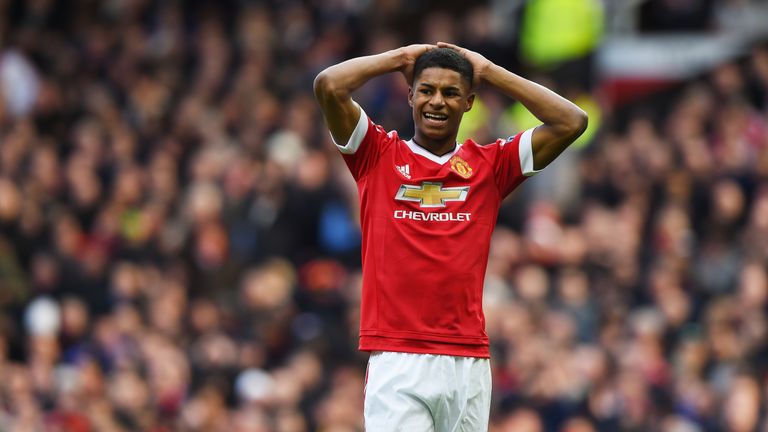 The community club that nurtured teenage striker Marcus Rashford have denied asking Manchester United for £2m.
Fletcher Moss Rangers, based in south Manchester and founded in 1986, have hit the headlines in the past week after 18-year-old Rashford scored four goals in his first two appearances for United.
Rashford played at the Didsbury park-based Fletcher Moss outfit as a child - and is one of several professionals to have done so, along with Danny Welbeck, Cameron Borthwick-Jackson and Tyler Blackett.
The sudden interest in Rashford's story has highlighted the current plight of Rangers, whose future is uncertain because of high running costs and the need to renovate dilapidated and poorly-designed facilities.
Club officials have suggested £2m would ideally be needed to upgrade facilities and safeguard their future but they say claims they have asked United for a donation of such an amount are not true.
A club statement read: "It has been suggested in at least one national newspaper recently that Fletcher Moss Rangers are asking Manchester United for a donation of £2m for the development of Marcus whilst with our club.
"This is not the case. Fletcher Moss Rangers are currently exploring a Community Asset Transfer of the clubhouse where we base our activities as part of a strategy to secure the club's long-term future.
"To this end, we are working with our advisors (Can Do Communities CIC) in carrying out a feasibility study to develop a community hub on Merseybank playing fields.
"The feasibility study will include a business plan, architect drawings, community consultation, governance strengthening and incorporation.
"This will enable Fletcher Moss Rangers to be in a position to manage the building on a long-term lease from Manchester City Council and potentially develop the site, leading to the long-term sustainability of the club.
"Should this be the case, our club will be working with partners to explore all relevant channels of funding or investment."