Jose Mourinho wants to keep David de Gea at Manchester United
By Michael Kelleher
Last Updated: 18/05/17 12:36pm
Jose Mourinho has confirmed he does not expect David de Gea to play for Manchester United again this season, but insists he wants to keep the goalkeeper he regards as the world's best.
Mourinho plans to start 20-year-old 'keeper Joel Castro Pereira in United's final Premier League match of the season at home to Crystal Palace on Sunday, while Sergio Romero will start the Europa League final against Ajax on Wednesday.
Reports in the national media have linked De Gea with a summer move to Real Madrid, prompting speculation he could have played his last game for United.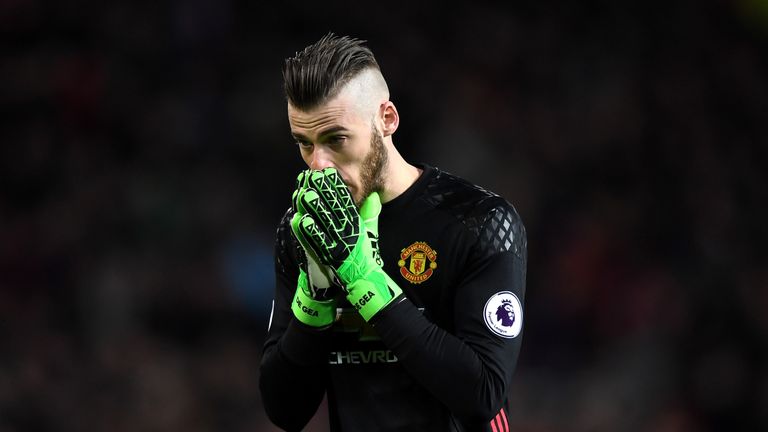 But Mourinho wants to have the Spain number one when United begin their 2017/18 pre-season against LA Galaxy on July 15 as part of their tour of the United States.
When asked when De Gea would next play for United, Mourinho told Sky Sports: "I think the first match in pre-season against Los Angeles.
"I hope to play Joel against Crystal Palace. I hope to play Sergio in the final. Hopefully we don't have problems with these two keepers.
"But David is top in the world and obviously we want to keep the top in the world."
De Gea was left out of United's squad for Wednesday's 0-0 draw at Southampton, with Romero earning man-of-the-match honours in his absence.
And Mourinho admits he feels fortunate to have such quality options at his disposal.
"We have the Argentina national goalkeeper and the Spanish national goalkeeper - two of the best national teams in the world," Mourinho said. "There is a good tradition of goalkeepers in both countries.
"We have these two guys. They are phenomenal. And I keep saying the Portuguese kid [Pereira] is a very good goalkeeper. So in relation to that, we are in safe gloves."
Mourinho also said some players gave him food for thought ahead of the Ajax game.
"I think we played a good team, a good game, against a team that tried to win and tried to finish well and finish eighth. I think we did more than okay," he commented.
"I think all of them gave me positive feelings. Sergio had a very good performance - more than very good. They showed me that they want to be in the final, they want to be an option."