Football Expert & Columnist
Jonjo Shelvey went 'from captain to clown in 10 seconds', says Graeme Souness
Last Updated: 13/08/17 10:06pm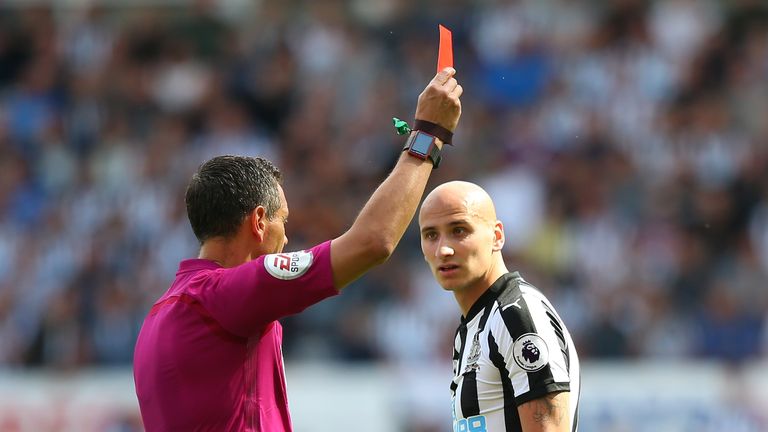 Graeme Souness says Jonjo Shelvey went 'from captain to clown in 10 seconds' after he was sent off during Newcastle's loss to Tottenham on Sunday.
The midfielder was named as Magpies skipper ahead of the game and led the team out for their first Premier League match back in the top flight after winning promotion last term.
But just minutes into the second half, Shelvey tried to get the ball from Dele Alli after Spurs won a free kick, and while going to retrieve it, stood on the ankle of the midfielder and was shown a straight red card.
Sky Sports pundit Souness was heavily critical of the Newcastle midfielder after the game, and says he should not be given a second chance after his most recent indiscretion.
"He's gone from captain to clown in ten seconds. He's annoyed because Alli has kept the ball. How stupid is that?" he said.
"Newcastle are right in the game, he's done it right under the referee's nose, who has no other alternative but to send him off. I was saying to Alan just before it that I liked Shelvey and he has something about him but you can't have anybody doing that at a football club. Nobody.
"He lost them the game arguably. I'm not saying Tottenham wouldn't have won but the game but there would've been a lot more nip and tuck play.
"That should be his last chance because you can't do that. They might get relegated by one or two points. It might not matter in the bigger picture but his team-mates have the right to be very angry."
Alan Pardew joined the punditry team for the match and was also scathing of Shelvey, who he managed while at Charlton.
"You have to have chats with Jonjo and he has a very short fuse over tiny little incidents like that. What irritates me is it isn't a stamp like he's going to hurt him, it is a petulant stamp," he told Sky Sports.
"That is the sort of thing that you have to ask him about in training on Monday - 'what are you doing? Why are you doing it? You are the captain of the football team and you have to set an example not just for your team-mates but for everyone watching around the world' and that's the responsibly the has to understand in that role."
Co-commentator Alan Smith also shared the sentiments of his Sky Sports colleagues as he gave his initial reaction to the sending off as it happened.
"That has come as a shock to everyone in the stadium. It certainly has to me. Dele Alli thinks Shelvey's stepped on his ankle intentionally from his reaction," he said.
"Is that the most stupid red card you've ever seen in your life? Right under the referee's nose as well."