No goals at Stadio Olimpico
Palermo's struggles in Serie A continue after they picked up only a point from a 0-0 draw on their trip to Torino.
Last Updated: 03/03/13 2:13pm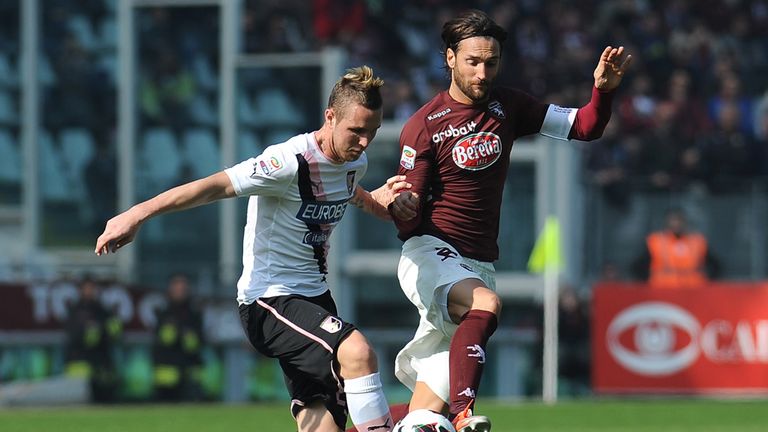 Palermo's struggles in Serie A continue after they picked up only a point from their trip to Torino, who had the better chances in a 0-0 draw at the Stadio Olimpico.
Rolando Bianchi hit the post early on before two late chances were wasted as the Granata were denied victory in front of their own fans.
Gian Piero Gasperini's return to the Palermo bench ended with a point which lifts them into a three-way tie for bottom spot, still five points adrift of safety with games running out for the Rosaneri.
Giuseppe Vives sent the first chance of the game over the crossbar from 10 yards out after Barreto went down in the area, but the referee waved play on.
Torino continued to take the initiative and, not long after, Bianchi came the closest of anybody to breaking the deadlock.
His volley from 20 yards struck the inside of the left-hand post with Stefano Sorrentino well beaten and happy to see the ball cannon out to safety.
A certain degree of nervousness was evident in Palermo's play and this led to them losing possession regularly and clumsily.
The home side were unable to make any gains from it, though, with the lively Alessio Cerci rarely finding any takers for his build-up play.
Gasperini sent on Fabrizio Miccoli early in the second half and this gave the Sicilians an immediate lift.
Within just 15 minutes of his arrival to the action, Miccoli had taken three shots at goal, failing to connect properly with the ball each time - but at least showing a willingness to make an impression.
He was fighting a solo battle, though, with little support from his team-mates, and Torino twice came close to snatching victory in the closing stages.
Cerci's corner was headed on to the far post where Danilo D'Ambrosio needed to provide just the slightest of touches to score, but he failed to oblige.
Sorrentino then made a desperate save with his foot to lift Riccardo Meggiorini's weak shot over the crossbar, after first denying Bianchi in the 87th minute.