Ruben Loftus-Cheek impressing as a striker for Antonio Conte's Chelsea
By Adam Bate at Stamford Bridge
Last Updated: 24/08/16 4:18pm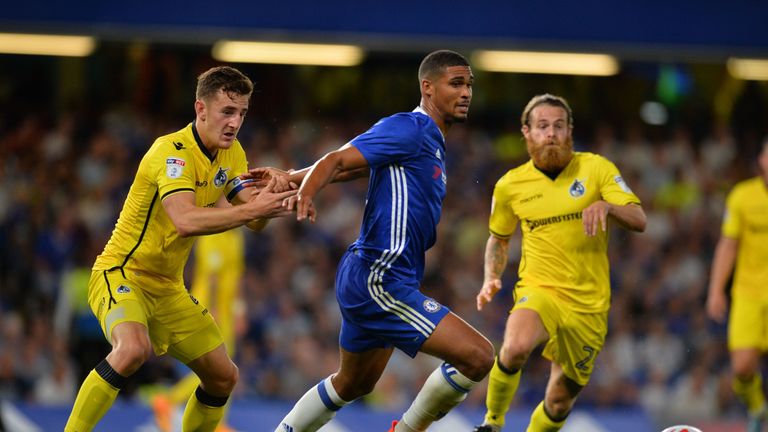 Antonio Conte stepped up his experiment of using Ruben Loftus-Cheek in a forward role in Chelsea's 3-2 win over Bristol Rovers at Stamford Bridge on Tuesday. Adam Bate was there to see it for Sky Sports and believes that the move shows some promise…
Summer signing Michy Batshuayi scored twice in his first Chelsea start, building on his impressive cameos in the Premier League against West Ham and Watford, but it was the identity of his strike partner against Bristol Rovers that will have had the crowd intrigued. Judging by the chants of Ruben that rang around the ground, they liked what they saw.
Loftus-Cheek was involved in Batshuayi's opener, holding the ball up well with his back to goal before spreading the play wide for Nemanja Matic to cross. The youngster then showcased his strength and skill in order to roll his marker in the right channel soon after, promptly producing a simple square to pick up an assist for Batshuayi's second.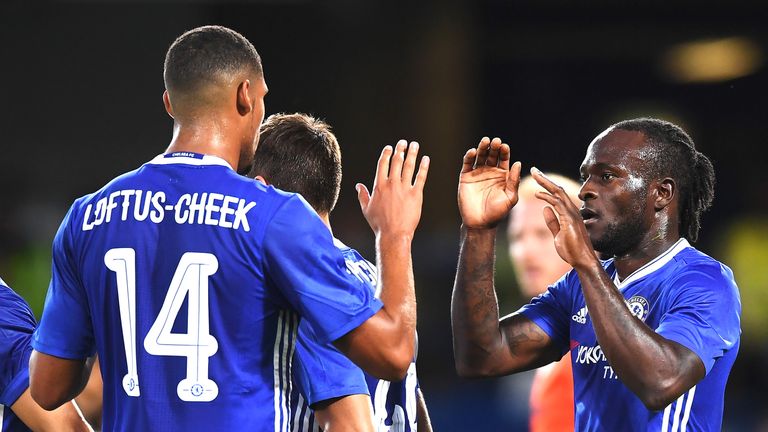 Even before those decisive involvements he'd provided one of the moments of an entertaining game, gliding clear of experienced centre-back Peter Hartley before drilling a fierce low effort against the base of the left-hand post. While the 20-year-old was unable to cap his performance with a goal, it was nevertheless a triumph.
In truth, Loftus-Cheek has worked on his new role since early in pre-season and even scored while playing in an advanced position against Austrian side WAC RZ Pellets. "I like him a lot in the position of striker," said Conte after that display. "In this system, with two midfielders, Ruben can play close to the other forward but become a forward when we have the ball."
Loftus-Cheek's best bits
19 – Plays Batshuayi through on goal but the striker scuffs his shot
21 – Runs from deep and shoots low but ball comes back off the post
29 – Holds the ball up and lays in Matic who crosses for Batshuayi to score
41 – Shows strength and skill before squaring for Batshuayi's second goal
65 – Another impressive run from deep but the shot is off target
82 – Receives a standing ovation as he is replaced by Oscar
But this was his first competitive appearance up top. Even for a young player against ostensibly inferior opposition, that's challenging. The Chelsea man had hitherto been used as a midfielder at the club he joined a dozen years ago as an eight year old.
"Ever since I was in the academy, there was always an out-and-out No 10 in front of the midfield in our teams," Loftus-Cheek said in March. "I kind of suited playing as one of the two behind the one in front. I was always in the deeper role, like a box-to-box player."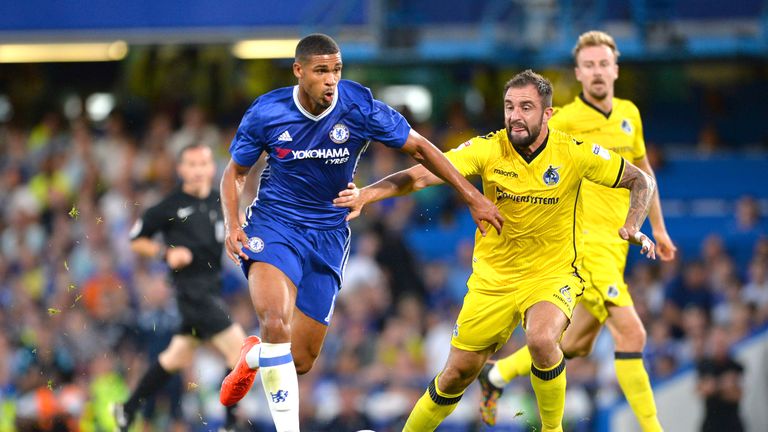 Jose Mourinho's decision to play him slightly further forward was regarded as a symptom of his own unwillingness to trust a youngster in a deep-lying role rather than an indication of any long-term vision for Loftus-Cheek to play up front. Mourinho famously raised doubts over the player's off-the-ball work rate following a post-season tour game against Sydney FC.
But for Conte it seems that he genuinely sees forward potential in the England Under-21 international. "I think he has the right characteristics to play in this role because he has it all," said the Italian on Tuesday. "He is physically strong and he is very good playing from back (to goal) and also with good technique he sees the goal very well and has a good shot.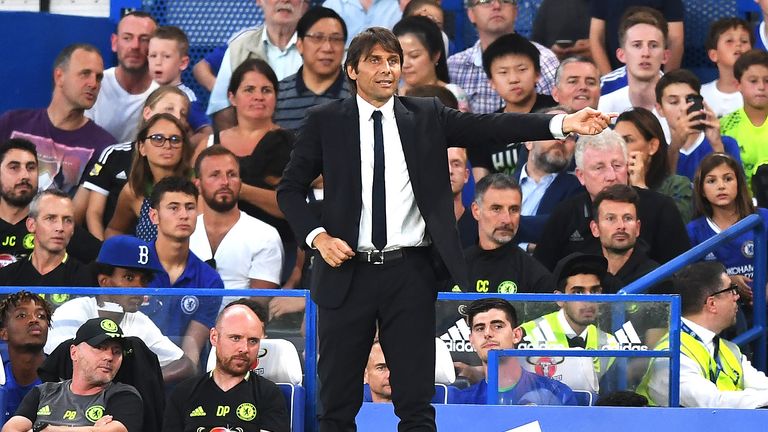 I'm happy with his commitment and his attitude. I think he has great potential as a player.
Antonio Conte on Ruben Loftus-Cheek
"He played a good game and with good intensity and he did what I wanted. In defensive situations, he became a midfield player and when attacking he became a forward. I'm happy with his commitment and his attitude. I think he has great potential as a player."
In one sense, it's been a necessity for Conte to adapt the skill-sets of his players given his appetite for playing two forwards. For example, Eden Hazard has also been suggested for that second-striker slot. Given Loftus-Cheek's unfamiliarity with the role, it's perhaps unsurprising that there were times when he seemed uncertain about his positioning.
But his attitude appears to be correct - he's said to be "excited" about his new position - and that bodes well for his prospects. Conte is clearly a fan. "He can improve a lot," said the Chelsea head coach, "but I am pleased because I see him every day during the training sessions and he wants to improve, he wants to work very hard. I like this."
As a result, Conte won't send Loftus-Cheek out on loan. "He stays here," he added. "I repeat it is right to improve the player in the squad but also to give the opportunity to a young player like Loftus-Cheek with a great talent to stay with the first team and to help us."
An opportunity and a test. It calls to mind Gareth Southgate's views on Loftus-Cheek last year. "There's a phrase: tough on talent," said the England Under-21 boss. "And he's a talented player. We keep challenging him." Conte has presented the next challenge in Loftus-Cheek's career. The good news is that the Chelsea youngster is already showing signs of rising to it.