Steven Gerrard says it a shame Rangers will be without Kyle Lafferty for Sunday's trip to Hamilton but confirmed he still supports the player after he apologised to him for breaking international protocol.
The Northern Ireland striker has been barred from playing the Accies by the Irish Football Association (IFA) after he withdrew from the squad for the games against Austria and Bosnia and Herzegovina at short notice.
That led to the IFA invoking FIFA's 'five-day' rule, which prevents players from representing their clubs for five days after an international break, and he will now miss the game at the Superseal Stadium, live on Sky Sports.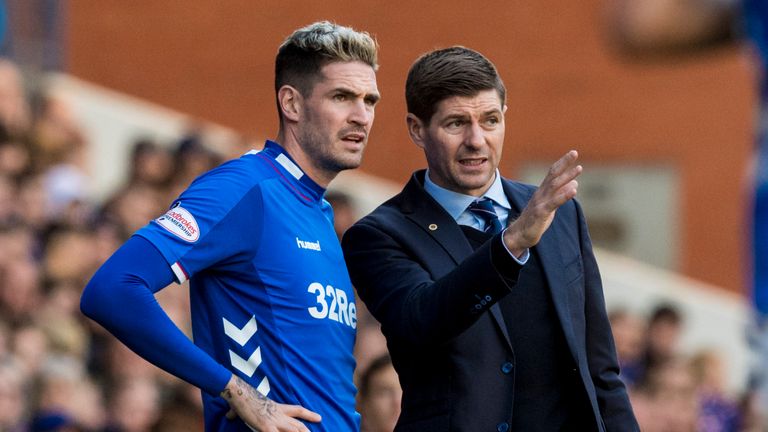 "It's a shame because he is a good player and he has been in good form since he's come in," said Rangers boss Gerrard.
"We respect and appreciate what's gone on, he hasn't followed the protocol and done the right thing, so the punishment is he cannot play on Sunday. No footballer likes missing games, I can assure you of that.
"I support him, of course I do. I always support my players 100 per cent. He has come in, he has apologised for what's gone on.
"We respect Northern Ireland in terms of the punishment they have given him and we move on.
"There's nothing else to add to it. We put a statement out yesterday [Thursday] which was very clear and now it's an opportunity for someone else on Sunday."
Rangers confirmed in that statement that Lafferty remains available for selection by Northern Ireland boss Michael O'Neill, although Gerrard insists that will be for player and manager to discuss.


"I hope he continues because I still feel he has a lot to offer the international scene," added Gerrard. "When I see him for Northern Ireland he looks passionate, he looks like he loves it.
"He's made it clear to me he wants to continue to be available but that's a conversation for him and Michael to thrash out."
As for the timing of the international break, Gerrard admits he may have preferred to carry on after they recorded back-to-back 3-1 victories over Rapid Vienna and Hearts, although he conceded the opportunity to rest and recuperate may help some players.
"We finished in really good form on the back of two very important victories," said Gerrard. "We could have carried on because we are in a good moment, the atmosphere is good and confidence is high.
"At the same time, the volume of games has been great for some players and I am sure the break has come at a good time for them.
"It's given us time to rest and freshen up, physically and mentally, and we are ready to go on Sunday now."
Watch Hamilton v Rangers on Sunday. Coverage begins on Sky Sports Football at Sky Sports Main Event and 1pm.