Transfer News: AC Milan sign Sampdoria midfielder Andrea Poli
AC Milan head coach Massimiliano Allegri has signed midfielder Andrea Poli from Sampdoria.
Last Updated: 08/07/13 6:24pm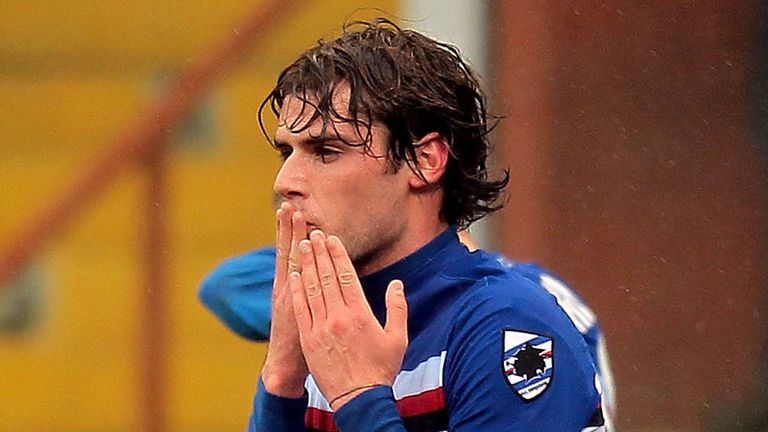 Milan recovered from an inauspicious start to the 2012-13 campaign to reach the knockout stages of the Champions League and book a third-placed finish in the league, but the spectre of what might have been seriously threatened Allegri's long-term job prospects at San Siro.
Following several days of discussions, however, he was given president Silvio Berlusconi's blessing to continue and, before introducing 23-year-old midfielder Poli to reporters today, he promised to make the necessary tweaks to ensure a bright start in the autumn.
Speaking at Milanello, he told acmilan.com: "We want to improve our position from last season.
"As usual we will be going all out and we only lost twice in 2013 so it was not by chance that we picked up a lot of good results in a row.
"That helped the team develop but we have to start from this point once more.
"We will change a few things compared to past years. The team knows how to play with three strikers as well as a playmaker, so it does not change that much.
"We will have four at the back and three in midfield and then we will see on a game by game basis. We will change it but we are looking to play with a playmaker."
Italy international Poli, who joins Milan in a co-ownership arrangement with Samp, added: "I am very happy to be here. Wearing the Milan shirt is a dream come true because I am a Milan fan.
"I do not worry about anyone who has not believed in me because I want to think only about Milan and not worry about the past. I cannot wait to start training with my team-mates."
Vice-president Adriano Galliani supported Allegri's cause during the close season deliberations but on the condition the Rossoneri challenged Juventus for the Scudetto next time around.
When asked what was required of Allegri in his fourth season, he said: "To get a top three finish and, I have to say, to win the title.
"Milan's minimum target is always to get on the podium and we have done that for the past five years."
Galliani also confirmed the club's interest in Fiorentina forward Adem Ljajic and CSKA Moscow midfielder Keisuke Honda, while revealing talks over a possible return to Santos for Brazilian striker Robinho are "ongoing".