Sky Sports Scout - Connor Mahoney
Sky Sports Scout is where we scour the globe looking for the best talent. Next up is Connor Mahoney.
By Sky Sports Scout - Tweet me: @skysportscout
Last Updated: 21/05/14 12:14pm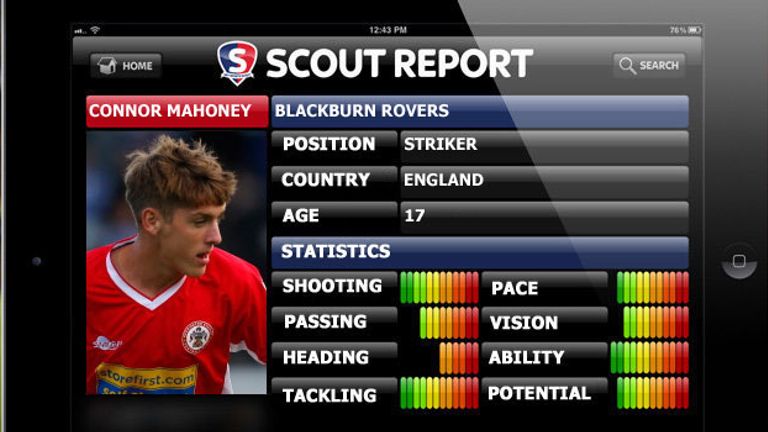 Our scout will report back and you can comment on what you think of their appraisal.
You can only nominate a player by emailing here, including the word 'Scout' in your subject line, and please check to make sure we have not already covered the player.
You can also now interact with the scout via his Twitter feed! You can get in touch with him and interact here or just search for @skysportsscout.
The latest player to be spotlighted is Blackburn starlet Connor Mahoney.
The scout reports...
Connor Mahoney has just turned 17, but the teenager is already one of the most talked about young players in the North West, which is some feat considering he does not play for one of the powerhouses from Manchester or Liverpool.
Mahoney joined Blackburn in January from local neighbours Accrington Stanley. Aged just 16 at the time, he was already part of the first-team squad at the Crown Ground.
Mahoney, who was born in Blackburn, began his career with Burnley's youth ranks but after leaving Turf Moor he went back to playing local youth football.
By the time he was 14, he was back in the pro-ranks as Accrington had snapped him up and his progress was fairly rapid.
He was involved during Accrington's pre-season last summer under James Beattie and he was handed his debut in August when playing in the League Cup against Cardiff City.
A league debut followed, but by this time a number of Premier League and Championship clubs were already following his progress closely.
Despite clubs like Southampton showing an interest, Mahoney opted for his home-town club of Blackburn and they were quick to strike a deal with Stanley.
Within a couple of weeks of joining Blackburn, Mahoney was handed his Blackburn bow as he came on at Manchester City in the FA Cup.
Following his move to Blackburn, England also came calling and Mahoney was selected for John Peacock's Under-17 squad.
Having now turned 17, Mahoney can look back on some staggering progress this season, having broken in the squad of a League 2 side, he is now with a Championship club and also representing England.
But this is no fluke, and Mahoney certainly does not look out of place, be it with Blackburn or England.
Naturally two-footed, but often finding himself on the right, Mahoney is a tall elegant player, with an excellent skill-set including an immaculate first touch.
Attacking is his game and whilst he is very good when running at players, he has an excellent ability to pick a pass with either foot.
The scout says...
A big future clearly beckons for Mahoney, and the fact he shunned Premier League moves to join Blackburn shows he is thinking about his future as Rovers have a wonderful academy set-up.
Mahoney will be allowed to progress at Blackburn, and the ball is certainly now in his court to try and fulfil his undoubted potential.
The Scout rating...
Shooting: 7 out of 10
Passing: 7 out of 10
Tackling: 6 out of 10
Heading: 6 out of 10
Pace: 7 out of 10
Vision: 7 out of 10
Current ability: 7 out of 10
Potential ability: 10 out of 10
OVERALL SCOUT RATING: 57/80
Current value: £1million
Potential value: £15million
Your opinion...
You have read our opinion of Connor Mahoney - now we want your views. Have you seen Mahoney in action? Do you agree with our assessment? Do you think he will make it?
Get in touch, either using the form below, email or the scout's Twitter feed - @skysportsscout.
Pick your Sky Sports Fantasy Football team for the chance to win over £100k in prizes. Play for free here.