Premier League: Southampton boss Mauricio Pochettino bemoans injury worries
Southampton boss Mauricio Pochettino has bemoaned his side's recent injury worries, with numerous key players sidelined.
Last Updated: 29/03/14 3:30pm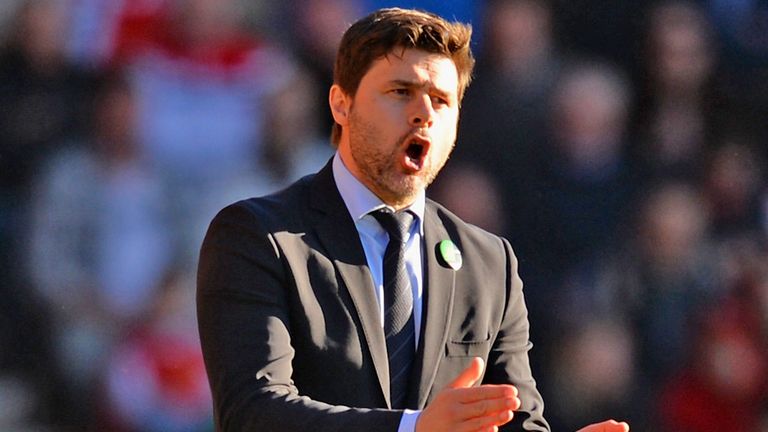 Jay Rodriguez, Nathaniel Clyne and Steven Davis all picked up knocks in the 3-2 defeat at Tottenham, while Morgan Schneiderlin and Victor Wanyama both missed the trip to White Hart Lane.
Injuries to Kelvin Davies, Maya Yoshida and Guly do Prado have also dealt a blow to Pochettino's plans as the Saints look to end their season on a high.
The Saints have struggled for consistency of late, winning two and losing three of their last five Premier League fixtures, and Pochettino says that the mounting injury list has not helped their cause.
"In the last month we have had many injuries, and of course that is going to affect the team. We've had many problems with injuries throughout the season," he told Southampton's official website.
"At the beginning of the season we signed three players. One of them, Dani Osvaldo, has had to leave and the other two have had injuries that haven't allowed them to have the continuity that we wish they could have had. Those things affect the team.
"So I think that, with everything that has happened at and around the Club, not just injuries but all of the mid-season upheaval, these players deserve a lot more credit than they have experienced. For them to keep competing as they have is quite good."
However, Pochettino adds that he is proud of how his side have performed this campaign and says that they find themselves in an enviable position as they look well on course to secure a top-half finish.
"How many teams in the lower half of the table would want to be in our position?" he asked.
"The reality of this team is that we've had some problems lately and the whole season has been quite demanding so that's reduced the number of fully-fit players we have, but the motivation is always there.
"It's clear that we are a young side are we are prone to making mistakes, but we're going to learn from them.
"Against Tottenham, we lost the game - they didn't win it. Now we're looking forward to the next game and to putting that right.
"Having analysed our performances against Norwich and Tottenham, I want to improve on them."
Yoshida
Meanwhile, Yoshida's injury has cast doubts over his World Cup hopes with the Japan national team this summer, but Pochettino is confident that the defender can still make Brazil despite being ruled out for the rest of the season with a knee ligament problem.
"It is true he will be out for six or seven weeks but his participation in the World Cup will not be threatened. It will be difficult for him to play in the last six weeks of this season," said.
"I actually went through a similar situation in a World Cup and I had a similar injury to his but I recovered a month before and was able to take part in the World Cup.
"He has started working already this week so he shouldn't miss any training sessions and the staff and all of us are going to help him so that's back to his best as soon as possible."