Sky Bet Championship: Wigan allow Grant Holt to extend Huddersfield loan stay
Last Updated: 24/10/14 8:12pm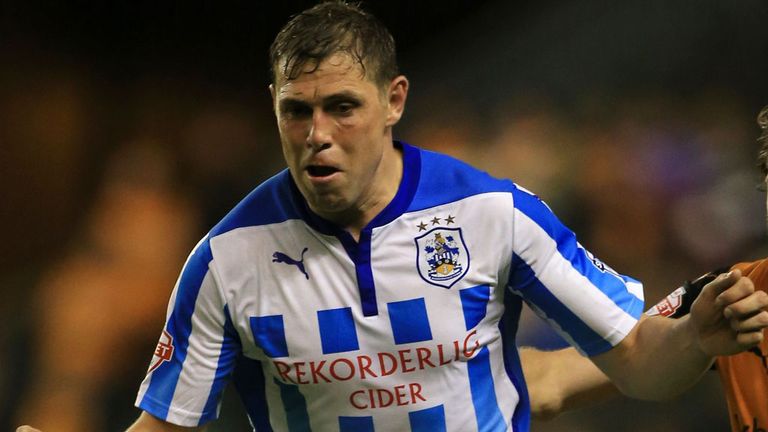 Wigan striker Grant Holt has extended his loan stay with Huddersfield until December 28.
The 33-year-old striker has scored once and created two assists during his time with Chris Powell's men and he will now stay with the Terriers for another 11 Sky Bet Championship games.
Holt has been cast aside by Latics boss Uwe Rosler since he was appointed last December, with the ex-Norwich forward having played just two league games under the German.
"I'm delighted that we've managed to secure the services of Grant for the rest of 2014," Huddersfield manager Powell told his club's official website.
"His initial time at the club has been a great success; he's had an immediate impact on the team and has played a role in our unbeaten five-game run. Although that run is down to every player, rather than solely Grant, it is fair to say he has been a catalyst.
"We quickly made it clear to Grant that we wanted to extend his loan at the club, but then the decision was out of our hands.
"Thankfully, a lot of hard work has gone on behind the scenes to agree the deal with Wigan and Grant has subsequently decided he's enjoying his football and wants to stay."
Holt last week revealed he had been told he "wouldn't play for the football club again" at Wigan, for whom his only appearance of the season came in the Capital One Cup.
Latics are hardly firing without Holt and have failed to score in four of their five games.
Moreover, summer signings Andy Delort and Oriol Riera have just one goal between them so far this season.
Lifting the lid on what life at the DW Stadium has been like, Holt told Carlisle newspaper The News & Star: "If I don't fit into (Rosler's) plans, he's the manager, it's his opinion and that's fine. It's the way he has handled things that I disagree with.
"Getting left out of the team photo, under-21 games when I've not even come off the bench - it comes across as petty.
"He will probably say I could have done things differently too. But in my opinion I've done nothing wrong.
"He talked about me not being fit enough - I went away in the summer and came back four-and-a-half kilos lighter than I've ever been. When we did any run I was at the front. I did everything I was asked to do. And within three days I was told I wouldn't play for the football club again."
Rosler responded by claiming Holt's reluctance to move closer to the area had started a rift between the two.
The German said he had not read the player's interview, but told the Wigan Evening Post last week: "Two weeks after I started in the job I asked Grant Holt to make a commitment to the club - like the club made a commitment to him with the three-year contract - in terms of moving closer to the area.
"Grant did not want to do that and then we both knew where we were heading.
"Grant got an unbelievable chance going to Aston Villa which we did not deny him and we moved on. When he returned to Villa I said I think it was better that we went separate ways.
"We were always honest with him, always up front. We asked for a commitment and I didn't get that commitment and that is why we moved on."