Sky Bet Championship: Huddersfield striker Grant Holt ready for return to Norwich
Last Updated: 10/12/14 6:17pm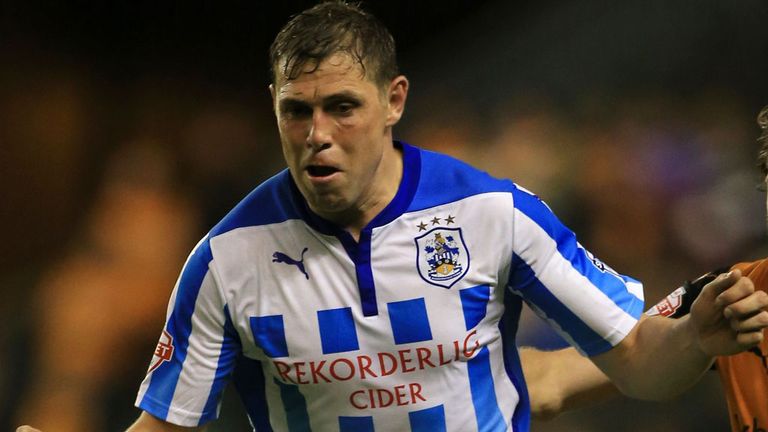 Grant Holt admits returning to Norwich for the first time this weekend will be "special" and hopes he receives a welcome reception from the Yellow Army.
Holt rattled in 78 goals in 168 appearances as he helped lead the Canaries from League One to the Premier League, becoming the only player in the club's history to win three successive player of the year awards.
Having left Carrow Road for Wigan in the summer of 2013, the 33-year-old - who received cult status during his four-year stay - is now on loan at Huddersfield, who visit Norfolk on Saturday.
Holt told the Eastern Daily Press: "It would have been nice to say goodbye to the fans and the people at the club but that is football and we all understand that. It will be nice to go back and maybe put that one straight a bit because it wasn't how I wanted to leave.
"I'm probably looking forward to getting the welcome out of the way before the game, then getting down to business and hopefully getting a good send-off at the end before I leave the pitch.
"I'll speak to a few of the lads this week I'm sure. You know what it's like, I have a lot of friends at the football club and I speak to them quite a bit to find out how things are going so I'm sure there'll be a few friendly words."
While Holt admits he focus is now on helping Huddersfield to the three points, he insists there will be no over-celebrating should he find the back of the net.
He added: "You hope you will get the reception you think and maybe feel you deserve and it will be a special game for me personally. Everyone knows what we achieved in my time at the club but the nature of football is I am a Huddersfield player this weekend and I will be going down there to do my best for Huddersfield and try to win a game of football.
"If I score I don't think I could do any celebration because I would probably get lynched. I am coming down to win a game and if I do score then it is what it is. I just want three points, see some old friends, then get up the road and move onto the next one."